We independently select these products — if you buy from one of our links, we may earn a commission.
Volcanica Coffee Geisha Costa Rica Review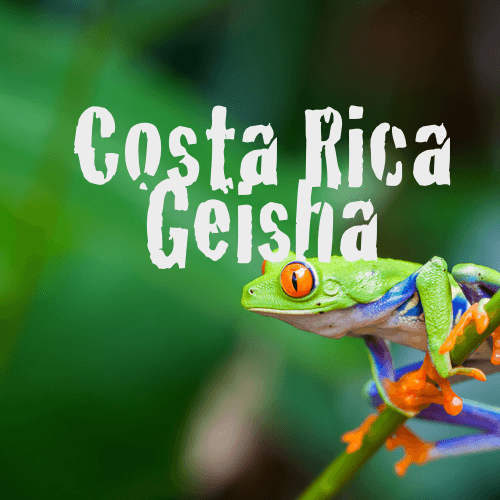 Geisha coffee is a unique variety of coffee which is derived from an ancient varietal originally found in Ethiopia, the birthplace of coffee.
Geisha is a varietal which has been developed and cultivated for its particular resistance to many of the most common coffee diseases, including leaf rust. The beans are much bigger than standard coffee beans and have slightly less caffeine content.
Furthermore, the Geisha varietal of the coffee plant delivers significantly lower yield, which makes this coffee particularly expensive to grow, import, and roast.
In recent years, the variety has been cultivated in Costa Rica, Panama, Peru and other nations outside of Ethiopia because of its unique flavors and resilience to disease.
Costa Rica, in particular, is always an exciting region to talk about when it comes to coffee. The coffee producers in Costa Rica are always experimenting with different varietals and processing methods, from White, Yellow, or Red Honey to the Geisha variety as seen in this review.
In short, Costa Rica is often considered a world-leader when it comes to exporting incredibly unique and high-quality coffees.
The Costa Rican Geisha from Volcanica Coffee was no exception, striking a pleasant balance between smooth, low acidity and unique, discernible flavors. The soft, delicate profile and silky mouthfeel makes this coffee a true crowd-pleaser.
All coffee drinkers, from the caffeine-crazed to the home-brewing coffee geek will find something to love about Volcanica's Costa Rican Geisha.
While brewing the coffee, I noticed a strong aroma, free of any acrid or astringent smells. The fresh grounds bloomed up well, which is a sign of freshness.
When the brew was complete, the resulting coffee smelled fresh and held unique aromas of cocoa and brown sugar. The coffee appeared somewhat oily and thick in the cup, which is always signs of a strong body.
On the first sip, the body was the stand-out quality of this fine Geisha. It was somewhat creamy and sweet, resembling some of my favorite high-elevation Colombian coffees.
The body of this coffee was full and did not lack in flavor. Meanwhile, the low acidity of the final brew made for a very drinkable beverage which would please coffee drinkers of all levels of experience.
As expected, this particular Geisha delivered on some unique flavors which were easily discernible, in spite of this being a low acidity coffee. Noteworthy flavors include black tea, molasses, and bergamot.
The particularly floral nature of this coffee combined with the delicate flavor brought to mind a very high-quality Early Gray tea, making it a very comforting brew perfect for the first cup of the morning or a relaxing cup in the afternoon.
Geisha and Costa Rican Coffees are always an interesting sensory experience and warrant the price often paid for this high quality product.
Volcanica's Costa Rican Geisha is no exception and should be well worth the extra dime required to get coffees of this quality and purity. For a delicate, low-acidity, flavourful coffee sensory experience, look no further than Volcanica's Costa Rican Geisha.
---
---
---