We independently select these products — if you buy from one of our links, we may earn a commission.
Best Stovetop Espresso Makers or Moka Pots
Gourmet coffee lovers who are looking to make their own brew at home should definitely consider getting a stovetop espresso maker.
Also known as a moka pot, this little wonder produces an excellent cup of coffee with very little effort.
It works by turning boiling water into pressurized steam and then passing that through ground coffee to extract the flavor.
Those who like function and a heavy dose of style will also find the moka pot an ideal kitchen staple — it looks lovely, has a small footprint, and will blend into any kitchen's decor.
If you're ready to take your coffee drinking experience to a new level, here are the three best stovetop espresso makers that you should consider.
Top Rated Stovetop Espresso Makers
Stovetop Espresso Maker

Material

Sizes

​

Bialetti Moka Express

Polished Aluminum

1-Cup

3-Cup

6-Cup

9-Cup

12-Cup

Cuisinox COF-10R Roma

Stainless Steel

4-Cup

6-Cup

10-Cup

Bialetti Kitty

Stainless Steel

2-Cup

4-Cup

6-Cup

10-Cup
​The original Bialetti Moka Express is the espresso pot that started it all. Patented in 1933 by coffee-loving Italian inventor Alfonso Bialetti, the iconic design available for purchase today is the same one that made the moka pot loved around the world.
This stovetop espresso maker has a safety valve and is make of polished aluminum. The Bialetti Moka Express comes with a knob, handle, and lid, internal column, coffee collector, filter plate, gasket, funnel, valve, and heating vessel.
It quickly disassembles and re-assembles for easy cleaning and care. The 6-cup model is just 1.79 pounds, 9 inches tall, and 4 inches wide, but you'll have no problem fitting any Bialetti Moka Express model into your kitchen.
You can purchase the Bialetti Moka Express in several sizes: the standard 6-cup model, 1-cup, 3-cup, 9-cup, or 12-cup.
If you regularly entertain or drink lots of coffee at once, opt for the 9 or 12 cup models. Espresso cups for this moka pot are measured in 2 ounce servings. That may sound like a small amount, but this coffee maker creates a brew that packs a serious punch of flavor.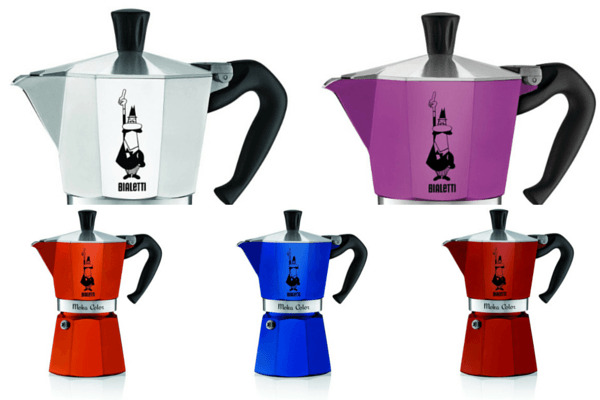 If you love color in your kitchen, the Bialetti Moka Express is perfect for you. In addition to its classic silver shade, this espresso pot is available in blue, red, orange, and purple.
Because of its durability, excellent function, and long lived reputation, the Bialetti Moka Express is the best stovetop espresso maker and is definitely worth the investment.
---
​Looking for a moka pot that makes excellent espresso, does not have an octagonal shape, and is easy to use? If so, the Cuisinox COF-10R Roma is right up your alley.
It features a smooth, rounded shape and its silver exterior has a gorgeous mirror finish. This Cuisinox moka pot measures espresso cups in 1.5 ounce servings and comes in 3 volumes: 4, 6, and 10 cups. The 10 cup model is best for those who like more than one cup of coffee, frequently entertain, or have a family with several espresso drinkers.
If you're looking for durability, the Cuisinox COF-10R Roma will definitely meet your needs. It's comprised of heavy duty 18/10 stainless steel, which is ideal for those who drink coffee daily.
The 10-cup model weighs in at 3.1 pounds, and it measures 7 inches wide by 10 inches tall. In addition to a 25 year warranty, the Cuisinox Roma comes with an extra gasket and reducer.
One issue some coffee drinkers worry about is whether the moka pot they want will be compatible with their stove. The great thing about the Cuisinox COF-10R Roma is it works will most stovetops, from gas and electric to induction.
For a great moka pot that will last for years and looks beautiful all the while, the Cuisinox Roma is a top pick.
---
​Bialetti, designer of the most well-known moka pot shape, has several espresso pots in their lineup. One that has a unique look is the Bialetti Kitty.
This moka pot has a cylindrical top, rounded bottom, sleek black handle, and mirror finish. It definitely has its own style, but what's most important is that it makes wonderful, flavorful espresso.
The Bialetti Kitty's modern design is made of heavy gauge stainless steel. It comes in 4 cup and 6 cup capacities, and works well with electric, gas, and ceramic stove tops.
Its ergonomic, heat resistant Bakelite handle has a wide reach to keep you safe while pouring your espresso.
One convenient feature of this espresso pot is that it can be cleaned in the dishwasher, which is especially helpful for coffee drinkers on the go.
If you have a very small kitchen or are nearly maxed out on counter space, the Bialetti Kitty is a wise choice. It has a footprint of just 5 x 6.75 x 5 inches, and can easily be stored or displayed just about anywhere.
The Bialetti Kitty is suitable for anyone who wants to easily make gourmet espresso and is looking for the quality that Bialetti is known for, but who also want a different look to their moka pot.​
---