We independently select these products — if you buy from one of our links, we may earn a commission.
The 10 Best Single Serve Coffee Makers of 2022
Nothing beats the flavor and experience of a finely crafted cup of coffee.
Let's be honest, though, you don't always have the time and attention needed to brew a robust pour over or to pull the perfect shot of espresso. Single cup brewers help fill that gap, providing speed, convenience, and a decent cup of coffee.
Top Rated Single Serve Coffee Makers
| Single Serve Model | Capsule – System | Milk Frother | Price |
| --- | --- | --- | --- |
| Nespresso VertuoPlus Deluxe |  Nespresso (Vertuoline) | No | |
| Keurig K575 | K-Cup |  No | |
| Ninja Coffee Bar | Permanent Filter | Yes | |
| Hamilton Beach 49980A | Permanent Filter |  No | |
| Mixpresso Single K Cup | K-Cup |  No | |
| Cuisinart SS-10 Premium | K-Cup |  No | |
| DeLonghi Silver Lattissima Plus | Nespresso (OriginalLine) | Yes | |
| AdirChef Grab N' Go Personal Coffee Maker | Permanent Filter | No | |
| Primula Single Serve Coffee Brew Buddy | Permanent Filter | No | |
| Aeropress Coffee Maker | Disposable Filter | No | |
---
---
When it comes to convenience, Nespresso machines can't be beat. Simply drop in a capsule, push a button, and enjoy the sound and smell of hot coffee pouring into your mug. No mess, no clean up.
The VertuoPlus line continues this legacy, providing quick espresso (1.35 oz) or standard coffee (7.7 oz) with no fuss.
The top of the unit opens with a convenient, motorized head. After you drop in your favorite capsule, the machine reads the code and adjusts the brewing settings automatically. The head closes again with a simple push of the lever.
There is only one button on top of the unit. Once you push it, the VertuoPlus does all the work using Centrifusion, a special extraction technology, to brew under pressure. It doesn't have the same extraction as a traditional espresso, but it does produce a rich, smooth crema. The next time you go to brew a cup, your used capsule is dropped automatically into the storage bin.
The Deluxe model features a large 60 oz water reservoir that will require filling only occasionally. Its chromed accents look great on any countertop, and it doesn't take up much space. Plus, the water reservoir can be moved to the side or back, depending on your preferences.
While the pods can be expensive compared to other machines (and there are no off-brand options available), the Nespresso VertuoPlus is the most convenient single serve coffee brewer that makes a decent cup.
Pros
Brews espresso and regular coffee
Produces espresso with true crema
High coffee to water ratio for bold coffee
Adjustable cup holder for different mug sizes
Cons
No low-water alert
Requires proprietary capsules that can be expensive
Only two size options
---
Green Mountain Coffee is largely responsible for the single serve craze in the United States as their Keurig machines began popping up in offices and homes around the country. Rather than rest on their laurels, though, they have continued to innovate, and the K575 shows how far they have come over the years.
If versatility is your goal, the K575 should be at the top of your single cup brewers list. You'll find plenty of options for brewing multiple styles and sizes, from a single cup to a 30 oz carafe.
The touchscreen interface is intuitive and user-friendly, so you can handle it even if you're bleary-eyed and mostly asleep before your first cup. It is also customizable, so you can use it as a nightlight or clock.
As a Keurig 2.0 machine, this one requires that you use proprietary K-cups. There are hundreds of flavors available from dozens of brands, so you will likely be able to find one that fits your tastes and budget. And if not, you can use the My K-cup reusable filter to brew your favorite coffee.
With an 80 oz reservoir, you can make more than 10 cups before you have to refill the water. Even with the large size, the Keurig K575 doesn't take up too much room on the counter. And despite being mostly plastic in construction, it looks sleek.
Pros
Brews a variety of sizes, from single cup to small carafe
My K-Cup Reusable filter enables you to use your favorite roast
Multiple brewing options available via color touch screen
Large variety of K-cups from top coffee brands
Cons
Brewing needle can get clogged
Requires newer proprietary K-cups
Programmable for K-carafes only
---
With its brewing system, the Ninja Kitchen attempts to compete with both single serve machines and more traditional brewers. It claims the results are "better than a coffeehouse," and it often comes close to achieving that goal.
What makes the Ninja Coffee Bar so versatile is its Auto-iQ One-Touch intelligence. While it's not exactly "one touch," it is simple while producing great results.
The size knob gives you different options from single cup to full carafe (and this is a true, 10-cup carafe). Then you choose a "richness" setting, from a traditional brew to a specialty drink that resembles espresso.
Each of the style options produce coffee that actually tastes different from each other. The Cafe Forte, for example, extracts subtle notes that you might not get in the classic or rich brew. And there's an over-ice option for brewing concentrate that holds up after melting ice.
Unlike most of the other systems in the run-down, the Ninja shuns the pods and capsules altogether. Instead, it uses a permanent filter that works for single cups and entire carafes. This is great for those who hate the expense and waste of the disposable systems.
And for coffee drinkers looking for specialty drinks like lattes and cappuccinos, the Ninja Coffee Bar System has a built in frother for aerating your milk. It doesn't heat the milk, though, so you'll need to zap it in the microwave first.
The Ninja system might not replace a coffeehouse, but it comes close at a relatively low price point.
Pros
Brews a variety of coffee styles
Brews many different sizes, from single cup to full pot
Allows you to use coffee from your favorite roaster
Environmentally friendly with pod-free system and permanent filter
Cons
Doesn't brew quite as hot for some single-serve options
Doesn't deliver a true espresso
Requires counter clearance because of its height
Built-in frother doesn't heat milk
---
If you like drip coffee but want a little more diversity in how much you can brew, this solution by Hamilton Beach might be your best option.
The 2-Way Brewer is literally two machines in one. On one side you have a standard drip setup. On the other, there's a single serve option. Just flip the switch on the front to choose which side you'll use to brew.
Rather than having a large reservoir at the ready, the Hamilton Beach brewer requires you to fill the appropriate amount each time. This isn't as convenient as most single serve systems, but it does allow you to have control over how much you're brewing in both the single cup side and full pot side.
You can also use your own coffee with each. The single serve side has a permanent filter, and the carafe size uses paper basket filters.
If you prefer a little more convenience for the single cup option, you can also use soft pods from Senseo (or another brand) that are basically like tea bags filled with coffee.
The machine has a programmable clock that will allow you to have your coffee ready to go in the morning, and it works for both sides.
Pros
Allows you to use your own coffee for both single serve and full pot
Programmable for auto-brew
Inexpensive compared to most single serve brewers
Adjustable stand for different sized mugs
Cons
Not many brewing options
Have to refill reservoir each time
Doesn't come with permanent filter for full carafe brewing
---
This single cup brewer by Mixpresso is a nice option for users who like the convenience of the K-cup but don't like the restrictions of Keurig's newer machines.
Mixpresso allows you to use unlicensed cups and standard K-cups, including both 1.0 and 2.0 versions. It also accommodates refillable filters, so you can brew with your own coffee.
This is not a unit with tons of options, though. You can brew 6, 8, or 10 oz cups, and the drip tray can be removed to fit mugs up to 6.5 inches.
It's a compact unit with a 45 oz reservoir. So it's perfect for small counters or for your office at work.
For those in a hurry, this machine gets your coffee brewed quickly. Just 30 seconds for preheating and 30 seconds for brewing. And it can be used without a pod if you want hot water for tea.
Pros
Can be used with any standard sized K-cup
Fast brewing time
Adjustable automatic shut off
Multiple brew sizes
Cons
Not many options
Noisier than many other single serve machines
---
Another option for those who like the K-cups without the restrictions from Keurig's latest machines, the Cuisinart SS-10 does an excellent job brewing individual cups of coffee.
As with the Mixpresso, you can use the Cuisinart with any K-cup style coffee. It can brew multiple sizes (4, 6, 8, 10, or 12 oz). It also allows you to adjust the brew temperature, and has a hot water feature for tea or cocoa.
The SS-10 is one of the fastest brewers, giving you a hot cup in under a minute. And with its large, removable 72 oz reservoir, you can brew many cups before you need to add more water.
This Premium coffee maker also includes a HomeBarista reusable filter cup so you can brew your favorite roast one cup at a time.
Pros
Fast brewing time (under 60 seconds)
Can use any K-cup style pods
Brews from 4 oz to 12 oz mugs
Cons
Doesn't accommodate tall travel mugs
---
For the ultimate in convenience, the Lattissima system delivers espressos, cappuccinos, and lattes with the touch of a button.
If you enjoy rich, creamy espresso drinks and don't want to spend a fortune at the coffee house, this could be the single serve system for you. Unlike the other models in the breakdown, this system by Nespresso has an integrated milk function.
Just attach the milk reservoir, insert a capsule, and choose from one of four pre-set buttons to brew your favorite milk-based drink or straight espresso.
A quick 40 seconds is all the unit needs to heat up, so you can brew quickly. And the auto-off keeps you from wasting energy if you aren't creating multiple drinks at once.
The removable milk reservoir can be stored in the fridge, so you don't have to clean it every day. And you can expect a smooth microfoam from the integrated frother rather than settling for something that resembles frothed milk.
Pros
Brews true espresso
Automatic cappuccino system
Hot, frothed milk from the removable milk reservoir
Easy to clean
Cons
More expensive than other single serve options
Requires proprietary Nespresso capsules
---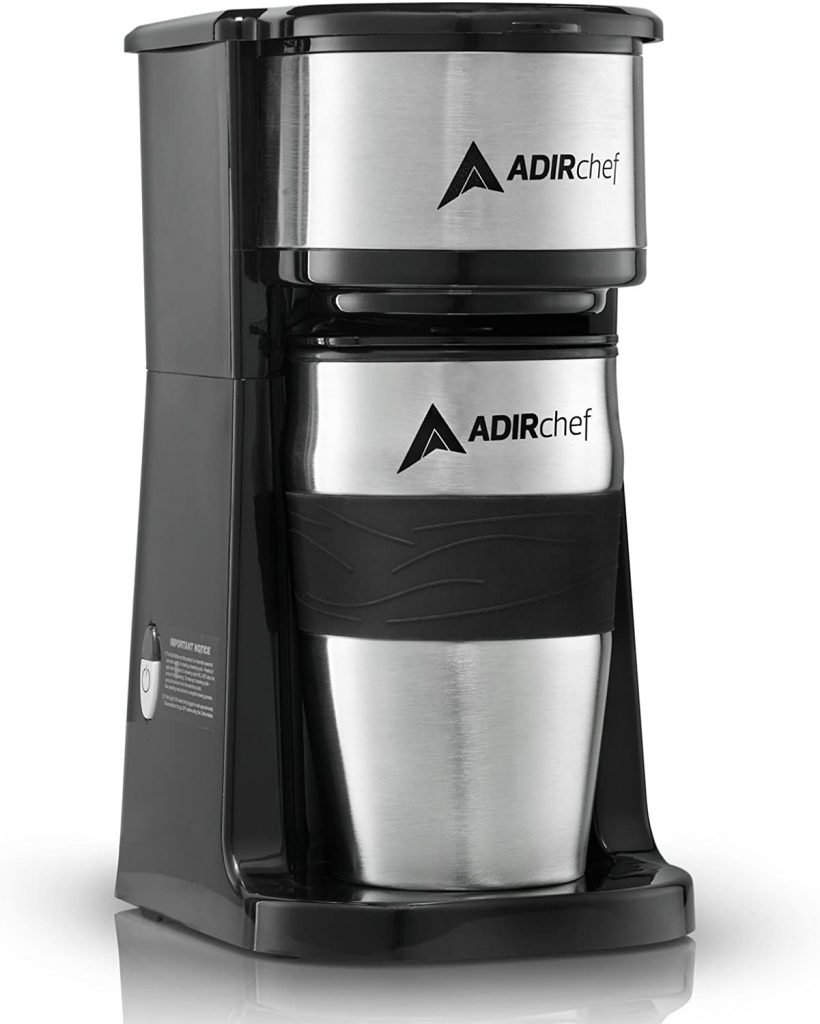 With a small build of 8" x 10" x 12" and durable frame the AdirChef Grab N' Go Personal Coffee Maker is ready to travel and brew at home or in the office.
The system uses coffee grounds, rather than capsules to cut down on waste.
There is a 15 oz travel mug included with the machine, so it is ready to travel out of the box. The mug is insulated to keep your coffee hot as your drink. It is made of stainless steel and is dishwasher friendly or can be cleaned by hand if you are on the go away from home.
For a personal touch it comes in several different colors; Black, Crystal Blue, Green, Orange, Red, Ruby Red, and Sour Green.
Pros
Small and ready for travel
Includes a stainless steel travel mug
Comes with eco friendly permanent filter
Cons
Can only brew coffee
No option to control brew strength
---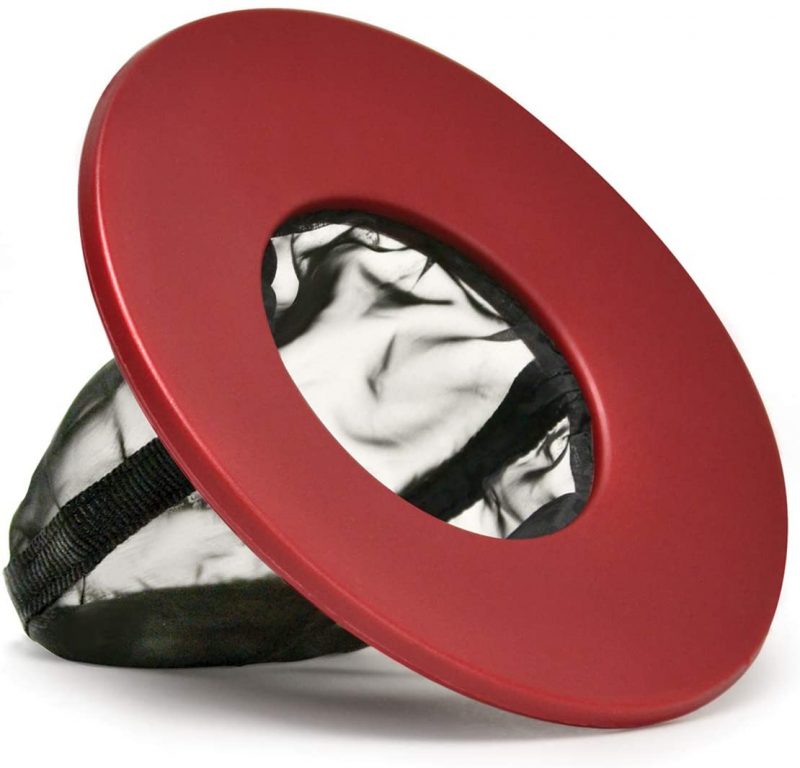 The Primula Single Serve Coffee Brew Buddy is as simple as it gets when it comes to brewing a single cup. It is a reusable filter that can be used generally with any coffee cup.  It's dimensions are 4.25" x 4.25" x 1.62" and only weighs 0.22 lbs.
It uses the pour-over brewing method to make a cup of coffee. Thanks to the simple design it can be used with any choice of beans, size of grind, and quantity of water. This gives you the ability to make your coffee just how you like it.
The filter is very durable and very easy to travel with, so you can have a great pour-over anywhere.
Pros
Extremely durable
Easy to carry for travel
Very affordable
Cons
Limited to drip style coffee
---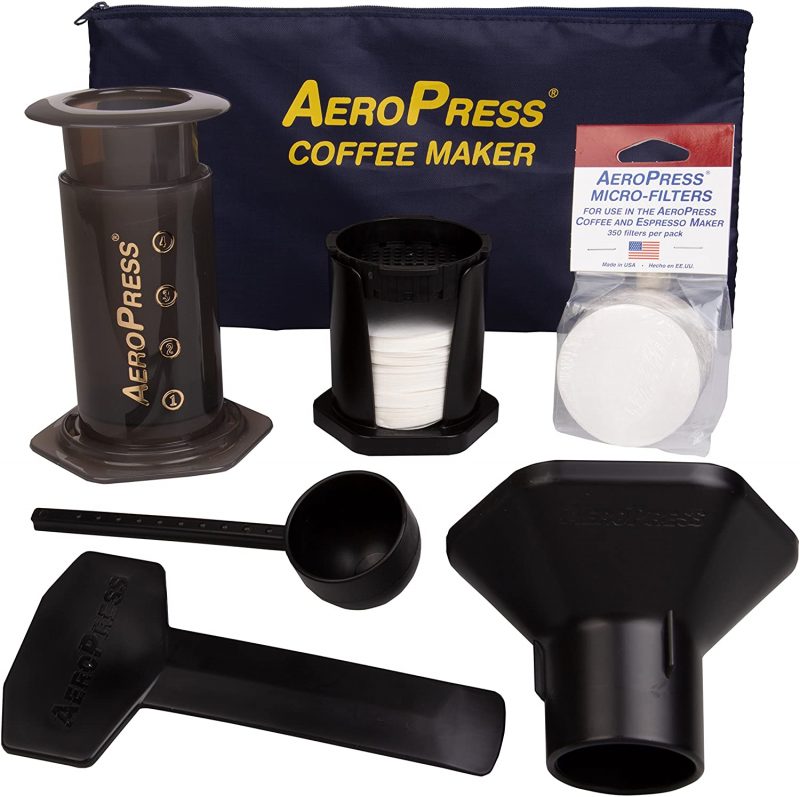 The Aeropress Coffee Maker is a great companion for those who love to travel or camp.  It can supply a fresh cup of coffee while on the go or in the morning. It's a set that includes 350 filters, a filter cap, a filter holder, funnel, a stirrer, and a scoop.
The brewing process is similar to that of the french press. By pouring hot water over the coffee grounds then pushing in coffee through the microfilter to extract the brew. It prevents any of the grit from getting into the press and especially your mug.
It has a simple design and requires a little elbow grease. The Aeropress Coffee Maker is known for producing great flavor. And with no electricity required, you can brew anywhere and enjoy it. Brew time is only one minute for a cup, but you can certainly brew for more than one cup size.
Pros
Great for travel
No electricity needed
Cons
Uses paper filters
Some assembly required
---
Why Buy a Single Serve Coffee Maker?
Whether you call them pods, capsules, cups, or something else, it's no secret that we've come through a single serve craze. Why do so many coffee drinkers reach for a pod or capsule when they're ready to brew?
While many of us enjoy the craft of brewing, sometimes convenience is the main goal. Many see it as a cheaper alternative to coffee houses. They want quality coffee without paying a premium, but they don't want to invest the time or energy into a more traditional brewing method.
For others, it's a time saver. They don't want to wait in line at their local shop or ever-present chain for a quick cup.
They also make a great addition to the office environment where not everyone will agree on which type of coffee is best.
What to consider when buying a single cup coffee machine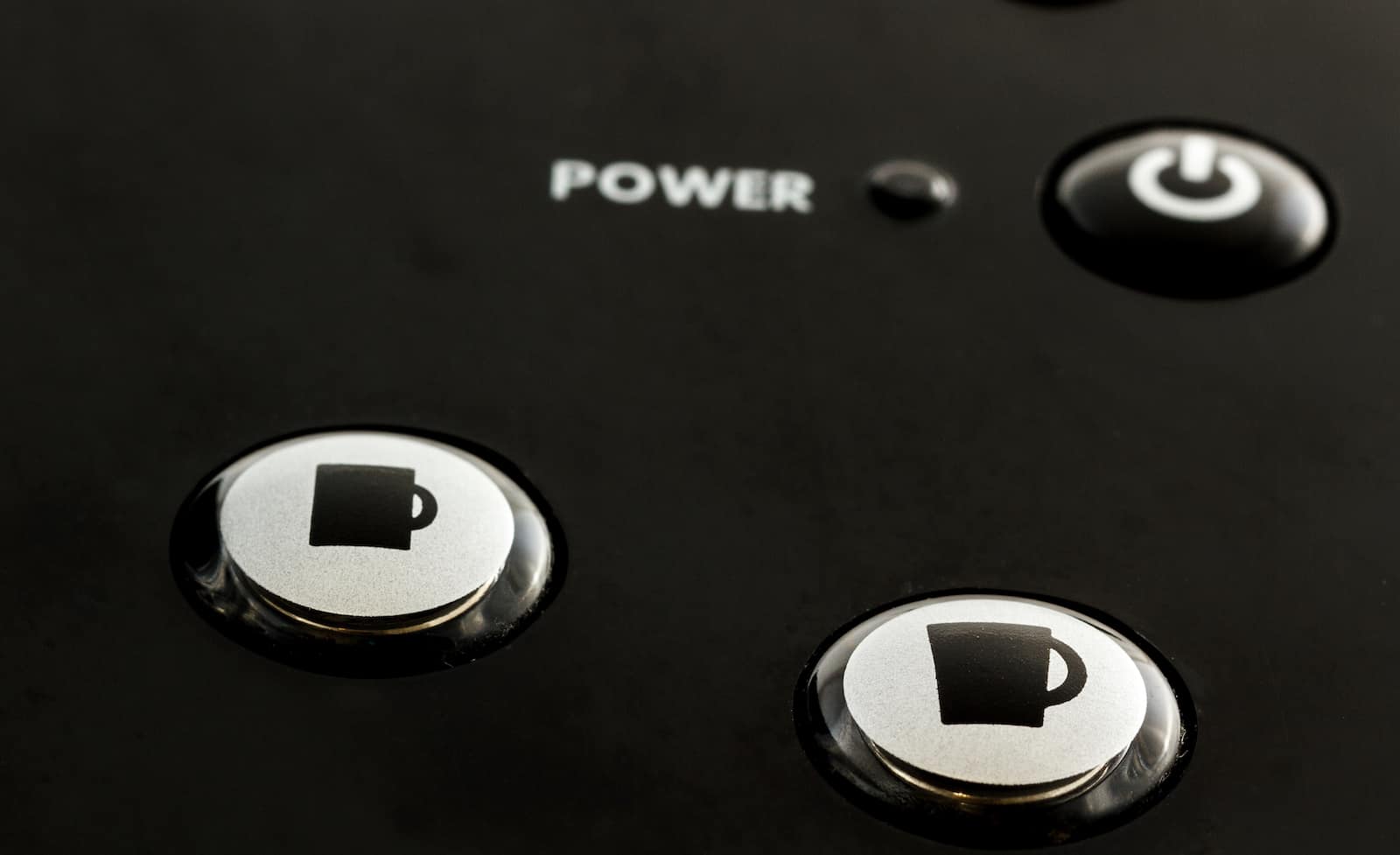 There are many competitors in the single serve coffee space. So how you decide which one to buy? Here are a few options to consider when you're trying to find the brewer that will best meet your needs.
Brewing Variety
Single serve doesn't have to mean single purpose. At the very least, you should expect variety in the pods or capsules that your machine uses.
Even better are the machines that provide different brewing styles, allowing you to make a regular drip brew, a bold coffee, or an espresso (or something similar) in the same machine.
Serving Sizes
While the one cup coffee maker enables you to make a single serving, that doesn't mean it has to be limited to that size. Instead, many machines can brew a variety of sizes to meet your needs, whether you want a single shot of espresso or an entire carafe.
Many machines also adjust to fit the height of your container. If you have a travel mug, you want to be able to fit it under the spout. But you also don't want to have your regular mug so far down that splashing makes a mess. Most single serve machines will address this issue with an adjustable stand.
Other Options and Features
In addition to the variety of sizes and styles available, some of the best single serve coffee makers provide other convenient features and options.
Some have a clock and allow you to program a delayed brew. Some have different options for brewing, including a hot water mode in case you'd like to make tea or hot cocoa.
Others keep the operation simple, where pushing a single button gets your coffee brewing quickly.
Cost: Upfront and Ongoing
The initial investment in a single cup coffee maker is typically somewhere between a standard drip maker and a mid-range espresso machine. Most are on the lower end of that spectrum, however, and their price can easily be recouped if you're making more coffee at home instead of at the coffee shop.
How quickly that happens will depend, in part, on the ongoing cost. For some single cup coffee makers, you will be limited to proprietary coffee pods that are often more expensive. Across the spectrum, pods can be anywhere from around thirty cents (when bought in bulk on sale) to over a dollar.
Another option for many machines is the ability to use your own ground coffee. While the permanent filters they provide are not quite as convenient as capsules, they do offer endless variety. And they allow you to control how fresh your coffee is.
So if cost is one of your main concerns, don't just look at the price of the machine.
---
Takeaway
Whether you're looking for convenience or to save money or time, single cup coffee machines have a lot to offer. And the technology continues to improve.
Some are great for espresso enthusiasts, while others provide a simple solution to coffee drinkers who just need a quick cup in the morning.
If you aren't wedded to a traditional brewing technique (or you just don't always have time to perfect your brew), these single serve coffee makers can make a great addition to your kitchen or office.
---
---