We independently select these products — if you buy from one of our links, we may earn a commission.
Ninja Coffee Maker Review – Hot and Cold Brewed System
Disclosure: We received this product for free from Shark Ninja in exchange for our honest review.
A few years ago, Ninja (best known for its blenders) entered the coffee market with a home brewer that promised to deliver a variety of coffee shop drinks in one package. They did a decent job from the start, but they continue to expand features.
The latest in their lineup, the Ninja Hot & Cold Brewed System might leave you wondering what else you could throw into a single brewer.
But does the Ninja hold up under scrutiny? Read on to find out if it should be your next coffee gear purchase.
Who Should Consider the Ninja Hot and Cold Brewed System?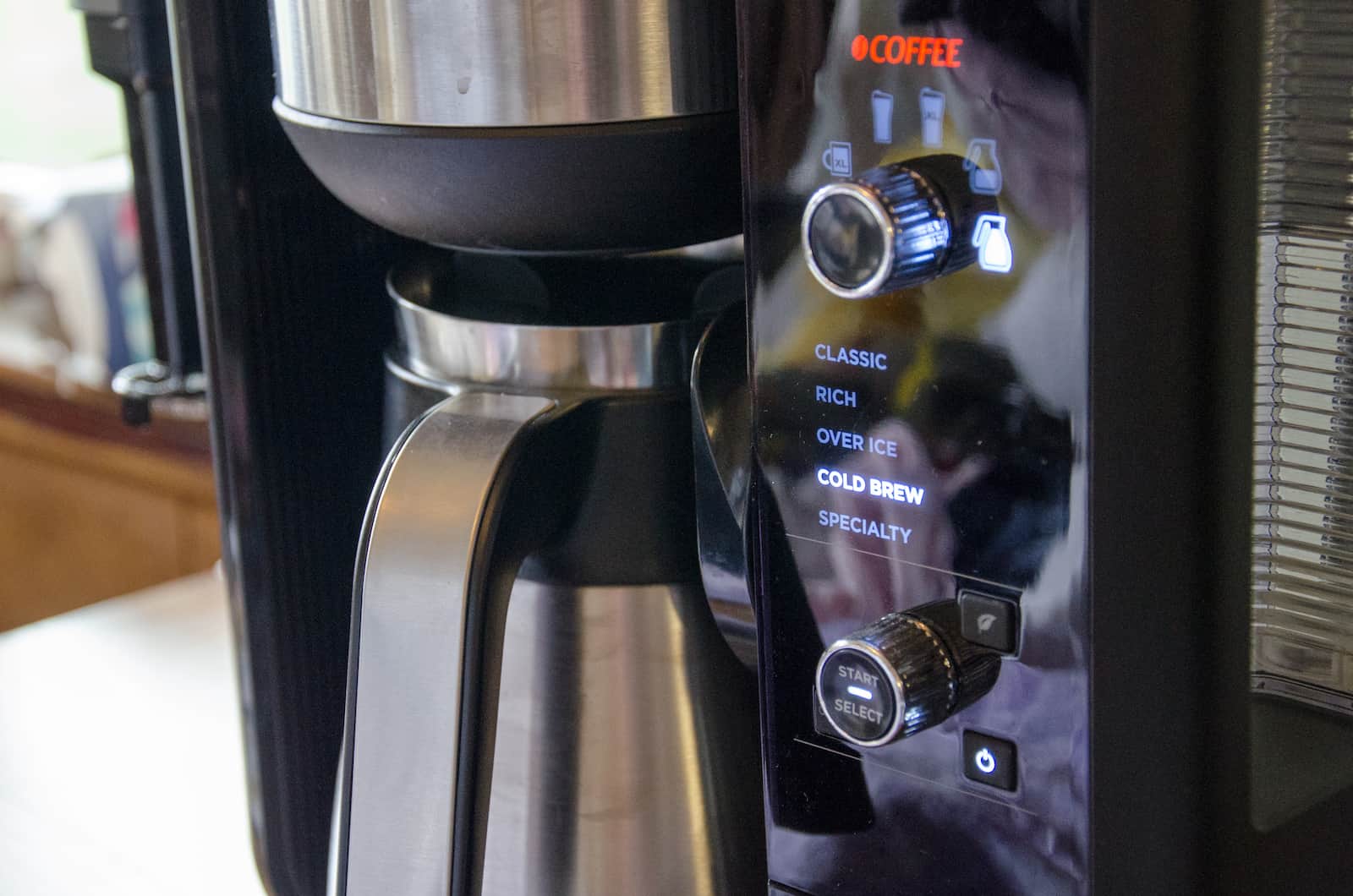 This system is all about variety.
First, it provides multiple brewing styles, from regular drip to cold brew. It can also complete those different methods in a variety of sizes, from single serve to full carafe. And finally, it can do all that with both coffee and tea, from black to green and herbal to oolong.
So, if you like different brewed drinks from day to day or even at different times throughout the day, this Ninja model is a great option. It also works well for families or households that have multiple coffee drinkers who have different preferences.
Pros
Provides LOTS of options
Simple to use scoop works great for beginners and convenience
Easy to clean
Great value for coffee drinkers who like variety
Single serve option with no pods
Cons
Some brewing methods (cold brew in particular) are louder than typical drip brewers.
On the tall side, so it might not fit under short cabinets.
Unboxing the Ninja Hot and Cold Brew System
The Ninja system arrived in a single, cardboard shipping box. This box is just big enough to hold the manufacturer's box inside. While some might consider it wasteful, it does a good job of protecting the package. And it hides the contents from opportunistic package thieves.
On the outside of the manufacturer's box, full color photos and descriptions show you the basics of what you'll find inside. There isn't a ton of information, of course, but it's enough to get you excited about opening the package.
Inside, you'll find everything you need for the Ninja: the brewer, the carafe, permanent filters, filter holders, whisk, water reservoir, "smart" scoop, quick start, manual, and recipe book. What you won't find is a bunch of wasted packing materials.
With just a few pieces of tape to remove, the brewer is simple to set up. It is recommended that you give everything except the brewer itself a quick wash and run the system through a cycle with no water or tea.
It's hard to wait during that step because you're probably ready to dive in right away. But you can use the time to look over the manual or quick start guide or to peruse the recipe book.
Brewing Regular Drip with the Ninja
You won't find many surprises with standard drip coffee. But would you really want surprises here anyway?
The controls are really easy to use: just two knobs on the front to select brewing style and size. Unlike many brewers, the Ninja display is bright with just enough color to make the whole thing pop.
While many filter holders slide into the side or requiring lifting a lid, this filter basket rotates out from the center top of the brewer. It's a subtle difference, but it is smooth and surprisingly satisfying.
When you are brewing coffee, you'll want to use the orange filter basket, which fits nicely in its spot. The machine automatically recognizes which filter basket you are using, so you don't have to tell it to switch between coffee and tea.
The Ninja uses a cone filter style, and it comes with a permanent filter. This can help reduce waste if you prefer to not use paper filters. Many permanent filters are a pain to clean and almost more trouble than they are worth. This one empties with a quick tap into the garbage and a brief rinse in the sink.
It's also a great shape for brewing sizes smaller than a carafe, which means single-serve coffee with no need for pods. (Fresh is best.)
When you are preparing your coffee, you can use Ninja's scoop, which has handy measurements on it to give you an idea of how much coffee you need for different brewing size.
It's nice that it has two ends: a large and small scoop. If you want a consistent brew, of course, you'll want to weigh your coffee. The scoop is a good starting point, though.
The drip coffee from the Ninja was hot (about 185 degrees F in the carafe) and had a good flavor to it. It seemed that the smaller brew sizes were not quite as hot, but I didn't find it to be a problem.
While the coffee brews, five horizontal bars light up in succession to show you how far along the brew is. That is particularly handy for other modes that take longer. And when the brew is complete, a series of beeps informs you that it is time to sip.
If you find the regular drip could use a bit more kick, you can try the Rich brewing mode. This produces a more robust coffee that holds up better when mixed with cream, milk, or sweeteners,
Overall, it makes a quick, tasty brew. Of course, the Ninja's real magic is that it doesn't just make regular coffee.
Brewing Cold Brew in Minutes (Not Hours)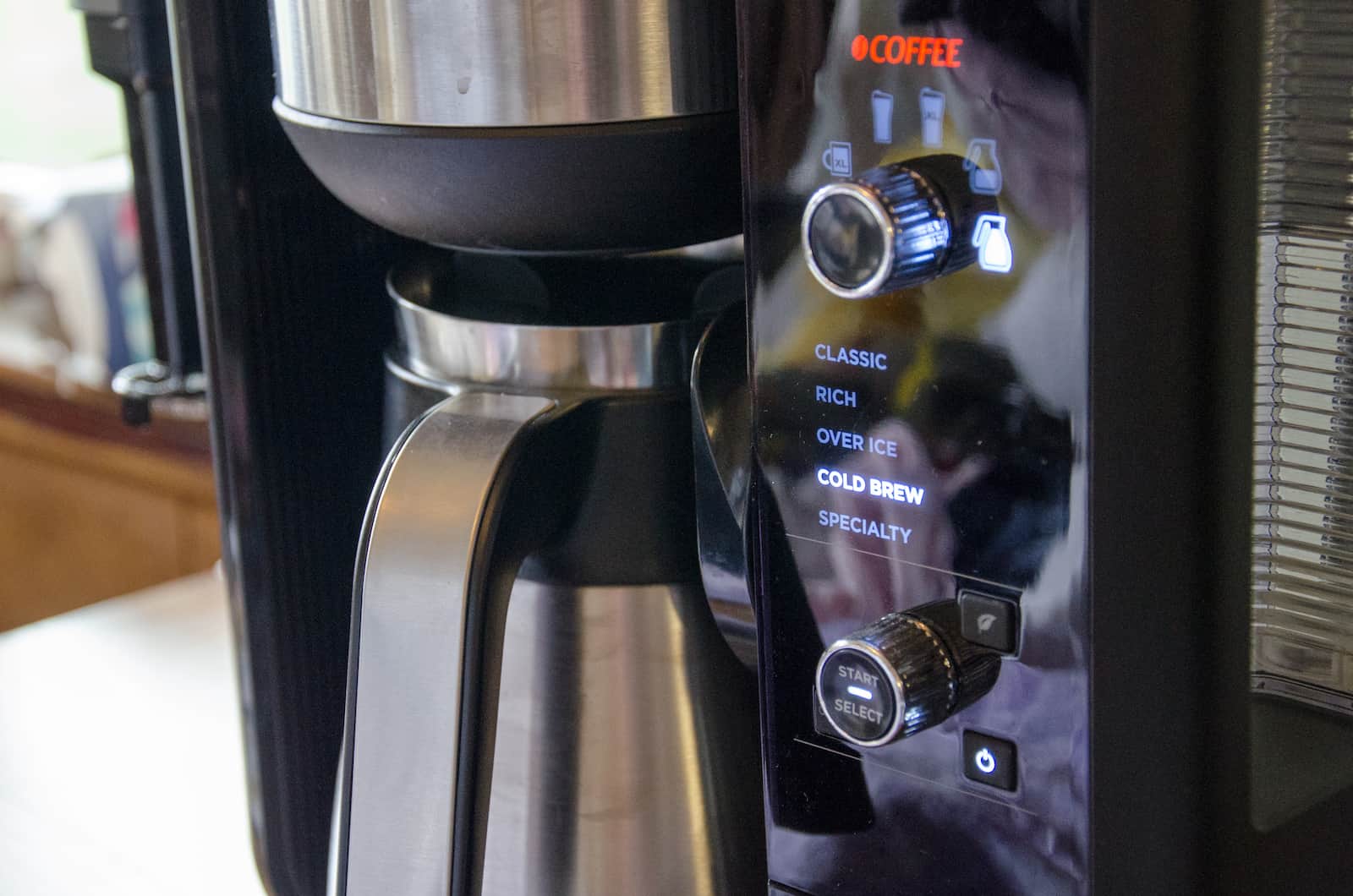 One of the biggest perks of the Ninja is right there in the name: Hot & Cold Brewed System. Of course, there are cold brewers on the market, and many of them do a great job. But Ninja is unique in the way it combines both hot and cold brews.
First, we should acknowledge that the Ninja cold brew is not your traditional method. The first major difference is that it does not take hours.
Instead of immersing the coffee at room temperature (or even in the fridge) from several hours to a full day, the Ninja uses slightly warm water to brew something like a cold brew in just fifteen minutes. And it takes even less time if you just want a cup or two.
Most regular drip makers wouldn't be able to pull off this feat even if they wanted to.
Because drip brewers resemble a pour over much more than a French Press, they don't really have a way to let the coffee steep. Ninja's brewer actually closes off the drip to a let the coffee soak in water for minutes at a time.
This means that the water has more time to extract flavor from the coffee even when it isn't at a high temperature. So, you get many of the benefits of cold brew, like a smoother, sweeter flavor, without the long wait times.
The Ninja doesn't use as much water for the cold brew method because it expects that you will serve the drink over ice. (I like to add ice directly to the carafe to instantly cool the brew.) This gives you a more concentrated brew, so keep that in mind when preparing it.
For cold brew purists, the Ninja probably won't give you the exact results you want. It does make a tasty cup, and the convenience is hard to beat. It isn't as strong as a regular cold brew, though, and you will likely pick up on the difference.
If cold brew is your regular method, you might want to choose a dedicated cold brew system. If it's a treat you like to have in the hotter months, or if it's just one option in your coffee preferences, the Ninja is a great choice.
It's also nice that you can do a cold brew for just a cup or a travel mug. That's more convenient than needing to brew an entire carafe like you typically would with cold brew.
I will say that the cold brew process is a little on the loud side. This is because of the mechanism the brewer uses to keep coffee from dripping. It has a pretty noticeable whirring sound that you wouldn't get in a typical brewer.
That certainly isn't a deal breaker though.
Brewing Over Ice with the Ninja
If you like cold drinks but don't like cold brew (or maybe you're in a hurry), the Ninja also provides an over ice brewing option.
This selection uses standard temperature for regular coffee or tea, but it uses less water. That way, the flavor of the drink is locked in once it hits the ice, and the result isn't as watered down.
This method is similar to the Japanese iced coffee pour over, and it yields decent results. I found this method particularly useful for making iced teas.
And since it is available in all sizes, you can brew an entire pitcher for you and some guests or just make a quick iced drink for the road (directly into your travel mug if you like).
Making Specialty Drinks
Another carryover from the previous Ninja Bar system, the Specialty mode brews a specific size of bold, robust coffee. It's best described as espresso-like.
Since it doesn't require the pressure of a pulled shot, this coffee isn't going to deliver a creamy, thick shot. But it is a concentrated brew that makes a decent cappuccino or latte.
And with the milk frother, you have everything you need to make a coffee shop substitute.
This is the one mode that doesn't require a size selection. It always creates the same size because it is meant to resemble a specialty espresso shot.
It is nice that you can also use it for tea, though, and the Ninja recipe book offers some interesting possibilities for expanding your tea pallette.
Using the Attached Frother
Regardless of what kind of coffee or tea you make, you might find the need to add some foamed milk. This usually requires a steam wand or a separate frother, but Ninja went ahead and added a frothing wand to the side of the brewer (like with their Bar brewer).
The convenient frother rotates out from the side when you need to use it. And its operation is as simple as pressing a button. With that one press, you can froth up a cup of milk in under thirty seconds.
This won't deliver the same results as a steam wand, but it still provides thick, luxurious foam to keep your specialty drinks light and airy.
Keep in mind that it does not heat the milk like a steam wand either. The downside is that you'll need to zap your milk in the microwave (or heat it on the stove) for hot drinks.
But the positive is that you can introduce foamed milk into your cold drinks. (Even Starbucks has finally caught on to this idea.)
The wand comes off the brewer with a quick twist, which makes it easy to clean after use. And you can even toss it in the dishwasher if you need to.
Making Great Tea with the Ninja
Granted, not all coffee drinkers like tea, and vice versa. Ninja has recognized that there is enough common ground here to consider a way to combine them into one machine.
Sure, you can try that with your regular coffee pot, but don't be surprised if the results are a dissatisfying amalgam.
One of the main issues is that you will almost certainly have coffee flavor in your tea and maybe even tea flavor in your coffee (although that's usually not as overpowering). Ninja address this problem with a simple and effective solution.
Separate filters.
When you want to make tea, you use the green filter basket and filter instead of the orange one for coffee.
They aren't just two versions of the same thing either. Each filter is specifically designed for the drink being brewed. And because of the way they fit into the machine, it knows whether you are making coffee or tea and adjusts accordingly.
Now, tea isn't really a complicated drink to brew in the first place, so you might not need an entire machine for it. But it can be super convenient.
For one, it doesn't take up any extra counter space because it's using all the same stuff as the coffee maker. (I will admit that having the extra filter is a bit of a storage hassle.)
Also, the machine doesn't just make a single cup of tea or an entire pitcher of tea. Just like with the coffee settings, you can choose an entire range of sizes from single cup to carafe.
So you can brew a single cup of tea for guests and brew a coffee for yourself, all from the same machine. You also have the same brewing styles as with coffee.
With the tea filter, you can also use bags or loose leaf teas. And you can select from a variety of tea types, including white, oolong, black, and green teas.
To do this, you'll first need to press the tea leaf button, then rotate the knob that usually controls the brew method.
I will say that the clean up isn't quite as easy when using loose leaf teas. The metal mesh holder comes out easily, but the tea tends to stick to the sides of the filter holder. It wasn't a huge hassle, and tea bags are about as easy as it gets.
Other Nice Perks of the Ninja
While those are the major features in this brewer, it also has a lot of features that you might look for in any brewer. Here's a quick breakdown of some of the other benefits.
No drip operation: The Ninja is truly no drip because it actually closes off the filter basket with mechanical action instead of relying on a spring like most brewers.

Removable water reservoir: The 50oz water reservoir comes off easily for refilling. It also has minimum level markings for the different brew sizes, which is handy if you don't want to fill it completely every time.

Easy to clean: While the stainless carafe is hand-wash only, the filters, filter baskets, and whisk can all be tossed in the dishwasher. The brewer also has a cleaning cycle, and will alert you when mineral deposits are slowing your brew times too much.

Fits different size mugs: If you are brewing less than a carafe, you have plenty of options for your catching your coffee. There is lots of clearance for tall travel mugs. And a single mug sits nicely on the fold-down stand, which helps prevent splashing.

Easy to read display: The Ninja looks like a modern, technologically advanced brewing system. The lights are bright and provide great contrast, which makes them easy to see even in a bright kitchen.

Delayed brew: If you like to wake up to the smell of freshly brewed coffee, you can take advantage of the programmable delayed brew, which is easy to set up.

Auto-off: To save energy, the system goes into sleep mode when you haven't been using it for a while. A simple tap of the power button will bring it back to life for you.

Recipe book: Too many options and no way to decide what to drink next? Check out Ninja's beautiful recipe book for some great inspiration for hot and cold beverages that will spice up your routine.
Takeaway
As you can see, the Ninja really does try to provide a complete, next-generation brewing system. Purists likely won't care for the automatic settings, but they aren't really who this is designed for anyway.
If you're looking for a drip brewer that goes above and beyond a good cup of coffee. If you want to have seemingly endless options at your fingertips in the morning, afternoon, or evening. If you can never decide what kind of coffee you want (or if you would prefer tea instead). Then the Ninja is a great buy.