We independently select these products — if you buy from one of our links, we may earn a commission.
Moka Pot vs AeroPress
Espresso-based drinks are your jam. You love visiting coffee shops to get that perfect latte, complete with impressive latte art.
Or maybe you skip the milk and enjoy your espresso straight up. You can even occasionally be spotted with your pinky out while holding one of those tiny cups.
But perhaps you're ready to do your espresso at home and don't know where to start. Today we'll outline for you the two best almost-espresso makers: the Moka Pot and the AeroPress.
If you're not ready or able to invest in an espresso maker, these two brewing methods are for you.
Comparison: Moka Pot vs AeroPress?
Ease of Use
Moka Pot
These steps will get you started with your Moka Pot. But don't be worried if it takes a few tries to get the hang of it. The trickiest parts are figuring out how quickly to heat the water and deciding on the best grind texture. Once you've got this down, it's a relaxing process.
Grind your beans very finely, about the same as table salt (roughly 20 grams)
Boil water and use that water to fill the bottom half of your pot (some people skip this step and simply use cool water)
Put the grounds in the filter basket and give them a shake to distribute evenly
Place the basket in the bottom half of the pot
Put together the rest of the Moka Pot and place the assembled pot on the stove (it's best to place it on the corner of your burner to avoid scorching the coffee)
Turn your burner on medium heat
Wait until you hear a hissing sound, then carefully remove the pot, pour, and enjoy
AeroPress
So there are actually a few different methods for brewing with your AeroPress (inverted or regular). Here are the steps for the easier way, but try your hand at both to see what you prefer.
Heat the water (205F) and grind your beans to about the consistency of table salt
Place and rinse your filter then discard the water
Assemble the AeroPress and affix it to your mug
Add coffee
Add half the water (stir after 45 seconds)
Add the rest of your water and place the plunger
At 2 minutes, press down on the plunger until you hear a hissing sound
Enjoy
Winner
While the Moka Pot may be a little easier, you can't beat the fun factor of the AeroPress method. So it wins simply for its unique design.
Brew Time
Moka Pot
The actual brewing time doesn't take long, around 5 minutes. But you'll also have to heat up the water and grind the beans. So be prepared to spend up to 10 minutes on the whole process at first. Once you get the hang of it, it'll take 5-7 minutes.
AeroPress
The AeroPress brews in 2 minutes, so even with heating the water and getting the beans ready, you have one of the quickest brewing times out there.
Winner
AeroPress, for its remarkable speed. Moka Pot just can't keep up!
Ease of Cleanup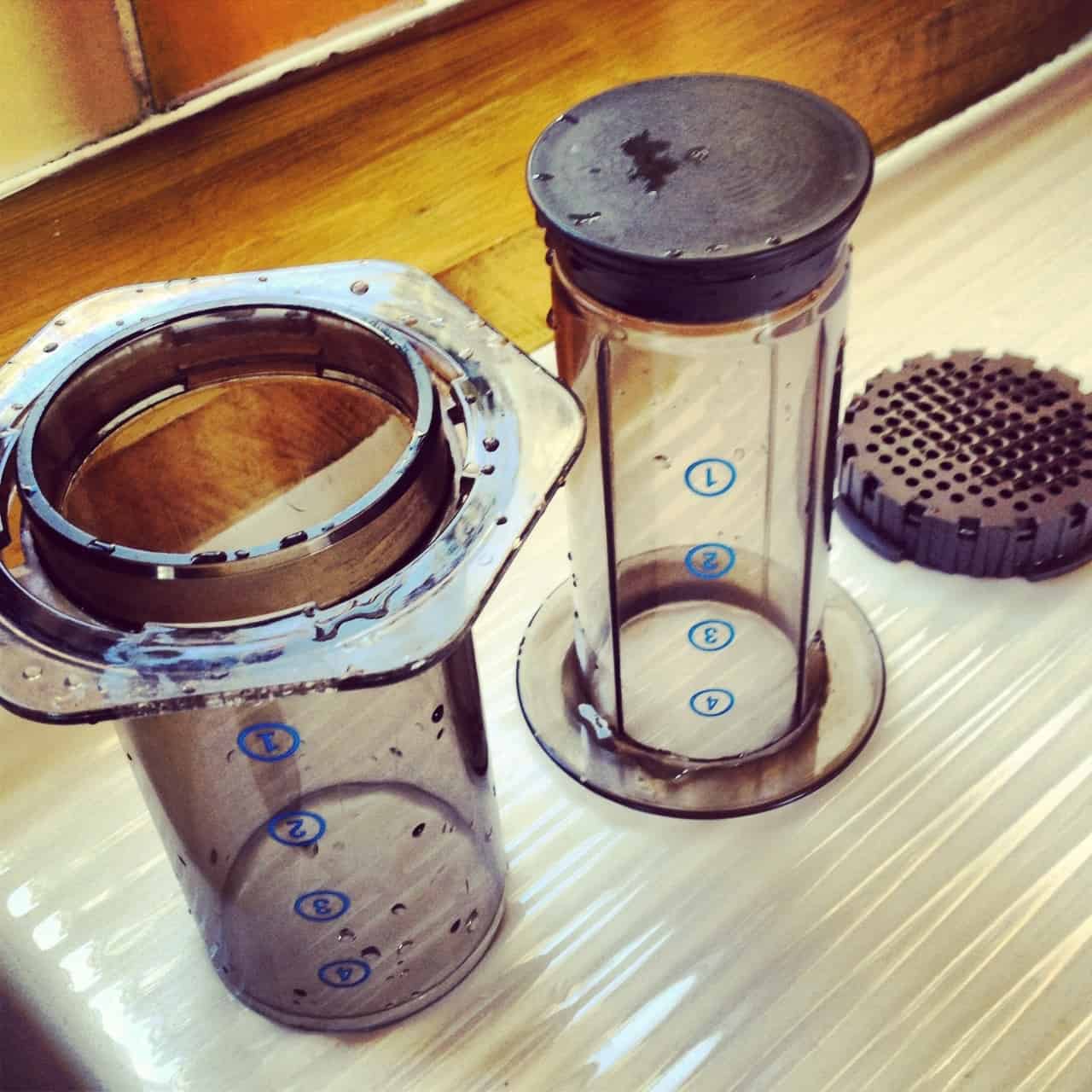 Moka Pot
Because Moka Pots are made of aluminum or stainless steel and heated over direct heat, they get incredibly hot. So before you clean it, let it cool down. Then simply toss the grounds and rinse with cool water.
AeroPress
Probably the easiest cleanup possible. This method creates a tight clump of brewed grounds, so all you have to do is push that out and rinse the base with hot water.
Winner
Hands down, the AeroPress wins for quickest cleanup. Cleaning a Moka Pot isn't hard, but it can't top how quick and tidy the AeroPress is.
Capacity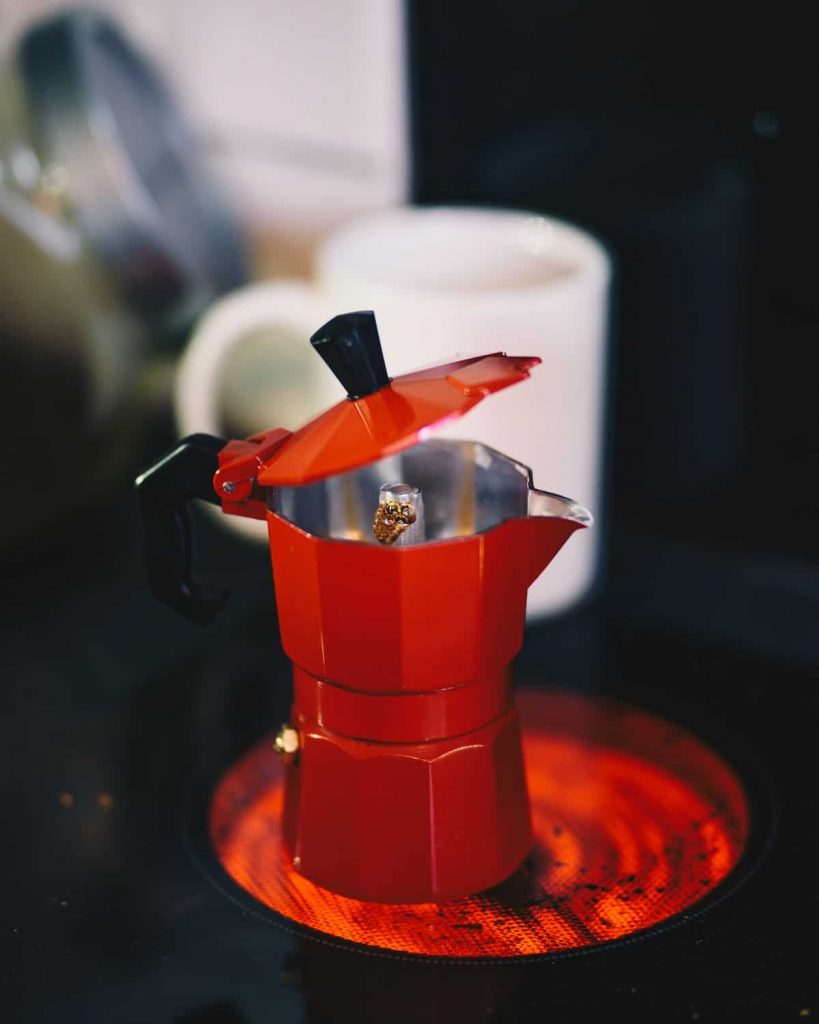 Moka Pot
The Moka Pot is measured by roughly 2oz/cup, and you can find pots that make 1-12 of these espresso-sized cups. Go for one of the larger sizes if you want to serve guests as well. But a smaller size will do just fine for your daily coffee needs.
AeroPress
The AeroPress has a fixed capacity of 8oz (250ml), so it's really made for one mug of coffee. But because it brews so quickly, 3-4 pressings brewed into a carafe and topped off with hot water will give you enough coffee for a crowd.
Winner
The Moka Pot wins based on versatility, meaning you can choose the pot size based on your coffee needs, unlike with the AeroPress.
Additional Equipment
Moka Pot
The Moka Pot works great with minimal extra equipment. You need a way to get water into it, so investing in a kettle will help. And we prefer freshly ground beans for the best taste, so consider a burr grinder. And that's all you really need.
AeroPress
When you buy an AeroPress, you also get the necessary filters, paddle, and scoop. Additionally, we recommend a gooseneck kettle for its ability to control the water flow. With it, you can easily avoid burning your fingers with the hot water as you pour it into the tiny tube.
Winner
The Moka Pot squeaks out a win here since even though the AeroPress comes with all the equipment you need, the Moka Pot has less overall equipment to take care of.
Cost
Moka Pot
You can get a respectable Moka Pot for around $30. Or you can splurge for one in the $80-$100 range that looks impressive and will probably last as long as you do. Either way, you're getting near-espresso coffee without the hefty price of an espresso maker.
AeroPress
The AeroPress costs roughly $30. Because there's really only one brand, you don't have options. But if you ask us, $30 for a fun, fantastic brew makes it worth your money.
Winner
For $30, you can invest in better coffee with either a Moka Pot or an AeroPress. But since the Moka Pot offers fancier varieties as well, it takes the lead here.
Taste
Moka Pot
Also called the Stovetop Espresso Maker, the Moka Pot brews coffee in the most similar way to an espresso machine – through pressure. It's not technically espresso because there's not as much pressure.
But the taste comes pretty darn close, and you may even get to enjoy some sweet crema from your Moka Pot. Not really espresso? Who knew!
AeroPress
The AeroPress uses pressure to brew coffee too. By pressing down on it, you're providing manual pressure. So this method gives you a sweet and bright flavor, also reminiscent of espresso.
Winner
We can't choose a winner for this one because it all depends on your personal tastes. They're both great for making espresso-based drinks at home but also good on their own. A win-win either way.
Get Ready to Espresso (Almost)
It's time to start practicing your latte art because you're about to become an espresso-making expert. At least, you'll be as close to one as possible without investing in an espresso machine.
The Moka Pot's continued presence over centuries means it's a tried and true method. In fact, only espresso geniuses will tell you that Moka Pot coffee isn't truly espresso.
The rest of us don't mind being fooled by its bittersweet, strong flavor.
The AeroPress, on the other hand, turns coffee into a science. With its manually pressured design, the AeroPress brings as much satisfaction to the brewing process as it does to the final subtly sweet taste.