Little Coffee Place is reader-supported. When you buy through links on our site, we may earn an affiliate commission.
How to Make Delicious Mocha at Home – Step by Step Recipe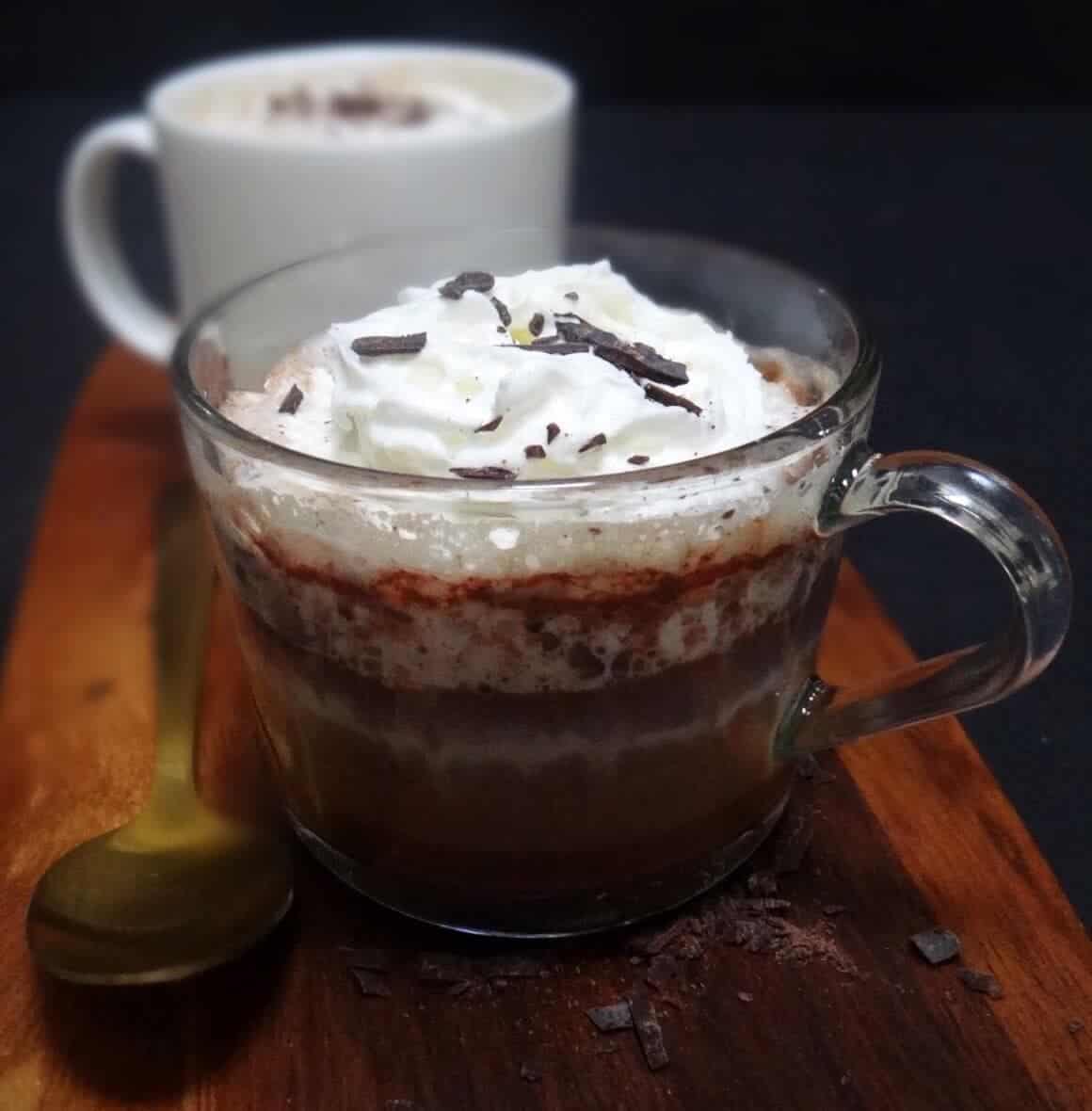 I like my coffee fuss free. That usually means no sugar, no flavorings and definitely no whipped cream. But as with every rule there are always exceptions. Sometimes a regular old coffee just won't cut it! Nothing less than a treat will do and I find myself craving a smooth, luxurious mocha.
A delicious note of chocolate coupled with a definitive caffeine kick makes the mocha a perfect balance of indulgence and necessity. Did you know it is super easy to whip this treat up at home? Just a few basic ingredients and ten minutes are all you need to make this coffee shop staple.
While I have stuck to the basic formula of strong coffee, dark chocolate and steamed milk you can go ahead and customize it to your taste. You could add spices such as cinnamon and nutmeg. You could switch from dark chocolate to milk chocolate or even white. You could even add a pinch of cayenne – this recipe really is versatile!
You could even use the same recipe to make an Iced Mocha, for those warm summer days when you absolutely must have coffee but cannot stomach anything warm. The instructions for both versions are detailed below.
Mocha Recipe – Yield 2 cups
Ingredients
Brewed coffee* – ½ cup or 50 ml

Dark chocolate** (at least 72%) – 30 grams

Milk (2%) – ½ cup or 50 ml

Granulated sugar – 1 tsp

Vanilla extract – ½ tsp

Optional toppings – whipped cream, chocolate shavings, cinnamon powder, marshmallows
*I use a pretty strong brew – 4 tbsp of medium-dark roast coffee to 1 cup of water. If you use a lighter brew adjust your milk and sugar quantities according to taste
** If you choose to use milk chocolate or white chocolate then cut down or eliminate sugar from the recipe to balance the sweetness
Cafe Mocha Recipe
Add the brewed coffee, chocolate, sugar and vanilla extract to a small saucepan and place it on very low heat until the chocolate melts. Stir continuously and make sure the mixture does not cook or simmer

Steam milk in the microwave or on the stovetop. Froth the milk using a

frother

. If you don't have one, use

this simple method

to froth it using a jar and a microwave.

Divide the coffee – chocolate mixture into two cups. Top with the steamed milk and froth. You can either leave it layered or stir through gently to combine

Top with your favorite toppings, sit back and enjoy the cafe experience!
Iced Mocha Recipe
Freeze brewed coffee in ice cube trays overnight

Melt chocolate in a microwave and allow it to cool slightly

Blend coffee ice cubes, milk, sugar, chocolate and vanilla extract in a blender

Divide between two cups, top with whipped cream and chocolate shavings