We independently select these products — if you buy from one of our links, we may earn a commission.
Top 5: Best Milk Frothers of 2022 – Lattes Made Easy
Making beautiful and tasty lattes or cappuccinos at home has never been easier. With the push of a button, you can froth and heat the milk to pour it into your coffee.
We've reviewed the best milk frothers in the market. They all are really easy to use. You can choose between automatic, handheld or manual milk frothers.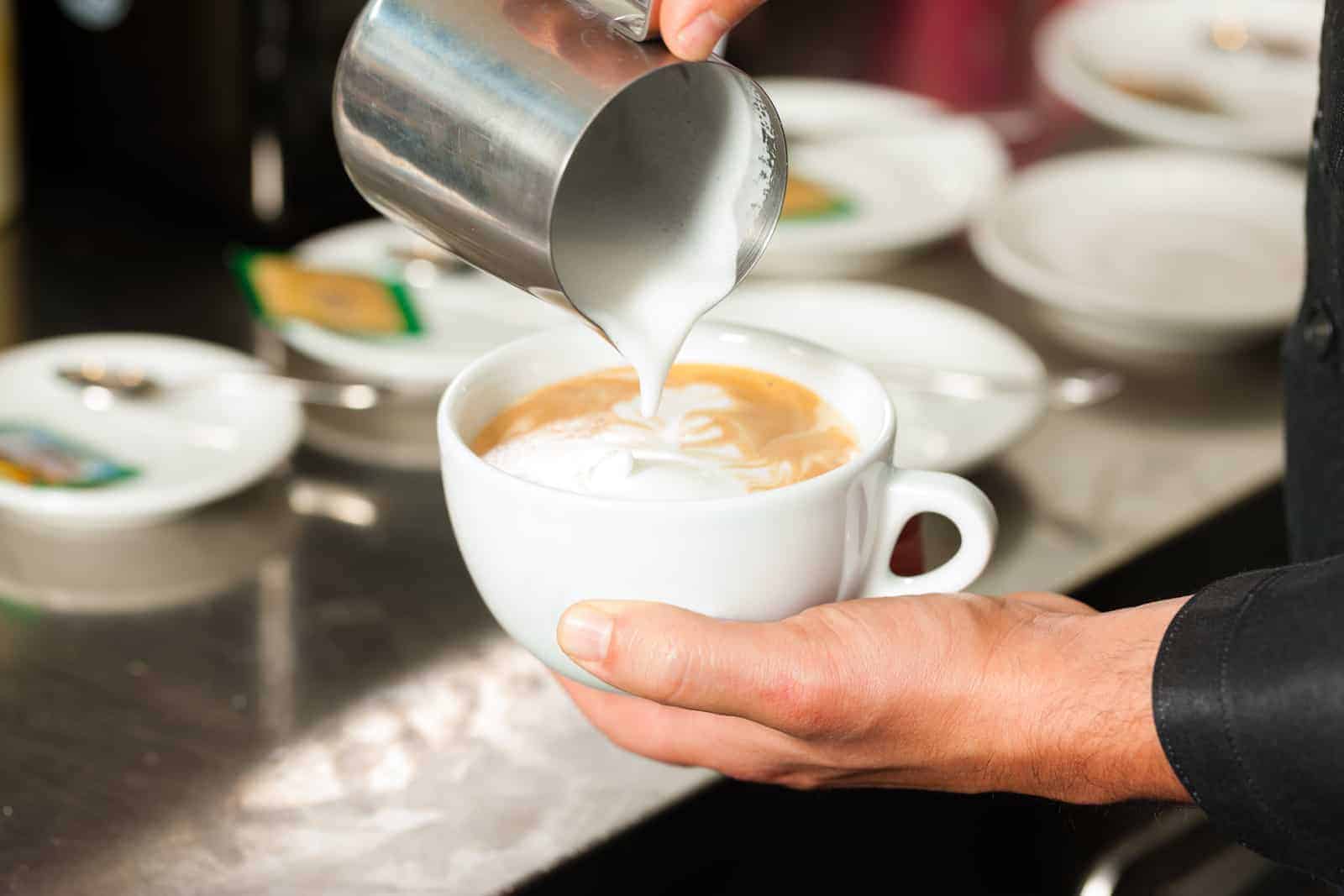 Milk Frother Reviews
| Name | Type | Heats the Milk? | Price​ |
| --- | --- | --- | --- |
| Breville Milk Cafe | Automatic | Yes | |
| Epica Automatic Milk Frother | Automatic | Yes | |
| Nespresso Aeroccino Plus | Automatic | Yes | |
| Kuissential SlickFroth 2.0 | Handheld | No | |
| HIC Milk Creamer Frother | Manual | No | |
We prefer the automatic models since they do two jobs at once, but if you don't need to heat the milk (For iced coffee for example) then the handheld frother is the best choice.
Best Automatic Milk Frother
This is the best automatic milk frother. The main difference between this and the others in the list is that the Breville has a lot of features.
One of the greatest features is that allows you to select the milk temperature (from cold to 160ºF or even more if desired). This gives you more control over the process.
It has a stainless steel milk jug with inner measurement markings that has a great capacity: Up to 750ml for hot milk and 500ml for frothing (recommended). It's also detachable from the base.
The Breville uses an induction system that provides an even heat distribution.
Comes with two different frothing discs: one for cappuccino and another one for latte. Choose the cappuccino disc if you want thick and creamy froth or the latte disc for smooth and silky milk.
Another great feature of this milk frother is that you can add ingredients once the mix has started (comes with a measuring cap). This is great for hot chocolate for example.
Just allow the milk to warm up a little before begin to slowly add cocoa powder (or other ingredients if you like). If you add the ingredients too fast, the frothing disc could stop spinning.
Remember to wash the milk jug and the frothing disc right after each use. The jug, measuring cup, frothing disc and jug lid are dishwasher safe (top shelf only) but Breville recommends to wash them by hand.
The Breville is the most expensive milk steamer in the list, but is also the best milk frother and it's worth every penny.
---
You have three settings available with this machine:
Cold froth: Iced coffee, iced capuccino, etc.
Hot froth: Cappuccinos, mochas, espresso macchiato, etc.
Hot milk: Hot chocolate! Or for coffee as well, if you don't like the foam.
You can also use it to froth dairy free products like almond milk, soy milk, or Coconut milk.
The Carafe is made of stainless steel and is vacuum insulated, meaning that keeps the milk warm (or cold) for a long time. It can be detached from the base for easy pouring and has a frothing capacity of 4.25 oz. (125 ml.) and a heating capacity of 8.5 oz. (250ml).
The temperature of the hot milk is not programmable and it reaches 150ºF. Which is good but is in the low end of the ideal temperature. It takes approximately 90 seconds to reach this temperature, both in heat and froth mode.
It's very easy to clean because the interior of the jug is coated with a non-stick material. To clean it, just put it under running water and be sure that no milk remains in the carafe. Try to do the cleanup right after you use it and it will be much easier. Don't submerge it in water, it's not dishwasher safe.
This milk frother may not have all the features that the Breville has. But if you don't need them, this is the best option. Why? Because it's just a lot less expensive.
---
With the Aeroccino you have the have three options too: Hot froth, Hot milk and Cold froth.
For hot preparations briefly press the button, and for cold milk froth keep the button pressed for two seconds. It has a maximum capacity of 4.40 oz. (130 ml.) and a heating capacity of 8.5 oz. (250ml).
The jug can be detached from the base for easy pouring.
As with the Epica, the temperature is not programmable and it takes approximately 70 seconds to froth hot milk and 130 seconds if you only want to heat it.
The interior of the jug is coated with a non-stick material that is very easy to clean. Although some people had reported that this coating started to come off over time.
So if you want to grab the foam inside of the Aeroccino, try to use rubber or plastic spoons. Use the same materials when cleaning.
To clean it (try to do it after every use) just put it under running water. It's not dishwasher safe.
---
Best Handheld Milk Frother
If you want only a handheld milk steamer, then this is the best you can get.
The Kuissential is the best handheld milk frother and it only froths the milk, if you want hot milk for your coffee you have to heat it before using a microwave for example.
It's really easy to use, just put the whisk head into the milk and turn it on.
The stem and the whisking head are made of stainless steel. It's powered by two AA batteries (not included) and it's very powerful (much more than its competitors).
---
Best Manual Milk Frother
Another option is the manual milk frother. It's powered by you! Just pour the milk and pump up and down the plunger.
As with the Kuissential, you have to heat the milk before pouring it into the frother.
It's really easy to use. The downside is that you can't see the milk while you are frothing. There are glass models too if you want, but they are pretty fragile.
---
---