We independently select these products — if you buy from one of our links, we may earn a commission.
Kicking Horse Coffee Review – Smart Ass Medium Roast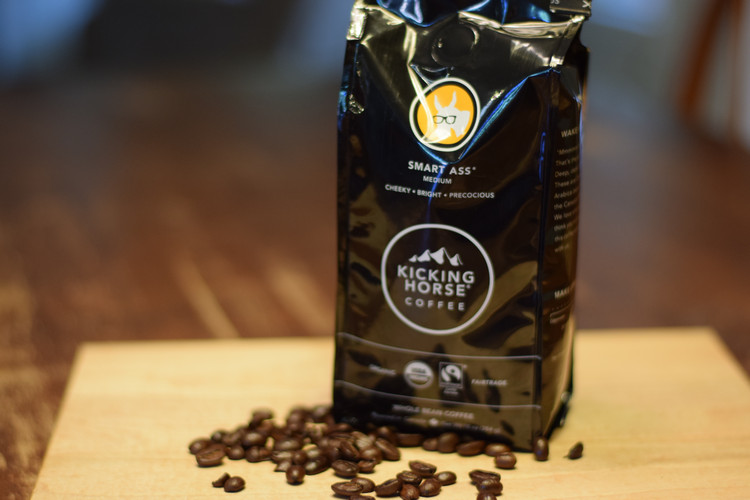 Summary:
Growing Region: Africa, Central and South America
Acid content: Low to Medium
​Roast Profile: Medium
​Flavor Notes: Banana / plantain, salty caramel, mango
Body: Light body with a mild, bright mouthfeel
Pairing: This coffee is forward and rambunctious. It's bright, semi-savory profile cuts through all flavors in its wake. Drink this with a heavy breakfast, light lunch, or explore the flavor realm by pairing it with dark chocolate.
Smart Ass Medium Roast Review
Kicking Horse Coffee is an audacious Canadian coffee roasting powerhouse.
The company's roots were planted twenty years ago in a garage by two aspiring individuals. They noticed the needs of the blossoming specialty coffee industry:​
That coffee farmers needed to be compensated for their craft.
That treating people well leads to further industry growth.
Roasting kick-ass coffee is without excuse.
Kicking Horse continued relentlessly roasting coffee, and now, they are one of Canada's most beloved companies.
Their coffee isn't alright – it's good. Really good. It's hard not to fall in love with a business that makes good products while treating all stakeholders with dignity.
Kicking Horse's mantra "wake up & kick ass," is about living life to the fullest. Sure, drinking a cup of this delicious coffee will wake you up. However, Kicking Horse's true goal is to empower you to kick ass!​
The Coffee
As soon as we opened our shipment from Kicking Horse, "Wake Up & Kick Ass" greeted us on the inside of the box.
If that wasn't a big enough punch in the face, we then read the name of the coffee: "Smart Ass" with descriptions of "cheeky, bright, and precocious."​
The bag is durable, ergonomically designed, and it clearly denotes brewing instructions. It also explains the coffee's farming and roasting practices, and there is a little blurb about the company as well.​
Never before have we had this much fun opening a box of coffee. Information was abundant, and the good intentions of Kicking Horse were made clear.​
​Fairtrade
Kicking Horse believes in fairness. They want what's best for EVERYONE. On the side of the bag, they clearly draw out their intentions: that they "are only interested in using coffee that is good and fair" for both coffee drinkers and farmers.
They want their coffee to taste great, but they hope to incorporate the stories of everyone involved in their coffee's seed to cup process.​
Organic​
Organic coffee is important. It means that harmful pesticides and insecticides are not used. This is significant, as it protects us (the consumer), and it means that farmers incorporate natural ways of keeping coffee healthy.​
These natural farming practices used in organic coffee are sustainable. Soil is enriched instead of being pillaged. Natural plant matter that could be thrown aside is used to preserve and sustain the ecosystem. Tastier coffee can be grown!​
The good people at Kicking Horse believe that "organic means not compromising." They state that organic coffee means "smart farming, planning for tomorrow, and not sacrificing the future."​
And they are correct.​
We believe that Organic crops matter. Companies that incorporate these practices are doing the right thing. You get good coffee, and the world gets to grow.​
Growing Regions​
The Smart Ass Blend is made up of coffee from three different regions: Africa, Central America, and South America.
These regions have a rich climate for growing coffee, and they also have high yields of Arabica coffee (which is the highest quality strand of the coffee plant).​
This blend is grown using the highest quality farming practices and ingredients.​
Which is why it tastes so good.​
Tasting Attributes​
Cheeky | Bright | Precocious
These are the flavor profiles boldly listed on the bag. The Smart Ass Blend is a subtly toasty, yet bright coffee. Cheeky, bright, and precocious is a good way to describe the overall tasting experience.​
We brewed the coffee on an Aeropress, and the results definitely held up to the high quality standards of Kicking Horse.
Flavor Notes:​
Flavors of banana, smoky plantain, salty caramel, and mango permeate the palate when you dig into this coffee.
The front end consists of a mango burst, and the flavor then evolves into a banana-eske, smoky caramel back end.​
The coffee is bright, but the brightness fades into a manageable and savory profile.​
Acidity:
The coffee has a mild acidity.
If you were to brew this at lower temperatures, the acidity would be more prominent. We brewed this using an aeropress at around 205 degrees Fahrenheit. The aeropress immersion method of brewing yielded a drink with mild acidity.​
Overall, the cup was balanced. It had a brightness at the front end that faded into a pleasant amount of acidity.​
Body:
Smart Ass has a light body with a mild, bright mouthfeel.
Similar to the acidity, the body doesn't overwhelm the beverage. At the end of the brew, one is rewarded with a balanced cup of Joe.​
Aroma:
Imagine this: Cane Sugar. Creme Brulee. Custard Apple (Annona Reticulata).
This is what emanates from the grounds immediately after contact with hot water.​
The sweet aroma paired with the balanced flavor makes for a supremely complex taste. It's an aroma that enhances the entire flavor experience.​
Conclusions​
This coffee is for the adventurous at heart. If you enjoy complex flavor profiles and interesting pairing options, this coffee is for you.
Kicking Horse is a company that engages with you. They do this through their relentless vision of living life to the fullest. They do this by providing coffee that you won't forget.​
​We truly enjoyed getting a taste of Canada's Kicking Horse Coffee. It's coffee that makes a difference.
If you're ready for adventure, check out what this company is doing.​
In the words of Kicking Horse Coffee, "Wake Up & Kick Ass!"​
---
---