We independently select these products — if you buy from one of our links, we may earn a commission.
Single Serve It Up: Choosing Between Keurig and Nespresso
Convenient, easy, and fast. Single serve coffee machines simplify life.
And while they may not give you the best brew possible, they're still good enough to wind up in almost every office, hotel, or airport you visit.
But what about your home? How do you go about choosing which single serve machine meets your at-home coffee needs?
Today we're comparing the top two brands, Keurig and Nespresso, to help you decide which one checks all your boxes and makes its way into your at-home coffee bar.
Taste
It's what any coffee drinker really wants to know: which one tastes better?
Keurig produces a decent brew for single serve coffee. At least, enough to get the caffeine job done.
One main issue with the taste of Keurig coffee is that most machines offer multiple cup size options. But you still use the same pods.
The result? Keurig coffee tends to taste weak and bland. It's still hot and caffeinated, but probably not the top choice for good coffee.
With Nespresso, on the other hand, you'll get a finer quality cup of coffee. Nespresso's superior barcode and centrifusion method for brewing means your final cup of coffee taste bold but delicate.
Plus, since Nespresso was made for espresso, you'll get a rich tasting crema on top of each brew for an overall better experience.
Brew Options
That ability mentioned above to brew espresso marks perhaps the biggest difference between Keurig and Nespresso.
Nespresso, as the name sounds, was created for single serve espresso. Due to the demand for larger sizes, many models can now brew everything from a single shot espresso capsule to 14oz coffee capsule.
Keurig, however, cannot brew espresso. It's built for black coffee and this is where it shines. So if you're looking for versatility, Nespresso is the go-to.
Capsule Variety
Keurig makes up for its inability to brew espresso by offering an expansive list of K-cups (coffee capsules).
In addition to regular coffee, it can make hot chocolate, tea, and flavored coffee. It seems like the only thing Keurig can't brew is espresso.
Nespresso maintains a much more exclusive, limited pod collection. Both the Original and the Vertuo machine lines offer 24 coffee pods, mostly based on the size of the final brew.
In short, Keurig capsules give you a wide variety of flavors and beverages. Nespresso pods give you a variety of tailored sizes.
Refillable Capsules
In response to the growing environmental concern of single serve coffee pods, you can now find reusable capsules for both Keurig and Nespresso.
These pods require a little more work but end up saving money and creating a smaller environmental footprint over time.
Third Party Capsules
Despite their best efforts, Keurig and Nespresso have only been able to hold off pod competitors for so long. Now you can find other producers of K-cups and Nespresso pods like Coffee Joe USA or Bestpresso (except for the Nespresso Vertuoline).
This option helps to keep your out of pocket price lower, especially for Nespresso pods as they can be hard to find in local stores.
Cost Per Cup
Speaking of cost, here's a breakdown of how much you'll be spending, on average, for each cup of Keurig or Nespresso coffee.
Keurig certainly costs less per cup than Nespresso. And keep in mind that using a refillable capsule will significantly reduce the cost for either single serve option since you're only paying once for the capsule and then for whatever coffee you put in it.
Machine Cost
So what about the overall cost for the machine? Keurig promises friendly prices for any budget. You can find a basic Keurig for around $110 or splurge on a $200+ machine.
This price range reflects Keurig's "every person" market appeal, which helps to make it one of the biggest names in single serve coffee.
But most of the models feature plastic pieces and basic functionality. A true situation of getting what you've paid for.
Nespresso often partners with big coffee names like De'Longhi and Breville to produce their machines. They also typically use stainless steel parts for their coffee makers for a higher quality product.
This high quality definitely reflects a higher price range. Nespresso prices start at $150 and go all the way up to $600 for the top-notch machine.
Cleaning and Maintenance
A big perk of both Keurig and Nespresso is that cleaning and maintenance require little work. It's recommended to wipe down the exterior of your machine with a damp cloth weekly or after spills.
And every 3-6 months you'll also want to wash all removable parts and descale the machine. Both Keurig and Nespresso sell descaling solutions to help with this process.
Because Nespresso machines have fewer moving parts, they tend to be a little easier to clean overall. But neither brand is difficult to clean.
Environmental Impact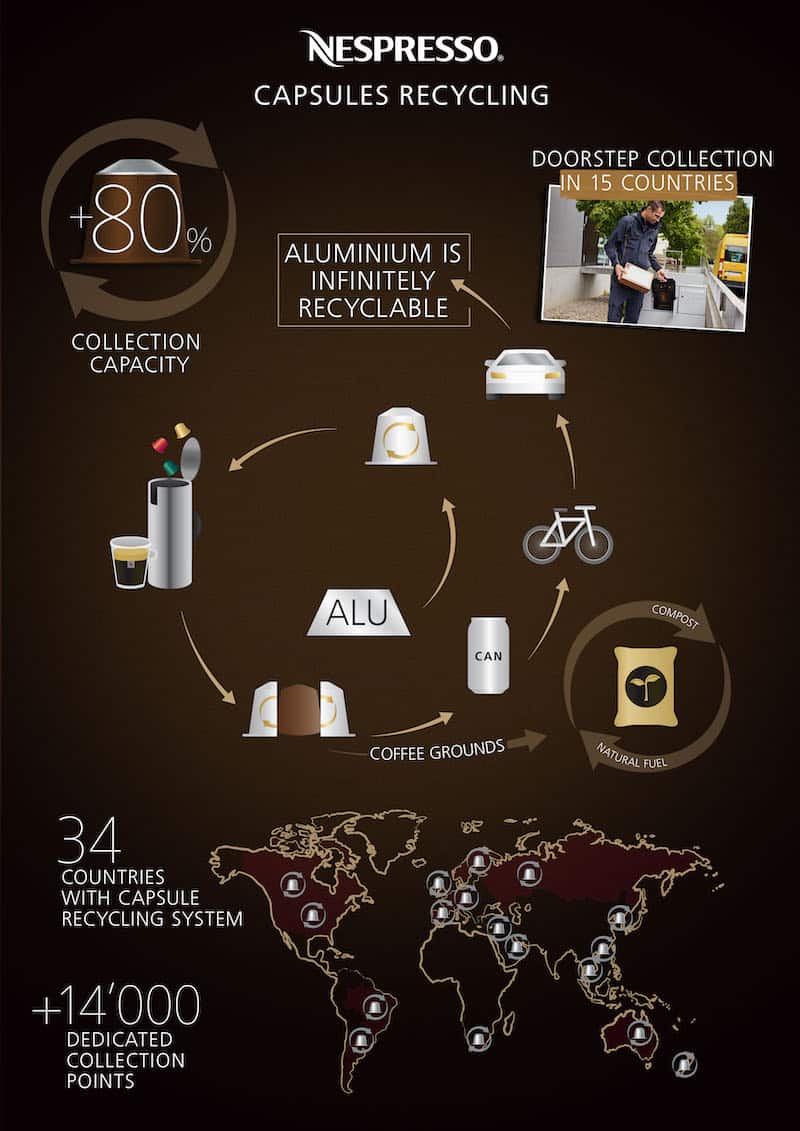 A now-famous Atlantic article quotes the creator of Keurig John Sylvan saying, "I feel bad sometimes that I ever [invented] it."
This was Sylvan's response to major backlash about single serve coffee's impact on the environment. And let's just say this: it's huge.
As of now, Keurig still hasn't fully solved their recycling problem. They have made their most popular K-cups easier to recycle though. And they plan to be 100% recyclable by the year 2020.
Nespresso pods are much easier to recycle. You can order a free recycle bag to return used pods, or drop them off at a Nespresso boutique.
Additionally, Nespresso holds a 10+ year relationship with the AAA Sustainable Quality™ Program, helping to increase sustainability for coffee farmers.
The Bottom Line
Both Keurig and Nespresso make our lives simpler. They hook us up with hot coffee quickly and with minimal work on our part.
And now both companies are working to make life on our planet simpler as well through their recycling programs.
But which one makes the best investment? Go for Keurig if you prefer a budget-conscious price and a huge variety of capsule flavors. You might sacrifice a little in overall taste and quality.
If you're a huge espresso fan, go for Nespresso. They're great for plain espresso, milk-based drinks (they even come with a milk frother), or an Americano. You'll get a better all-around taste and a higher quality machine, but with a higher price point.