We independently select these products — if you buy from one of our links, we may earn a commission.
Java Planet Colombian Organic Coffee Review
Summary:
Growing Region: Colombia
Acid content: Low/Mild
Organic: Yes
​Roast Profile: Medium Dark
​Flavor Notes: Dark Chocolate, Allspice, Pecans
Body: Big body with a balanced mouthfeel.
Pairing: This coffee will take the center stage. Maybe try enjoying it with light tapas like peanuts or biscuits. It's also a fantastic breakfast coffee – waking you up with a smoky chocolate aroma and a full bodied taste!
Organic coffee is becoming more and more prevalent – which we believe to be a very good thing.
Instead of using pesticides and insecticides, coffee farmers are beginning to engage in more natural coffee disease and insect prevention practices. Roasteries around the globe desire to roast and distribute an organic style of coffee.
While many coffee companies are adopting organic practices, other companies are long time organic coffee veterans… like Java Planet.​
Java Planet has been serving the coffee community since 2009. Because of their consistency and fair practices, they won the Tampa Sustainability award 2015. Java Planet works to promote "a healthy body, a healthy community and a healthy planet."
We've been dying to try their coffee, and it's safe to say that we were not disappointed.
The Coffee
​Colombia is prized for its coffee crop. A huge portion of the world's Arabica coffee exports come out of Colombia.
Colombian Coffees are grown at around an elevation of 1700 meters – which is prime elevation for healthy coffee.
The higher coffee is grown, the higher the density. The surface of every coffee bean is riddled with micro pores. If the coffee has a high density, these pores will be smaller – leaving less room for the heavenly aromas and flavors to escape.
Quality, high density Colombian coffees are cherished. If coffee is grown at too low of an elevation, the flavor quality and shelf life diminishes rather quickly.
But the coffee we are reviewing isn't just Colombian. It's organic.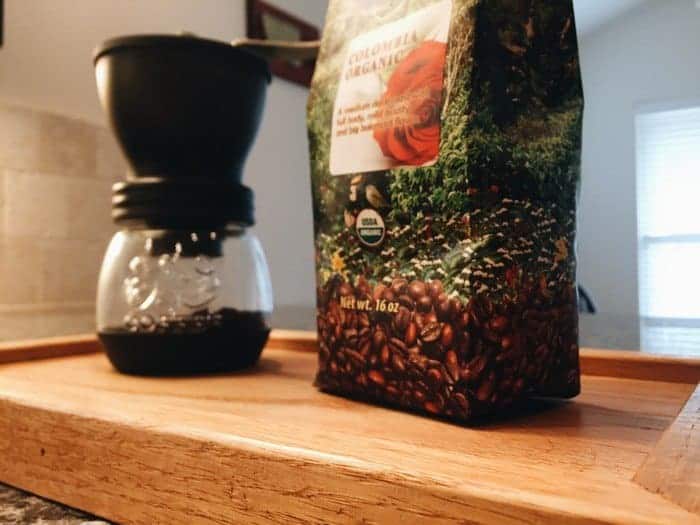 It's widely known that the healthy benefits of organic coffee outweigh the quality of non-organic products.
Java Planet states that "it should be obvious that Organic coffee would be more healthful because it has not been treated with pesticides and chemical fertilizers. However, there is an added benefit because the soil where Organic coffee is grown has natural nutrients which add to the nutrient value of the coffee beans. It is just more nutritious! Additionally, coffee has potential health benefits due to its antioxidant content."​
Java Planet aims to protect the world while providing a world class product.
Instead of simply sourcing and roasting, Java Planet avidly supports farmers and communities. This company compensates hard working farmers and craftsman around the globe via fair trade practices.
Tasting Attributes
Colombian coffees have roller coaster tasting and flavor profiles. You'll experience a vast array of dark cacao and sweet, tart fruits in almost any Colombian Coffee.
​Flavor Notes:
​You'll experience an array of floral and chocolate notes with this coffee. At the front of the palate, you'll notice hibiscus and allspice. As one continues to taste, the flavor will evolve into dark chocolate with a pecan finish.
Acidity:
Even though the flavors are intense, this coffee has a mild acidity.
Mild acidity can be boring if the flavors aren't bold enough. However, boring is not how you would describe Java Planet's Colombian.
The cup is balanced, accessible, and exciting.
Body:
This coffee is aggressive and boisterous. The best word to describe it is "BIG."
We brewed up a few cups of this coffee with a Beehouse Dripper. The filters used with this brew method yield a medium body, but the big body of this coffee really came through. The vibrant flavors are complimentary to the expansive body of the coffee.
Aroma:​
As soon as water hit the surface of the coffee grounds, an explosion of aroma hit the air.
Aromas are integral to the tasting process. Aroma can balance or throw off the flavor profile in certain coffees.
The dark chocolate flavor notes of this coffee intermingle with a smoky, nutty aroma. This makes the flavor profile complex and interesting.
Pairing:​
While this coffee will not pair well with meals or complex snacks, it will compliment simple things.
Big, complex coffees like these go well with tapas like peanuts or biscuits. Java Planet's Colombian Organic coffee is great as a breakfast or snack coffee. Its boldness will compliment your day!
Conclusions
Java Planet Colombian Organic should be on your shelf.
This coffee will constantly provide an enticing experience. Whether you brew it as a pour over, a French Press, or with a standard coffee maker, you'll get a balanced, vibrant cup.
We enjoy receiving coffee from companies like Java Planet. Coffee companies like these truly care about the world.
If you like good coffee and good people, you'll like Java Planet.​
---
---