We independently select these products — if you buy from one of our links, we may earn a commission.
10 Best Grind And Brew Coffee Makers
While buying pre-ground coffee seems convenient, you can't get the quality that you will get from freshly ground coffee.
A grind and brew coffee maker gives you the benefit of freshly ground coffee in every cup. And the best thing is that you don't have to worry about it, the machine does it for you.
See our list of the best coffee makers that grind and brew coffee in one machine!
You can wake up every morning to the aroma of freshly ground coffee.​
| Grind and Brew Coffee Maker | Grinder | Type of Machine | Programmable | Price |
| --- | --- | --- | --- | --- |
| Breville Grind Control | Flat Stainless Steel Burrs | Drip Coffee Maker With Grinder | Yes | |
| Cuisinart DGB 900BC | Stainless Steel Burr Grinder | Drip Coffee Maker With Grinder | Yes | |
| Capresso CoffeeTeam | Stainless Steel Conical Burr Grinder | Drip Coffee Maker With Grinder | Yes | |
| Gourmia GCM4700 | Blade Grinder | Drip Coffee Maker With Grinder | Yes | |
| Breville Barista Express | Stainless Steel Conical Burr Grinder | Semi-Automatic Espresso Machine with Grinder | No | |
| DeLonghi Magnifica | Stainless Steel Conical Burr Grinder | Super-Automatic Espresso Machine With Grinder | No | |
| Black & Decker Mill and Brew | Blade Grinder | Drip Coffee Maker With Grinder | Yes | |
| Saeco PicoBaristo Super | Ceramic Burr Grinder | Super-Automatic Espresso Machine With Grinder | No | |
| KRUPS EA8298 | Stainless Steel Conical Burr Grinder | Super-Automatic Espresso Machine With Grinder | No | |
| Melitta MEMB1B | Blade Grinder | Drip Coffee Maker With Grinder | Yes | |
10 Best Coffee Makers with Grinder
The Breville Grind Control is by far the best grind and brew coffee maker. If brewing a perfectly balanced cup or pot of coffee is your goal, you'll find that this machine delivers without compromise.
The Grind Control is fitted with Adjustable Stainless Steel burrs. These flat burrs deliver a coffee particle of optimum size for Drip Filter brewing.
You may need to adjust the grind size to compensate for coffee of different origins, quality, age and degree of roast. Grind setting 3 should cover most coffees you purchase but there are circumstances that require the grind size to be adjusted.
For users who prefer to use pre-ground coffee on occasion, the built-in grinder in this coffee maker may be disabled until needed.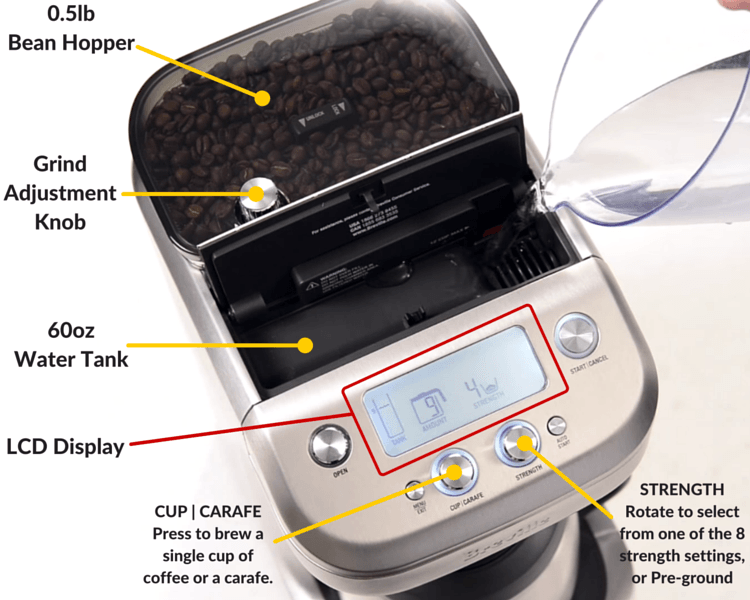 You can choose between 8 different strength settings. This will change the "coffee to water ratio". Meaning that the stronger the setting you choose, the higher the amount of ground coffee used to the same amount of water.
Also, you can choose between the Single Cup Mode and the Carafe Mode:
Carafe Mode: 2 to 12 cups. You can choose less than the current tank level (2 cup minimum), while the maximum is the amount of water in the tank, up to 12 cups. If you select cups greater than the level in the water tank, the LCD will display FILL TANK and the water tank symbol will flash.
Single Cup Mode: 7 size options to accommodate for different amounts or milk, half-and- half and creamer.
The Auto Start feature allows you to program the specific time when the coffee machine will automatically turn on and start the grind and brew cycle. You can wake up in the morning and smell the freshly ground coffee aroma!
Breville engineers and designers understand the need for quickly brewing coffee in order to preserve the aromatic qualities of freshly ground coffee beans.
This is how the grind and brew coffee maker delivers a superior brew in aroma quality, freshness and flavor.
The calibration function of the built-in grinder provides users with fully customizable grind sizes to further tailor the strength and body of the coffee to suit personal tastes and preferences.
This redesigned model has taken into account all of the short-comings of previous models and improved functionality with relocation of the heater for increased water heat and for superior well balanced brewing.
---
Enjoy the convenience of waking to freshly ground and brewed coffee with a fully programmable combination of a coffee maker with grinder in one machine.
This coffee maker and grinder allows you to either use whole coffee beans or use your favorite pre-ground coffee blends to suit your tastes. Brew up to 12 cups with little effort.
24 hour programming features auto brew and auto shutoff as an added safety feature. The built-in grinder may be turned off when you want to use pre-ground coffee instead.
The carafe is designed to keep brewed coffee hot for several hours without the need of a hotplate that can diminish the quality of the aroma and taste.
Made of stainless steel with thermal double wall insulatioon and a comfort grip handle with a large 12 cup storage capacity. The bean hopper is large enough to accommodate up to 8 ounces of whole coffee beans.
Additional features include the built in burr grinder that is automatic and may be fine tuned for control of the grind size, volume, and intensity of the brew strength.
Whether you prefer mild, moderate or a stronger and more full bodied flavor, the control is at your finger tips with fully adjustable strength settings.
Choose any amount that you want for brewing with options from 2 to 12 cups in 2 cup increments. The brew pause feature allows you to sneak a quick single serving while a larger batch is brewing.
A permanent charcoal water filter helps to ensure the freshest coffee flavor by removing impurities commonly found in tap water. Immediate grinding and brewing offers superior coffee quality because the aroma and flavor are preserved with the quickness of the process.
Freshly ground coffee beans are only at their height of flavor potential for a few moments as the oils in the beans diminishes.
This coffee maker and grinder is designed to maintain the highest possible quality for a better cup of coffee.
---
This self grinding coffee maker has a burr grinder and a thermal carafe for the best possible aroma and flavor in brewed coffee.
Attractively designed for inclusion in most kitchen or office decorating schemes with silver and black neutral colors.
Enjoy the superior taste of freshly brewed coffee that retains the quality of aroma and flavor with immediate grinding of coffee beans, hot water steeping action and thermal carafe to avoid burning the delicate ambiance of brewed coffee.
Make up to 10 cups of coffee for larger groups or program for any smaller amount. Fully programmable with a digital control panel that includes a clock and a timer for added convenience and multi-functionality.
This all in one coffee machine also includes other amenities including a brew-pause function when you want to grab a quick single cup without the need to clean countertops from spillage of continuous brewers.
You also get 5 different brewing amount options for servings of 4,6, 8 or 10 cups. It also has 3 different settings for control of the coffee strength and 5 grind settings that range from coarse to fine.
The bean container has a 6 ounce capacity. The brew mode can be adjusted to be used with or without the grinder. This allows you the option of using fresh whole coffee beans for immediate grind and brew or you may also disable the grinder easily and use pre-ground coffee grinds of your choice.
This unit also features a 2-hour automatic shut-off for added safety. The burr grinder grinds whole coffee beans at a slower rate than classic blade grinders which can add heat that diminishes the quality of the coffee aroma and flavor.
A charcoal water filter is also included for superior filtration to remove more than 80% of impurities including chlorine additives from regular tap water.
The carafe is constructed of stainless steel on the outside with thermal inner casing to preserve the integrity of freshly brewed coffee and retain heat for several hours without the scorching effect that can happen with glass carafes that diminish the flavor and aroma.
The grinding process tends to be a little on the long side timewise an it is a bit loud, but it does produce uniform grind size for a great brew. This system offers so many amenities that it is well worth putting up with a little extra noise for the quality of the grind.
---
The problem with most automatic coffee makers is that although they work quickly and are user friendly, they don't typically make the best tasting coffee, especially when compared to manual methods.
This Gourmia all in one coffee maker that grinds beans provides a solution to that issue and is a quick and reliable route to a great cup of coffee.
It has a grinder perched on its top that will handle just enough whole coffee beans to make a pot of coffee at a time.
This grinding coffee machine was designed to be convenient, so it's a great choice for those who have fast paced mornings and need to grab their coffee on the go.
The programmable settings are easy to use, and the digital display makes it easy to see which options you've chosen.
Once the coffee is brewed, this machine will keep it piping hot for up to 30 minutes without creating any scorched flavors.
For the occasions when you don't have enough time to grind whole beans, this Gourmia machine has a pre-ground setting that will allow you to make a pot using your favorite off the shelf coffee.
Aesthetically, this coffee maker and grinder is quite attractive with a contemporary appeal. It features a stainless steel and black facade, which will easily fit into most kitchen designs and decor styles.
The Gourmia GCM4700 is also ideal for those who don't have a ton of counter space to spare, as its footprint measures a compact 11 by 7 by 12 inches.
Overall, this coffee machine is the perfect compromise between handy features, easy use, and ability to produce a great cup of coffee.
It ensures that you don't have to sacrifice flavor by grinding up fresh whole beans in a snap, but it's not so complicated to operate that you need to be a tech whiz or coffee aficionado.
---
Those who love bold tasting and rich coffee know that few things beat espresso.
However, grinding whole beans to the right size and then tamping and pulling a shot to perfection doesn't come easy and takes trial and error with most machines.
If you want to make excellent espresso at home without the fuss, consider the Breville BES870XL Barista Express.
It's a semi-automatic espresso machine with a built-in grinder, which means no manual grinding of your coffee beans or expert knowledge of how to use an espresso maker is required.
Using fresh beans is best when making any type of coffee, especially espresso. Pre-ground varieties stale very quickly, and that leads to coffee with a dull taste that's nowhere near as aromatic and flavorful as espresso made with beans ground just before brewing.
With this machine you get the best of both worlds: an espresso maker that's virtually foolproof and a way to grind coffee beans in a snap.
This burr grinder coffee maker processes whole beans so that they're an even and consistent size just right for creating espresso.
The conical stainless steel grinder has a 1/2 pound capacity and a sealed hopper to keep messes to a minimum.
The machine also contains a 1600W Thermo coil heating system to ensure that the water gets to an optimal temperature, as well as a 67 ounce removable water tank with an attached handle.​
To help the extraction process go flawlessly and make using the machine even easier, the Breville BES870XL features a Purge Function.
The feature automatically adjusts the temperature of the water after steaming has occurred so it draws out the maximum flavor of the coffee.
This Breville espresso machine with grinder combo has a look that comes straight from the cafe, and it's available in three great color options: stainless steel, black, and red.
If you want an espresso machine that's streamlined and will grind your beans quickly and efficiently, this model is well worth its price tag.​
---
While some self grinding coffee maker models have features that are handy, super automatic espresso machines take it a step further and are multi-taskers that make coffee brewing superbly user friendly.
One such machine is the DeLonghi Magnifica, which can produce delicious cappuccino, espresso, and traditional coffee in a snap.
This grind and brew coffee maker features a Direct-to-Brew system, which takes your preferred whole coffee beans, grinds them to perfection, and then starts the coffee making process on its own.
The mechanism included with this model is a low pitch conical burr grinder, and you can easily adjust the grind size in seconds with the dial on front of the machine.
Use any beans that you like with this machine — its versatility is part of what makes it such a pleasure to use. If you want espresso, simply choose the espresso setting and you'll enjoy a richly flavored cup in minutes.
For a cappuccino that rivals that from your favorite coffee shop, all you need to do is push a button.
The DeLonghi Magnifica's Cappuccino System includes a frother that creates the ideal amount of luscious foam for each cup.​
Other great features of this bean to cup coffee machine is that it includes a warming cup tray, an Instant Reheat setting that keeps your espresso hot and ready to drink, and the ability to customize each espresso shot or cup of coffee.
You can choose between strong or less bold and short or long shots. The DeLonghi ESAM3300 is a great alternative for those who want an espresso machine, but also need an appliance that's compact and unobtrusive.​
In addition to having a modest footprint of 17 by 13 by 18 inches, this machine comes in a beautiful stainless steel color palette that will complement the look of any kitchen.
If you want to be able to easily create coffeehouse quality drinks at home without dedicating much time to the process of brewing, measuring, and adjusting the temperature of a machine, this DeLonghi coffee maker will fit the bill.​
---
This coffee maker and grinder combo allows you to easily grind fresh coffee beans and quickly brew for great aroma and flavor.
People who have busy schedules but still want to have coffee brewed from freshly ground beans can pre-program the machine for added convenience.
The patented 24-hour programming feature allows for presetting the automatic grind and brew options. If you prefer to use pre-ground coffee instead of whole beans, there is an option to turn the grinder off until it is needed.
Whichever option you prefer, you can set this grind and brew coffee machine to provide you with the aroma of fresh brewed coffee so you can wake up to a newly made pot of coffee.
Because everyone has their own unique tastes and preferences in coffee strength and body qualities, the Mill and Brew is designed to be adjustable so you can achieve the perfect grind size and coffee strength. Whether you prefer dark, light, or somewhere in between, you can set the levels to suit your taste.
This unit features an easy view design with a clear viewing window so you'll know how much water is in the machine.
The glass carafe has a capacity for holding up to 12 cups. There is no need to use paper filters with this system because of the permanent filtering system that is attached to the built-in grinder.
Cleaning this machine is pretty easy since each part is easily removable for added convenience.
Sneak a cup feature makes it easy to take a single serving without the mess that traditional makers without this option can produce.
This system is priced to be more affordable for those who are budget conscious and does a good job so long as the coffee is consumed soon after brewing. The glass carafe/hot plate feature can lead to a quick diminish of the integrity of the coffee if it is allowed to stand heating for long.
---
If you fancy a variety of coffee drinks and like to have something different throughout the week, you know that finding a single machine that can make all of your favorites isn't easy.
Most coffee lovers who want to brew different styes of drinks at home resort to buying more than one model, but Saeco Philips has a solution that is compact and highly capable: the PicoBaristo Super.
Think of it as the ultimate coffee grinder and brewer combo that can turn out an espresso in one minute, a classic cappuccino in another, and then make a strong cup of joe in what seems like no time.
This machine is beyond impressive and is about as close to having a pro barista in your home as you'll get without spending a ton of money.
The PicoBaristo Super offers five different strength settings, the ability to select the brew length and temperature, and a premium quality ceramic grinder that is reliable and durable.​
One of the features that makes this coffee maker with grinder so efficient is its Quick Heat Boiler, which is able to get water to the right temperature for just about any specialty coffee drink.
Most machines have a limited range that they always hit but this one is able to adjust with no problems, meaning no burnt or off tastes and no coffee that's weak and watery.​
It comes with a milk carafe and frother that pours out the right amount of foam or milk on top of your drink, depending on which setting you've chosen.
This super automatic espresso machine sports a stainless steel and black facade and it has a modern profile.
It's both attractive and fairly compact, as it has a footprint of 17.4 by 12.5 by 21.5 inches — it will be able to easily fit into most kitchens, even smaller ones.
In terms of reliability, ease of use, performance, and appearance, this espresso maker from Saeco Philips is tough to beat.​
---
The KRUPS EA8298 is a super automatic espresso machine that's compact but packed with convenience.
KRUPS is one of the most trusted names in the world of gourmet home coffee making, and the brand excels at melding style, function, and innovative features.
This coffee machine with grinder is completely automatic and has a built-in conical burr grinder for the best flavor possible.
You can adjust the size of the grind in seconds, meaning this machine can brew all sorts of coffee drinks. If you want espresso or a cup of coffee with super bold flavor, go with a finer grind.
For a more lightly flavored brew, a larger size grind will produce the flavor that you want.
In addition to its adjustable settings, the KRUPS EA8298 has an LCD panel, Thermoblock technology for consistent, quick, and effective heating, and a 15 bar pressure pump.
Even tamping isn't something you'll have to worry about with this machine, as it takes care of that via an automated hydraulic tamping system.
This means you'll get coffee that tastes like it was crafted by an expert barista every time, without fail.
Other premium features, such as a 60 ounce removable water tank, easy to clean drip tray, steam nozzle, large capacity bean hopper, and bean to brew mechanism, make this a great machine for those who want quick coffee without compromising any flavor at all.
The KRUPS EA8298 looks sleek and attractive and flaunts a black exterior with a stainless steel plate on the bottom.
It measures just 11.3 by 15 by 19.4 inches, which is quite compact for a machine with such a wide range of features.
If you're design conscious and need a coffee maker with built in grinder that will look great while also being capable of brewing excellent coffee and espresso, this is one of the best bean to cup coffee machines.
---
​The Melitta Mill & Brew combines a whole coffee bean grinder with a coffee maker in one convenient and time saving unit.
Want to wake up to the aroma of freshly brewed coffee? It is possible with this handy unit that combines features designed to offer convenience and ease with high quality coffee brewing.
The clock timer feature not only gives you the time of day, it offers you the option for setting the automatic grind and brew feature up to 24 hours in advance so you can wake to freshly brewed coffee.
The flavor of freshly ground beans tends to be more full bodied and aromatic than using preground blends that may not be as fresh. The grinding feature with immediate brew helps to maintain the integrity of the coffee quality by taking advantage of the oils that are present before they dissipate. The result is a superior aroma and flavor.
The grinder is built in and features 7 different settings so you can achieve th perfect grind for the best possible coffee. The grinding options range from coarse to fine so you can choose the strength of the coffee that is brewed.
Disposable filters are a thing of the past because of the stainless steel filter basket that is easy to remove and easy to clean. Want to sneak a single cup during mid brew? The drip stop feature allows you to fill your cup without the mess that comes with continuous drip systems.
This coffee grinder and brewer provides a 1 hour auto shutoff for additional safety to guard against overheating the durable glass carafe with a 10 cup maximum capacity.
There is less risk of overheating the carafe and coffee is not left to scorch, improving the overall quality of what is left in the pot.
---
How to Choose the Best Coffee Maker With Grinder
The grinding mechanism of these coffee makers can be a blade or a burr grinder.
The blade grinder is the least expensive option and can save you money on the purchase, but the grind is generally not consistent in size and the heat that is generated by friction may alter the taste of the coffee slightly.
The burr grinder works more slowly but the grind is more uniform for a better cup of coffee.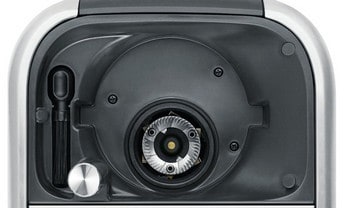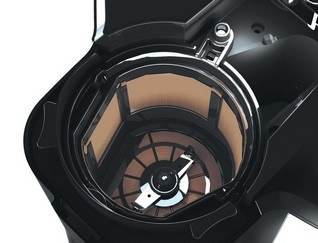 The carafe can also influence the quality of your coffee. Glass carafes usually sit on the hot plate and cook the flavor out of your coffee while a thermal keeps your coffee hot without damaging the flavor.
With these tips in mind, we've chosen ten of the most popular coffee machines with grinder.
Whether you are looking for a grind & brew coffee maker that provides high-quality coffee grinding and brewing at a discounted cost, or you require a system with very specific features, this group offers a variety of top rated systems for your consideration.
While buying pre-ground coffee seems convenient, you can't get the quality that you will get from freshly ground coffee. Subscription services like Atlas Coffee Club, for example, roast their beans daily and makes sure they arrive at peak freshness, around 5-7 days off-roast, which is the ideal time to grind.
Get 50% Off Your First Order with our Exclusive Discount
---
---