We independently select these products — if you buy from one of our links, we may earn a commission.
Top 10: Best Pour Over Coffee Kettles For Perfect Control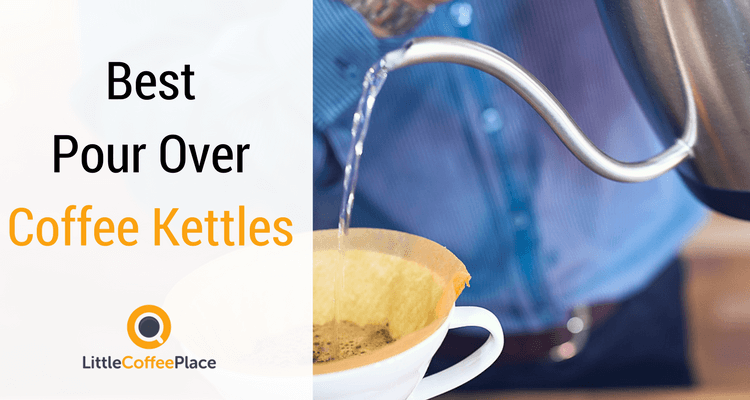 So you've entered the world of pour over brewing, and you're wondering what those funny looking kettles are all about.
While they can be a conversation starter in the kitchen, a great gooseneck kettle can also be the ticket to manual brewed perfection.
Best Gooseneck Coffee Kettles
There are plenty of manual brew kettles to choose from, and they range from the super expensive to the low budget, hardly worth the cost of shipping variety.
To give you a decent start, here are some of the better-known and highly rated pour over kettles out there.
Kettle

Electric

Thermometer

Price

Fellow Stagg Electric Kettle

1200w

Programmable Temperature

OXO On Electric Kettle

1500w

Programmable Temperature

Coffee Gator Kettle

Hario Pour Over Kettle

Fellow Stagg Kettle

Bonavita Digital Kettle

1000w

Programmable Temperature

Gourmia Electric

Gooseneck Kettle

1000w

Programmable Temperature

Willow & Everett

Electric Kettle

1000w

Kalita Stainless Kettle

Fino Pour Over Kettle
---
---
If you love the design and functionality of Fellow's Stagg Kettle, you'll want to take a look at their newest electric version, the Stagg EKG. This pour-over kettle has a minimal base and makes a bold statement without sacrificing control.
Fellow claims the Stagg EKG is where "simple aesthetic meets powerful design," and you can see that at first glimpse. Every part of this kettle has been planned to provide a flawless experience while begging for comment as a design feature on your counter.
While the original Stagg is an excellent purchase, the EKG brings even more to the table if you have electricity at the ready.
It has the same smooth-pouring gooseneck spout that allows you to modify your pouring rate from a mere trickle to a full stream. The balance is a bit different though, and it is a tad heavier because of the heating element in the bottom of the kettle. But the counterbalanced handle helps keep your pour slow and steady.
In addition, the Stagg EKG puts you in control of your water temperate with a wide range from 135 to 212 degrees Fahrenheit. The control knob makes setting the right temperature quick and easy.
This means you can zero in on the perfect temperature whether you are brewing a pour-over, tea, or a batch of hot cocoa that won't scald the kids.
A small LCD screen shows the current temperature and your desired temperature, so you know how close you are to your goal.
And once you're there, you can use the LCD screen as a stopwatch to time your brew. It even has a handy countdown (from 3) before starting, so you have a moment to get ready.
On the back of the base you'll find two analog switches. One allows you to change from Celsius to Fahrenheit.
The other is a hold option. This is very convenient because it will hold your set temperature for up to an hour. It's perfect for tea and coffee.
If you want unconventional design that works, the Fellow Stagg EKG is hard to beat.
Pros
Precise pouring with gooseneck spout and counterbalanced handle
Quick heating from the 1200 watt heating element
PID controller provides accurate temperature, which can be held for an hour
Built-in brew stopwatch
Cons
.9 liter size might be too small for some users
---
A leader in well-designed kitchen products, OXO takes on the pour-over game with its On Electric kettle. As you would expect from OXO, this kettle combines visual appeal with functional design in a sleek package.
The stainless steel kettle holds up to a liter of water. And even when full, it can have water at brew temperature within four minutes, making it one of the faster kettles out there. (Thanks to a 1500 watt heating element.)
The temperature control is intuitive and allows you to heat water to between 104 and 212 degrees Fahrenheit. So it's great for pretty much any hot water need.
It also includes an auto-hold feature. This means it will keep your current temperature as long as you get the kettle back onto the base within 60 seconds. No need to worry about a hold button or having to reset your temperature.
The hold will keep your water hot for up to 30 minutes, and it will shut off automatically after that. Great for teas or multiple pour-over brews.
A built-in timer is easy to start. Just push and hold the center button, and you've got a stopwatch going. Press it again after brewing to have the kettle hold your water temperature.
The soft grip handle will feel familiar if you have any other OXO products, and it allows you to get a firm grasp on the kettle without risk of burning. This is well-balanced with the gooseneck, which provides excellent control while pouring.
Pros
Very short heating time even for a full kettle
Auto hold keeps your water at temperature without the need to fiddle with a button
Easy-to-use timer
Precise control for temperature and pouring
Cons
No chime or beep to let you know when the water is at the right temperature
1500 watts could cause breaker problems if you're running too much stuff in the kitchen
---
This kettle is a nice marriage of form and function. The surgical stainless steel looks amazing on the stove or counter, which is great if you plan to keep the kettle out of the cabinets.
A pleasant S shape forms the curve of the sport, and the wavy handle provides plenty of surface for gripping. With its stacked ridges, the pot itself looks nice too.
If you're worried about knowing when your water is at the perfect temperature for pouring, this kettle features a built-in thermometer in the lid. It even marks the best range in a pleasant green.
Since its not electric, it makes a great kettle for those with a gas or electric stove. Coffee Gator also offers a 100% satisfaction guarantee. So it's a risk-free purchase.
Pros
Triple-layer base with anti-rust design
Built-in thermometer
Precision pour spout
Looks great on the counter or stove
Cons
1 liter is a bit small since the company recommends filling to only .6 L
---
If you already own Hario's V60 pour over brewer, their kettle will fit perfectly with your setup. The thin spout provides extra control during pouring, and the handle is easy to grip.
While the lid doesn't have a thermometer, it does fit snugly, so there's no need to worry about slipping. The flat knob on top makes removing it simple as well.
The 120 model is 1.2L, which is a good size for general pour over use. And the unit works well with most stoves, including induction heat.
Overall, the V60 is an elegant and well-made kettle that well help you fine-tune your coffee ritual.
Pros
Attractive bee-hive look
Stainless steel will complement many kitchens
Produces consistent flow of water
Can be used on electric, induction, or open-flame stoves
Works well with Hario V60 and Chemex Brewer
Cons
No built-in thermometer
Doesn't hold heat for long
The smaller size (1L) might not be enough for larger brews
---
Bold.
That's the best way to describe Fellow's take on the kettle. At first impression, it seems more about angles than curves.
The thin spout tapers to a fluted point that provides excellent flow. On the other side, you'll find a stocky looking handle that is weighted to counterbalance the long spout. And on top, a brew thermometer shows you when you've hit the 195-205 range.
While the handle looks clunky at first, you'll soon find that its angles make it easy to pour from various angles. The black handle is standard, but the kettle comes in three finishes (matte black, polished stainless, and copper). And each makes its own statement.
With it's combination of bold design and practical features, it's easy to see why the Stagg Kettle is used by so many competitors, including the 2016 Brewers Cup Champions in the United States and the Netherlands.
Pros
Convenient thermometer
Comes in three stunning finishes
Can be used on electric, gas, or induction ranges
Ergonomic design
Cons
A bit pricey compared to other non-electric kettles
---
For a full-featured experience, the Bonavita delivers precise control from the water heating to the water flow and even provides help for timing the pour.
With a 60 minute heat-and-hold setting, you can have water at the perfect temperature immediately. That way, you don't have to wait when you're ready for your second cup.
And the Bonavita is adjustable in one degree increments, so you can dial in exactly the temperature you want, even if it's not for a manual brew.
Once you're ready to brew, the base has a timer to keep your process on track.
The Bonavita has a one year warranty, so you can feel confident in its build quality.
Pros
Powerful 1500 watts heat water quickly
High degree of control
​Can keep water at desired temperature for an hour
​Spout provides ample control
Count-up timer
Cons
Requires electricity
More features means more could go wrong
---
Gourmia wants to help you brew the perfect cup of pour-over coffee or tea with its programmable electric gooseneck. The stainless steel body sits atop a compact base and is easy to use when the water is hot.
Thanks to the ergonomically designed round handle, you can get a comfortable grip to pour precisely. It's not quite as good a fit as some of the other kettles in the rundown, but it certainly works.
The LCD display on the base shows your temperate and enables you to set the temperature for hours, providing plenty of time to brew another mug. And an automatic shutoff provides safety and prevents you from wasting electricity.
Another nice feature in the Gourmia is the beep that tells you when your water has reached the set temperature. That way, you can walk away and be reminded that you've got hot water ready for tea, coffee, cocoa, or hot cereals.
The main fault of the Gourmia Commander comes with the temperature control. While you can set a precise temperature, it doesn't always deliver, sometimes overheating your water by as much as 10-20 degrees.
Also, the preset temperature is lost when you remove the kettle from the base. You'll need to turn it back on to keep the water warm.
Unlike many electric goosenecks, the Gourmia does not have a built-in timer for keeping track of your brew time. The controls are fairly easy to use, but they aren't quite as intuitive as other models.
Overall, the Gourmia GPK720 is a great starter kettle. It allows you to control temperature and provides precise pouring at a low price point.
Pros
Beeps to let you know the water is heated
Great value for an electric kettle
Precision spout and balanced design
Cons
Preset temperature lost after lifting kettle
Temperature control not very precise
At just 1000 watts, it is not as fast as other kettles
---
Another electric kettle, the W&E gooseneck allows you to heat your water without watching the pot. After it reaches boiling temperature, the base turns off, leaving you with a hot kettle ready to go.
The unit itself looks a bit more like a traditional kettle, but it has the extended spout for precision pouring. The mirror-finish stainless steel contrasts well with the black handle and knob.
Without a temperature read-out, however, you'll need to use your own thermometer or gauge for yourself how hot the water is, unless you happen to be nearby when the automatic shut-off happens.
If you're looking for a kettle to heat water quickly and pour consistently, the W&E could be a great choice.
Pros
Quick heating from 1000 watts
Automatic shut-off keeps water from boiling over
Compact unit and base
Cons
Small, closed handle could be an issue for larger hands
No thermometer
Lid can be difficult to remove
---
With its high polish and fluted spout, you might mistake this kettle for a more traditional silver kettle. The Kalita thin spout is compact at less than liter. And with the spout staying close to the body, it takes up even less counter (or luggage) space.
Since it's on the smaller side, it is best for single-cup brewers, and it makes a great transfer pot if you have a larger kettle for heating water. The pour itself is consistent once you get used to it, though, so its does the job.
If you are heating in the Kalita, be careful because the metal handle and lid can get hot.
Pros
Compact design
Can make excellent travel kettle
Cons
Too small for more than single-cup use
Surface holds fingerprints and smudges
---
As the last kettle in our roundup, the Fino kettle represents a return to the basics. This no-frills gooseneck has a narrow spout and just enough curve to give you control over your water flow.
The angled handle provides a nice balance to the spout and allows you to pour at an angle that isn't too awkward.
Despite its simplicity, the Fino will still look great in the kitchen. Its polished stainless steel has a mirror finish, and the lid knob and handle fit its effortless look.
Like many other kettles, it can be heated on a gas, electric, or induction stove. And even when full, it heats water quickly.
With its lower price point, the Fino kettle makes an excellent entryway into the land of goosenecks and pour over coffees. You might choose to upgrade at a little date, or you might decide this basic kettle gets the job done just fine.
Pros
Thin spout with fluted opening helps control water flow
Stainless pot can be used on different types of burners
Large enough for multiple cups
Cons
No thermometer
Can be difficult to know when it reaches boiling point
---
What You Should Know About Pour Over Kettles
One of the most attractive aspects of the pour over method is its simplicity. You're pouring hot water over freshly-ground coffee beans. No special plungers or presses. Nothing to take up precious counter space.
But when it comes to a perfect pour, a few simple tools can go a long way. A nice gooseneck kettle should be in that mix.
Do You Really Need a Pour Over Kettle?
In a word, no.
A good grinder is essential. Fresh beans are essential. A pour over brewer (even a simple one) is essential.
A special kettle is not essential, but that isn't the last word.
While a gooseneck isn't required to make pour over coffee, it goes a long way in helping you master the craft.
What's With the Gooseneck?
Control.
That's the main reason you choose the pour over route in the first place. More than any other brewing method, the pour over experience is one of handcrafted coffee. You choose the perfect grind and water temperature. You control exactly how much water hits the grounds, where, and for how long.
That fine-tuned control simply isn't possible (or at least practical) without a pour over kettle. These kettles are specifically designed to maximize your input for both water volume and placement.
Water Volume:
If you've ever poured from a regular kettle, you know that point where the water is almost coming out. You are tipping, tipping, and tipping slowly, hoping to get just a trickle of water.
Only to have a deluge rush from the spout.
So you try to back off, but then you're not getting enough water. Back and forth you go.
With a decent longneck kettle, you can easily control how much water comes out of the spout. A pour over kettle is designed to allow you to precisely pour however much water you want and to keep that pace going.
Small adjustments have small effects, so you can control the water flow more efficiently.
Water Placement:
One of the keys to the pour over method is having the water go where you want it. Unlike an immersion method, you don't just drown the coffee in water and let it sit. Depending on the recipe, you might pour in a swirl, directly through the middle, or in some other fashion.
All this with the end goal of equally saturating your grounds to extract maximum flavor from the beans.
That precise placement is difficult with a regular kettle. The spout is too far from the grounds because of the short neck. The spout doesn't pour where you think it might. Or the large opening might cause it to splatter or pour unevenly.
With a pour over kettle, you can get the spout right next to the coffee, ensuring that you will be able to direct the water flow exactly where you want it to go.
How Do You Choose a Pour Over Kettle?
If you've ever browsed manual brew kettles, you likely wondered what separates the good from the bad from the ugly.
Kettles are a fairly straightforward tool, so you aren't going to be comparing lots of bells and whistles. Instead, you want to focus on form and function.
Look for a design that is pleasing to you, one that speaks to your personality and will look great in your kitchen. It's not an appliance you always have to keep out, but a great design just begs to be displayed.
You'll also want to find a kettle that fits your brewing method. When it comes to usability, consider how well the kettle pours and if it gives you the amount of control you need.
In general, you'll want to consider the following when choosing a pour over kettle:
Overall design: You can go for the wow factor or something more understated.

Usability: Is the kettle well-balanced? Does it pour at an angle that works for your method?

Electric/Manual: Do you want to be able to heat water on the stove or just plug your kettle into the wall?

Features: They can be handy, so look for built-in thermometer, holding temperature, etc.
Takeaway
Kettles are as varied as any other coffee equipment, and they all serve a particular purpose.
No matter what type of gooseneck you choose, be sure it fits you. Manual brewing is almost as much about the ritual as the final product, so pick a kettle that you will enjoy using on a regular basis.
Don't be discouraged with your first pour either.
Each kettle has its own personality, and you will need to have a little patience while you get familiar with a new unit. Don't be embarrassed to take some practice pours in the sink. It's a great way to learn exactly what to expect from your kettle.
While a gooseneck kettle is not an absolutely essential purchase for manual brews, I've never heard someone regret making the switch. It's hard to describe how much difference the thin, curvy spout can make.
---
---