We independently select these products — if you buy from one of our links, we may earn a commission.
Best Ethiopian Coffee Beans of 2023
Can you imagine being the first person to discover the treasured arabica bean?
Well, as legend has it, in 850 AD an Ethiopian goat herder named Kaldi did just that. While herding his goats, Kaldi stumbled upon the coffee plant and immediately took note of the surprising (and enthusiastic) effects the plant had on his flock.
In fact, when Kaldi brought the charmed beans back to a local monastery, his peers were convinced the plant was an act of sorcery.
While any coffee devotee would agree that coffee beans are magical, actually roasting and drinking coffee beans wouldn't become popular for centuries.
Still, to this day, Ethiopia is recognized as the beloved birthplace of the Coffee Arabica bean and produces some of the most authentic, naturally grown coffee in the world.
5 Best Ethiopian Coffee Brands
Volcanica Coffee, Ethiopian Yirgacheffe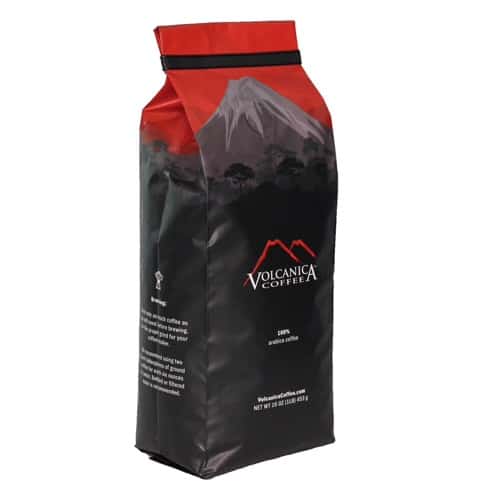 Volcanica's Ethiopian Yirgacheffe bean has a lot going for it, but one of the things that really makes it stand out is its origin. Volcanica's Ethiopian Yirgacheffe bean is sourced from wild, indigenous Ethiopian coffee trees. That's right, they are the real deal.
Yirgacheffe is a popular coffee region in southern Ethiopia that is known for its distinctively bright, floral and fruity beans and Volcanica's Yirgacheffe is no different. This medium roast is sweet yet sophisticated, offering palatable notes of strawberry, pineapple guava, and delicious dark chocolate.
Brewing Volcanica's Yirgacheffe bean also means that while you're sipping on your robust and delightfully acidic brew, your home will be filled with floral and earthy cedar fragrances.
Volcanica's Ethiopian Yirgacheffe bean has been described as exotic, earthy, and authentic. And If you'd prefer to appreciate the unique flowery flavors of an Ethiopian Yirgacheffe brew without the energy boost, Volcanica offers a decaf Yirgacheffe bean that is also roasted to order.
---
Out of the Grey, Ethiopian Oromia Yirgacheffe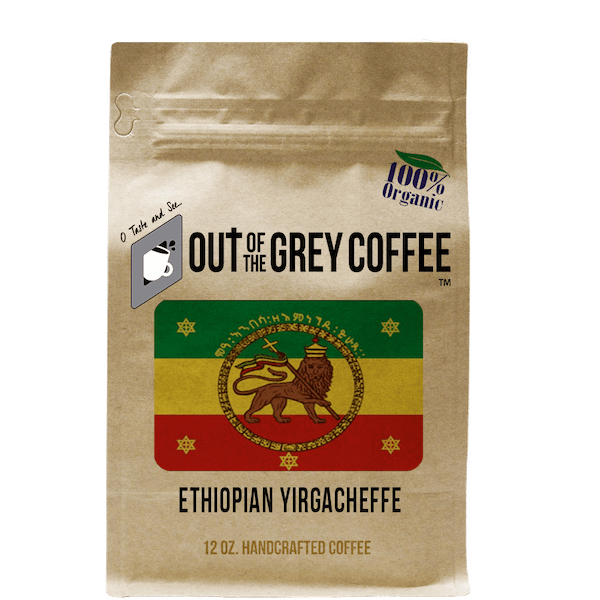 Dark Medium Roast
Organic, Forest-Grown, Bird Friendly
Like Volcanica, Out of the Grey offers an authentic, rich Ethiopian bean sourced from indigenous coffee plants in Yirgacheffe. Maintaining Yirgacheffe's characteristic sweet, crisp flavor profile, Out of the Grey's Ethiopian bean offers both floral and chocolaty flavor notes.
Your taste buds will be delighted by Sandalwood and lychee notes coupled by smooth hints of cocoa and a hint of spice.
You probably won't find electricity or running water in the remote rainforest region where these beans are grown, but you'll definitely find world-famous and authentic Ethiopian arabica beans.
Out of the Grey works with a small group of certified organic cooperatives known as the Oromia Coffee Farmers' Co-operative Union. These native farmers take pride in chemical-free intercropping, which means your beans are mingling with cardamom, ginger, papaya, mangoes, and even avocado before they're hand-picked, roasted, and delivered to your door.
In fact, the cooperative produces 65% of the premium arabica beans in Ethiopia and was recognized by the Specialty Coffee Association of America for their unique varietals. In other words, Out of the Grey sourced the best of the best in the Ethiopian coffee bean business to deliver a cup of coffee that coffee addicts will swoon over.
---
Klatch Coffee, Ethiopian Halo Beriti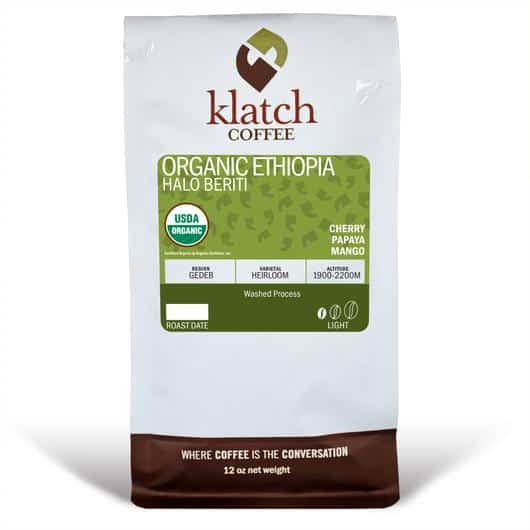 Fun fact – If you're scouring the shelves for a premium Ethiopian Yirgacheffe bean and find coffee beans sourced from Gedeb, it's more or less the same thing. Gedeb is a well-known coffee "woreda" or district in Yirgacheffe that according to Klatch Coffee, is an award-winning coffee growing territory.
This might be the only light roast on the list, but Klatch Coffee's Ethiopian brew still offers the same distinct fruity profile of an authentic Ethiopian Yirgacheffe bean. In fact, this bean delivers subtle, zesty flavors of cherry and papaya coupled by drawn-out notes of mango.
Klatch Coffee sources their beans organically through a third-generation family owned business that is credited for several charitable efforts, including educational opportunities and healthcare for local coffee growers.
Not to mention, Klatch Coffee has connections that allow them to partner with the first and only private state-of-the-art SCA Certified coffee quality control lab on the continent. So, if you're looking for premium Ethiopian beans that aims to make a difference, this Gedeb bean is for you.
---
Out of the Grey, Ethiopian Oromia Harrar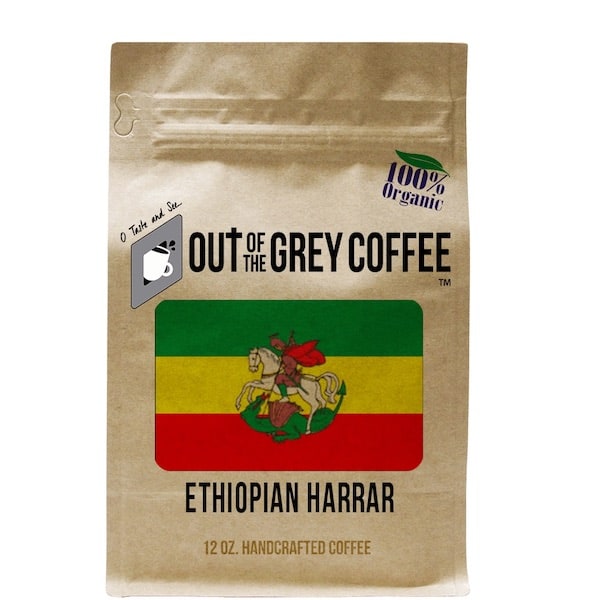 Medium Dark
Fair Trade, Certified Organic
Out of the Grey definitely isn't a novice premium coffee roaster – they have an arsenal of 56 certified organic, GMO-free, fair trade coffee beans and 179 coffee creations.
So, when it comes to quality Ethiopian beans, we can't say we're surprised to see Out of the Grey at the top of the list.
Out of the Grey partners with a tiny group of indigenous farms in southern and southwest Ethiopia to produce an authentic, deeply sweet, single-origin Ethiopian bean. Coffee-lovers will appreciate the dark chocolate, earthy, and nutty undertones that are balanced by a unique Asian pear and daffodil aroma.
In fact, Out of the Grey's Ethiopian Harrar recently received a glowing industry review that boasts about the bean's "intensity of flavor" and claims that Out of the Grey lives up to their name by offering a "multi-sensory coffee experience that's totally 'out of the' ordinary."
---
Square One Coffee, Ethiopian Layo Taraga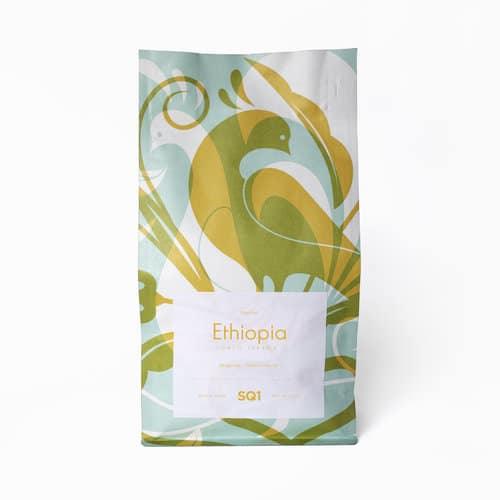 This bean is brought to you by the award-winning, family-owned micro-roaster from Lancaster, Pennsylvania – Square One. Touting the motto, "do good work," Square One delivers a premium Ethiopian bean that offers a delightful bergamot aroma that is classified as sweet with bright acidity.
Square One doesn't only disclose the specific growing regions of their bean but also reveals that their coffee is proudly and ethically sourced directly from reputable washing stations and individual farmers from the town of Haro Wachu.
According to Square One, behind the scenes, their Ethiopian bean undergoes a rigorous, hand-selective sorting process that ensures the defective or damaged beans don't ever make it into your bag.
Square One insists they're willing to pay top dollar for the best beans, so you can sit back, sip, and enjoy the finest Ethiopian coffee from anywhere in the world.
---
Understanding Ethiopian Coffee Types
Ethiopian Yirgacheffe Coffee
Ethiopian Yirgacheffe is an exotic bean with a distinct fruity flavor profile and floral aroma grown at elevations ranging from 5,800 to 6,600 feet. Generally, the bean is grown, hand-picked, and processed on small family-owned coffee farms.
Although each coffee farm will generally have its own unique flavor profiles, Yirgacheffe, which is generally wet-processed, is characteristically robust, clean, and citrusy.
Yirgacheffe is an ideal bean for cold brew and iced coffee due to its complex flavor profiles. In fact, overextracting Yirgacheffe with hot water can dilute the robust zesty flavors that make this bean so special.
Ethiopian Harrar Coffee
Ethiopian Harrar is an Ethiopian varietal that is grown at (slightly) lower elevations northeast of the Yirgacheffe region.
Typically, Harrar beans are sun-dried or dry processed, which makes them bold, full-bodied and contain a drier fruitiness, with notes of mocha or wine. However, Harrar beans are most infamous for their distinctive blueberry flavor profiles.
Like the Yirgacheffe varietal, Harrar farmers take great care in hand-picking and organically growing premium coffee beans. In fact, the Harrar varietal is considered one of the oldest coffee seeds still in production.
Conclusion
Ethiopia is the birthplace of coffee, so it makes sense that this coffee capital would offer some of the most eclectic and authentic coffee on the market. Besides, if you have a deep appreciation for coffee and coffee culture, why not start where coffee was born?