We independently select these products — if you buy from one of our links, we may earn a commission.
Best Espresso Machine Under $200 | The Best Value For Money
It's easy to see why so many people love to drink espresso. The rich, satisfying taste is hard to beat, and little else compared to a well made gourmet coffee.
Investing in your own home espresso machine is a great way to save money, especially if you drink coffee very often, but the equipment can be pricey.
If you want to make fantastic espresso at home without spending a fortune, then these are some of the best espresso machines for the money.
Top Rated Espresso Machines Under $200
| Espresso Machine | Water Tank Capacity | Power | Heating System | Price |
| --- | --- | --- | --- | --- |
| Breville Cafe Roma | 40.6 oz | 1000W | ThermoBlock | |
| Capresso EC100 | 46 oz | 1350W | ThermoBlock | |
| Ariete Cafe Prestige | 2-1/4-quart | 950W | ThermoBlock | |
| De'Longhi ECP3420 | 37 oz | 1100W | Stainless Steel Boiler | |
Top 4 Espresso Machines Under $200
This is the best espresso machine under $200. It offers great features for this price tag.
If you're looking for a good espresso machine that looks stylish enough to sit on the counter of a gourmet coffee shop, the Breville ESP8XL Cafe Roma is just for you. Its sleek, gorgeous silver finish is only the beginning, and it functions even better than it looks.
Making a great cup of espresso starts from the inside, and the Breville ESP8XL Cafe Roma has the right mechanics to produce a good brew. This machine is definitely built to last and has a stainless steel industrial housing.
The Breville Cafe Roma has a Thermo-block heating system that extracts espresso at the perfect temperature. And a full 15 bar pump that makes fine shots of espresso and does a superb job of extracting flavor from coffee without making it taste bitter.
This espresso machine also comes with a "Dual-wall créma system" that makes perfect, silky crema — this is the mark of a quality cup of espresso, and one of the best parts of enjoying gourmet coffee.
3 filters are included in this machine:
1 Cup Dual Wall filter
2 Cup Dual Wall filter
ESE Espresso Pod filter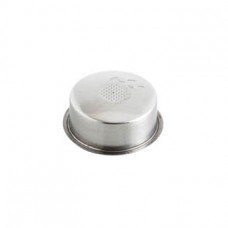 It also comes with many accessories that usually need to be purchased separately, including:
Stainless Steel Frothing Pitcher
Tamping Tool
Measuring Spoon
​2 Espresso Cups
​2 Saucers
Cleaning Tool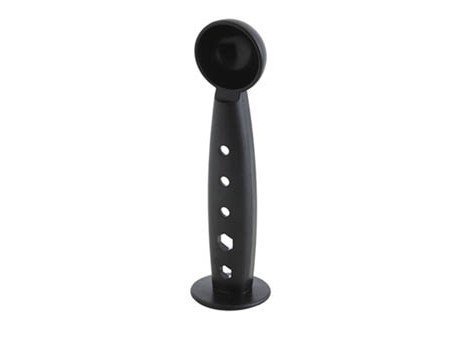 You truly don't have to purchase anything else but this machine to enjoy a great cup of gourmet coffee.
With the steam wand, you can make all kinds of coffee drinks: cappuccino, latte, flat white, etc. This steam wand also comes with a really convenient handle so you can touch it without burning your hand.
This espresso machine also has a 40.6 oz (1.2 L) removable water tank, and you can see if there's little water left in the tank due to its external water level window.
The Breville ESP8XL Cafe Roma has many others features that make it convenient, such as his Die-Cast warming tray located on top of the machine for pre-warming the espresso cups and a removable drip tray for easy access and cleaning.
This espresso machine is ideal for those who want an even mix of style and functionality. Having this Breville machine on display in your kitchen will be a joy, and its footprint isn't too large for modestly sized kitchens.
---
This little brewer packs a huge punch, with 15 bars of pressure to create rich, flavorful espresso in mere minutes.
If you like your crema extra thick, this machine will become your new favorite. The EC100 has two sieves, a stainless steel lined ThermoBlock heating system, and swivel frother.
Espresso lovers who also enjoy cappuccino and other gourmet coffees will appreciate the EC100's dual frothing wand and unlimited steam output.
Whether you like a velvety foam or you prefer your cappuccino bone dry, this wand will make your coffee exactly how you want it.
One nice feature of the Capresso EC100 is its Auto Rinse feature, which works simultaneously as the machine maintains the right brewing temperature.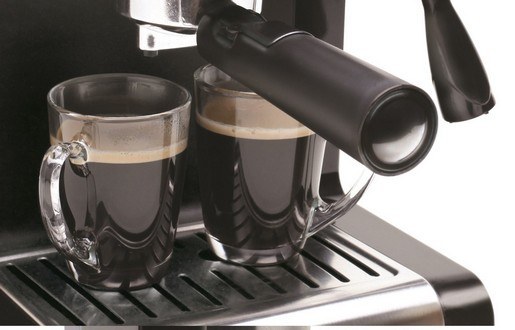 This Capresso machine is a good option for those who aren't coffee making experts because it's so user-friendly.
You won't have to worry about choosing the wrong grind size or tamping just right — the EC100's pressurized sieves will still make a nice cup of coffee, even if your technique isn't perfect.
For cleaning convenience, the EC100 comes with a removable heavy duty warming platform, drip tray, and 46-ounce water container.
You have the option of using pre-ground coffee or espresso pods with the EC100. It also has a self-locking filter with a handy thumb guard.
This semi automatic espresso maker scores well in the looks department and features an attractive silver and black color scheme.
It only weighs about nine pounds, which makes it excellent for small kitchens and people who have limited counter space.​
---
The Lello 1375 Ariete Cafe Prestige Coffee Maker is a nice espresso machine that produces an awesome cup of coffee. Because of its capacity, this is the machine you want to have on hand if you like to frequently entertain.
It has a stainless steel warming area that will keep up to 9 cups of espresso at the perfect drinking temperature.
This machine has a 15 bar ThermoBlock system that is pump driven to ensure a constant, uniform pressure. Even pressure equals a better working espresso machine with greater longevity, a definite plus when you're looking to buy reliable equipment on a budget.
The Lello 1375 Ariete is 950 watts and is made of heavy duty stainless steel — not chrome covered plastic, but actual, durable steel. This makes it a bit heavier, but the peace of mind that comes with solid equipment is well worth it.
The machine is easy to use and is perfect for those getting started with making gourmet coffee at home. You don't have to be an expert level barista, just fill the machine with your choice of ground espresso or an espresso pod, add water, and brew.
Once you've gotten the hang of it, you can use the Lello 1375 Ariete's steaming function to make fabulous lattes, cappuccinos, and other specialty drinks.
Coffee lovers on the go will like this machine's rear 2.25-quart water container that can be refilled without being removed. When you do need to clean it, simply take it off, wash, and then pop it back in.
The Lello 1375 Ariete's silver finish allows it to easily compliment any decor, but it looks especially beautiful in modern and contemporary kitchens. This machine has sleek lines, great functionality, makes quality espresso, and is a fantastic value.
---
The De'Longhi ECP3420 proves that you don't need to spend big bucks to make delicious espresso at home.
The 15 bars of pressure makes professional quality coffee that you can easily adjust to your own personal tastes. Novices to making espresso will be able to catch on quickly — not only does this machine heat up fast, it has simple, easy to understand controls. The ECP3420 has a simple set-up, and the espresso arm and milk steamer are also a breeze to clean.
The great thing about the De'Longhi ECP3420 is its versatility. You can make single or double espressos, lattes, cappuccinos, flat whites, and everything in between.
Its included three in one filter allows you to use espresso grounds or convenient pods. Entertaining with this machine is easy, thanks to its ability to adjust to your chosen cup size. If you want to use taller cups, just remove the bottom tray.
The ECP3420's water tank can quickly be removed, filled, and re-attached, plus the machine has an outside water level gauge to make it even more convenient.
The froth this machine produces has a velvety, even texture that tastes just like it came from a coffee house. The secret to this is the De'Longhi ECP3420's manual frother, which perfectly mixes steam and milk.
Not only is the De'Longhi ECP3420 a pleasure to use and reliable, it looks good. The black and silver case will blend into just about any kitchen, and at just 11 pounds and under 12 inches tall, you can easily move it or put it away if you're short on counter space.​
It may not be the best espresso machine under $200 but for the price you're paying, this is a great espresso machine.
---
---