We independently select these products — if you buy from one of our links, we may earn a commission.
13 Best Coffee Mugs & Thermos To Keep Coffee Hot
Countless coffee lovers have been in this scenario before: you make the perfect brew, pour a cup, sit down to enjoy it, and it gets cold before you can even finish.
The culprit is typically a cup, thermos, or tumbler that ineffectively retains heat, which can seriously put a damper on your coffee drinking experience.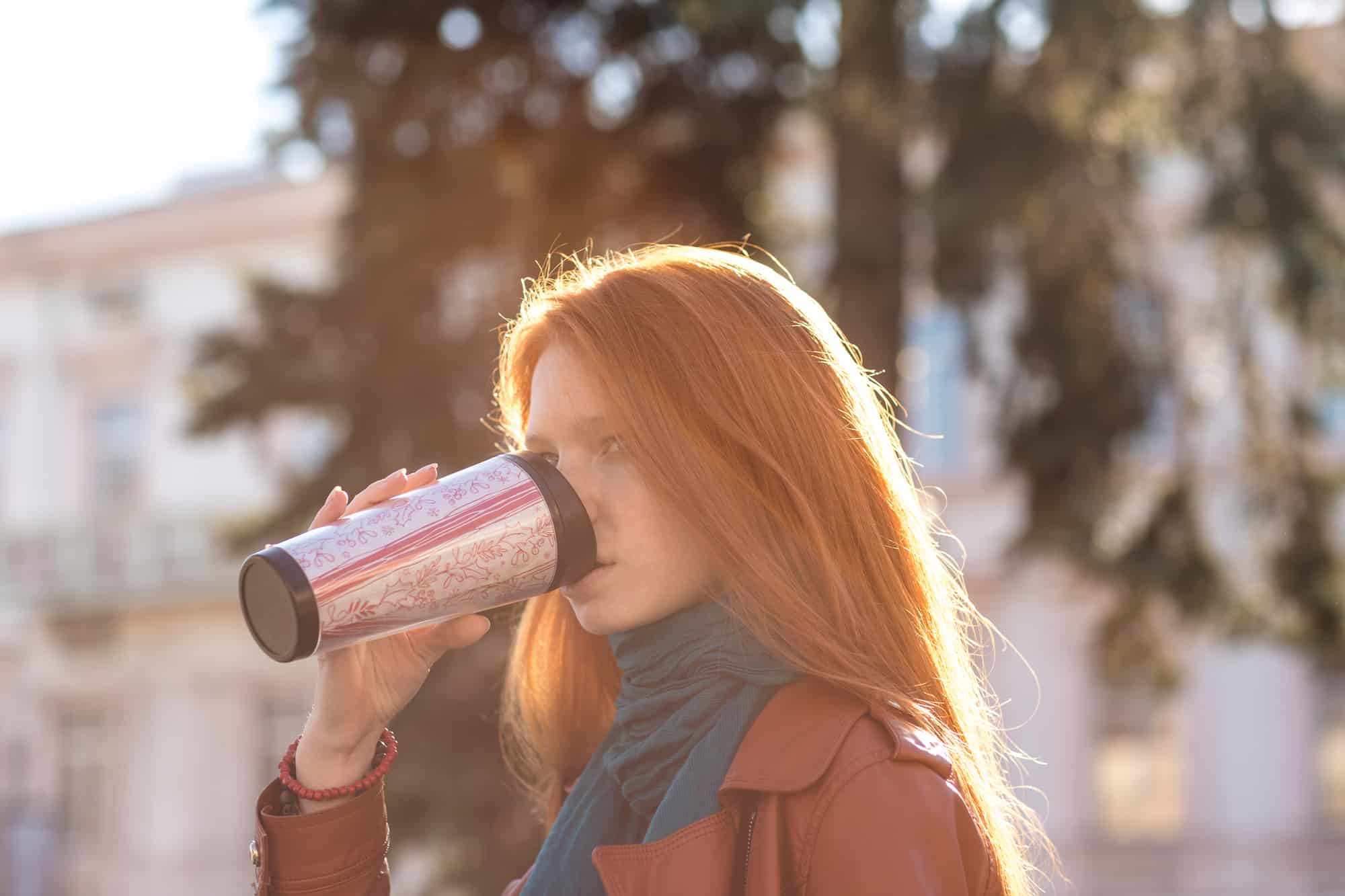 Fortunately there are many high quality options on the market that were specifically made to keep coffee at the right drinking temperature.
Here are some of the best coffee mugs and thermoses that are well worth trying.
13 Coffee Mugs to Keep Coffee Hot
Coffee Mugs And Thermos

Capacity

Material

​Price

Contigo Travel Mug

16oz, 20oz, 24oz

Stainless Steel

Thermos King Travel Tumbler

16oz

Stainless Steel

RTIC Tumbler

10oz, 12oz, 20oz, 30oz

Stainless Steel

Stainless Steel

Double Wall Coffee Mugs

13.5oz

Stainless Steel

Stanley One Hand Vacuum Mug

12oz, 16oz, 20oz

Stainless Steel

Contigo SnapSeal Travel Mug

20oz

Stainless Steel

Simple Modern Tumbler

20oz, 30oz

Stainless Steel

Zojirushi Stainless Steel Mug

12oz, 16oz, 20oz

Stainless Steel and

BPA-free Plastic

Contigo SnapSeal Byron

16oz, 20oz, 24oz

Stainless Steel

Thermos Vacuum

Insulated Travel Mug

16oz

Stainless Steel

Thermos Stainless Steel King

40oz

Stainless Steel

Traveler Tumbler by Pine Sky

20oz

Stainless Steel

Hydro Flask Vacuum Insulated

12oz, 16oz, 20oz

Stainless Steel
If you're looking for a travel coffee mug with a lid that doesn't dribble and is easy to clean, this model from Contigo will fit the bill.
It has a locking lid that helps prevent spills as well as double wall insulated construction to keep your coffee hot for up to five hours.
You can also use this travel coffee mug to keep cold beverages cool for a maximum of 12 hours, which makes it a versatile option to have around.
The lid of the stainless steel travel mug can be put into the dishwasher, and the container itself is sleek and attractive — it comes in nine color options so you can get one for each member of the family.
---
Thermos is a trusted name as far as travel tumblers go, and one of the best coffee mugs that the brand offers is the stainless steel King tumbler.
This model uses vacuum insulation to help keep coffee hot for five hours. For cold drinks, you'll be able to enjoy a cool sip for up to nine hours.
It's comprised of stainless steel inside and out, which makes it durable and a great option if you want something to take along while camping, hiking, or traveling.
For coffee lovers who also drink tea, this thermos is ideal because it has a built in tea hook that will keep tea bags and infusers from falling inside.
Its 16 ounce size easily fits into most car cup holders, and this particular model comes in five different colors.
---
If you're someone who likes a big cup of coffee in the morning, you'll definitely want to check out this coffee tumbler from RTIC.
It has a generous 30 ounce capacity, which is enough to have several cups of coffee plus more to share. It has double wall vacuum construction for efficient insulation and temperature retention, so your coffee will stay hot for several hours.
This tumbler works equally well for cold beverages and is able to keep ice solid for up to 24 hours.
Tough stainless steel construction means no worries about it shattering and cracking, and the tumbler features a tall design so it can fit into just about any cup holder.
Six solid color and patterned options are available.
---
Though traditional ceramic mugs look nice, they don't do a good job of keeping coffee hot for long.
These stainless steel mugs will not only keep your coffee at a nice temperature, they're easy to clean, shatterproof, and rust resistant. Two mugs come in a set, making these great for families and couples who drink coffee frequently.
A handy feature of this stainless steel coffee mug is that its double wall construction prevents the outside from getting too hot to comfortably hold.
Best of all, these mugs are an environmentally friendly option that's free of paint, BPA, and plastics.
Cleanup is easy since the mugs are dishwasher safe, and being made of high quality stainless steel means you'll be able to use these for years to come.
---
Vacuum insulated coffee tumblers work exceptionally well at keeping drinks hot or cold, and this is the case for the Stanley Classic.
It has vacuum insulation as well as a thermal lid to keep your coffee hot for a maximum of five hours, which is perfect when you need to take your brew to go.
This thermos for coffee has a stainless steel interior and can be popped into the dishwasher for convenient cleaning, and the lid is dishwasher safe as well. Its design guards against leaks and is made to be portable and durable.
Thanks to its slim design, you can put this insulated coffee mug into your bike cage or set it inside your car's cup holder without any problems.
---
While some coffee tumblers don't have a handle, many coffee drinkers prefer models that do for safe and easy drinking.
If that's true for you, this model from Contigo is the best coffee thermos to consider. It not only has a generous and smartly designed handle but a leak proof lid that makes it easy to tote along.
The portable coffee mug's 20 ounce capacity is enough to enjoy several cups of piping hot coffee no matter where you are.
Stainless steel construction, vacuum insulation, and a design that fits just about any cup holder are additional features that make this model outstanding. It can also be cleaned in the dishwasher and is suitable for right and left handed people.
---
If you're looking for a wide range of color options and a smart design that's suitable for cold and hot drinks, Simple Modern's insulted thermos will pique your interest.
The range of colors that it comes in is huge, and you can easily find a shade that suits your tastes and that of everyone in your family.
What's more, the vacuum insulated travel coffee mug is powder coated for durability and vacuum insulated to keep your brew hot for hours. It's one of the top coffee mugs to go in terms of style, quality, and durability, plus it's great for outdoor adventurers and traveling.
The Simple Modern Tumbler holds up to 20 ounces of coffee and will fit into most cup holders.
---
This portable coffee mug from Zojirushi is so well designed that it easily stands out from other options on the market. It not only looks sleek and modern, it comes in several color options and has a number of excellent features.
It's made of stainless steel and free of BPA, plus the interior is nonstick and super easy to clean. The stopper on the lid can be taken apart in seconds for thorough cleaning and has a locking mechanism that prevents spills, making this mug perfect for taking to work or on trips.
If you're looking for the best coffee cup to keep coffee hot while also taking up minimal space, you'll appreciate the slim profile of this model.
---
When picking out a thermal coffee cup to take along while traveling, it's important to make sure it's durable and spill-proof.
This mug from Contigo meets both criteria and also looks great. The leak proof lid means you won't have to worry about dribbling your coffee or accidental spills, and the lid also helps the mug retain heat.
Just under the lid is a pad designed for safe and easy one handed drinking. Your brew will stay hot in this insulated coffee cup for up to seven hours, and it's an excellent option if you frequently take your coffee to go.
It's vacuum insulated, has a profile that will fit the majority of cup holders, and can be placed into the dishwasher for cleaning.
---
If you're looking for the best coffee cup to keep coffee hot that has a slim design and a handle, this option from Thermos is worth checking out.
Its handle works well for right and left handed people, and being vacuum insulated allows it to keep coffee hot for up to five hours.
This coffee tumbler is made of stainless steel on the inside, and the exterior is stainless steel as well.
The leak-proof lid can be operated with a quick push of a button — those who drink coffee while working or on the go will definitely appreciate this handy feature.
A built in tea hook is included in the mug's design for versatility, and you can keep cold drinks chilled in it for up to nine hours.
---
This is a classic thermos for coffee at its finest and biggest — you can fit a whopping 40 ounces of java into this portable coffee mug and it will stay hot for up to 24 hours.
It's not just a cup that keeps coffee hot, it's a true workhorse that's perfect for those who travel frequently and need something reliable.
Those who work in construction or have long hours will also find the features and durability of this Thermos model to be invaluable.
The lid of the thermos serves as a coffee cup for quick serving, and it's easy to pour a cup without removing the tumbler's stopper.
It has an insulated stainless steel interior that also keeps cool beverages cold for up to 24 hours.
---
Coffee lovers who want a tumbler that can pull double duty and be used for other types of drinks should consider this model from Pine Sky.
It's made to be strong, leak and break resistant, and is suitable for traveling and packing along. Whether you're at home, enjoying the outdoors, or at the office, this cup that keeps coffee hot will serve you well.
It's made of stainless steel that's powder coated, and its finish ensures a secure grip on the mug. This model has a 20 ounce capacity so you can take along several servings of coffee or other beverages, and it can keep brew hot for several hours.
It's made of environmentally friendly materials, looks attractive, and is available in a range of vibrant colors.
---
Few water bottles can also double as efficient thermoses for coffee, but the Hydro Flask is an exception that's a great performer.
It's made of vacuum insulted stainless steel, which enables it to keep coffee and other beverages hot for up to six hours. When used for cool drinks, the Hydro Flask will maintain a cold temperature for a maximum of 24 hours. In addition to being BPA free, the 12 ounce water bottle has a flip cap that makes taking a sip of brew easy.
This same flip cap design makes the insulated coffee mug ideal for staying hydrated outdoors or while exercising. Its easy to bring along wherever you go, and the powder coated finish comes in 15 bold and attractive shades.
---
Conclusion
All of these coffee cup options work well, but don't feel like you need to limit yourself to just one.
Having a good mug at home and a reliable thermos or tumbler for when you're on the go will ensure that you can enjoy a piping hot cup of coffee at any time.
---