We independently select these products — if you buy from one of our links, we may earn a commission.
Top 7: Best Coffee Percolators – A Classic Way to Brew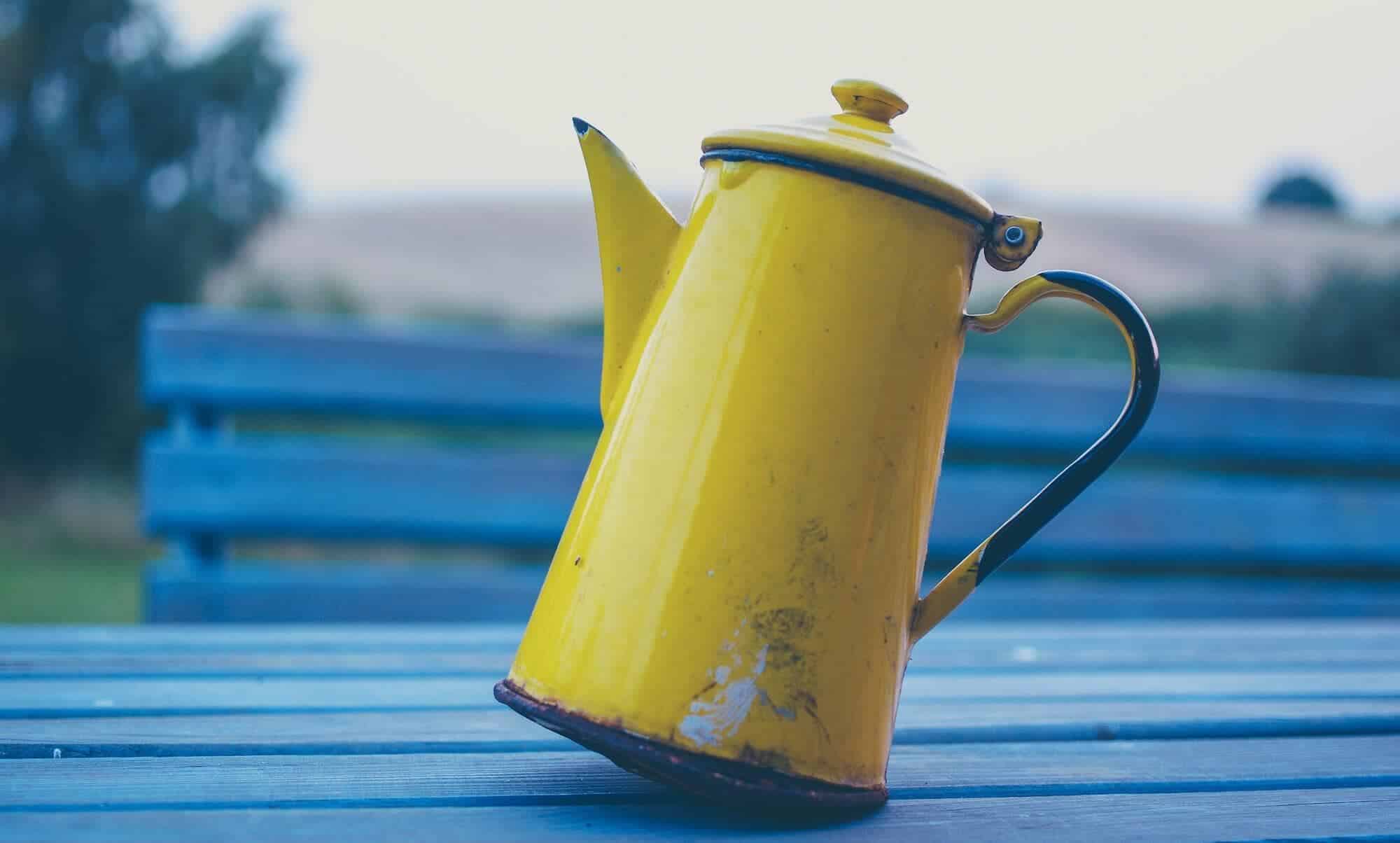 Not everyone knows what a coffee percolator is. Maybe you've heard the name. Or maybe you associate with something that goes on the stove.
For those who are familiar with percolators, though, there really is no other way to drink coffee. The piping-hot, bold coffee that comes from a percolator is like no other brewing method.
So read on if you are looking to try percolated coffee for the first time, or if you're looking to replace a unit passed down from your grandfather.
Top Rated Percolators
| Percolator | Capacity | Electric or Stove-top | Price |
| --- | --- | --- | --- |
| Presto 12-Cup Electric Percolator |  12 Cups | Electric | |
| Farberware Classic Coffee Percolator | 8 Cups – 12 Cups | Stove-top | |
| Coletti "Bozeman" Percolator |  9 Cups | Stove-top | |
| Farberware Electric Percolator |  4 Cups – 8 Cups – 12 Cups |  Electric | |
| Hamilton Beach Electric Percolator |  12 Cups |  Electric | |
| GSI Glacier Stainless Coffee Perk |  3 Cups – 6 Cups – 9 Cups – 12 Cups | Stove-top | |
| GSI Outdoors Red Percolator | 8 Cups | Stove-top | |
---
---
If you're looking for a convenient, easy to use, electric percolator that won't cost an arm (or a leg), it's hard to beat this model from Presto.
The electric operation allows you to brew from 4 to 12 cups depending on how much coffee you need. So it's great for the individual who also hosts guests or those of us who drink an entire pot on our own.
With a brew time of around one minute per cup, you won't have to wait long for fantastic coffee. A signal light lets you know when you can serve a fresh brew that comes out steaming. And thanks to the easy-pour spout, you'll have no problems serving at the table.
The carafe, filter basket, and perk tube are all made from durable stainless steel, so you can expect this one to last.
Pros
Can brew different amounts
Light signals a complete brew
Carafe keeps brew warm without overbrewing
Easy to use
Cons
Requires electricity
More expensive than many manual percolators
Have to wait for pot to cool between brews
---
Farberware is known for producing high-quality kitchen products, and the Yosemite Percolator is no exception. This stainless steel brewer has a classic look and produces an excellent four to eight cups of strong coffee.
The interior is non-reactive, which means it won't absorb any odors or tastes. So your 100th pot should be just a great as your first.
With a plastic knob atop the tight-fitting lid, you'll be able to peek in on your brew. That way, you'll know exactly when it starts percolating.
An insulated handle keeps you from burning your hand while providing a comfortable grip for pouring. That and the knob are the only plastic parts.
The whole thing is dishwasher safe. And it's compact, so you can brew and store without taking up too much precious counter space.
Pros
Budget-friendly pot that will last
Built by trusted company that has been in business over 100 years
Compact and easy to use
Dishwasher safe for convenient cleaning
Cons
Has longer brew time than some percolators
Cannot be used on a campfire because of the plastic parts
---
This 9-cup percolator from Coletti takes coffee brewing back to the basics. Coffee, water, heat, and time. That's all you need for a bold, flavorful mug of your favorite roast.
With its stainless steel construction, the "Bozeman" is made to withstand travel and frequent use. Take it with you camping or on the road where you can't be sure what type of electricity will be available.
For just a little longer than it takes to brew a coffee pod, you can get a cup of rich, piping hot coffee from this percolator.
Use it as a backup when the power is out or on the stove for everyday use. The size is sufficient for one or two light drinkers. Or just brew another pot if you find that you've downed it all quickly.
Pros
Durable construction: All metal except wood on handle and glass knob on lid
Weighs just 2 pounds, so it travels easily
Great for grills, campfires, and stove tops as it doesn't need electricity
Inexpensive
Cons
Rounded bottom may not be suitable for glass stoves
May not be large enough for those who prefer 12 cups
---
Sometimes you brew for one. If you don't want to waste counter space with a large drip maker or pod system, consider this petite unit from Farberware.
It's about the size of an electric kettle, so it stores in the cabinet easily. This is especially if counter space is at a premium (like in an apartment or condo).
You won't have to wait long to brew a wonderful cup or two every morning. A single cup should be ready in around a minute, and even a full four cups will brew in less than five minutes.
Since the cord is detachable, you can clean it easily after use. But it isn't immersible or dishwasher safe, so keep that in mind. And be sure to let it cool before cleaning.
Pros
Great size for quick brews
Detachable cord allows you to serve wherever you want
Automatic keep warm setting
Easy to clean
Cons
Has plastic parts
Not as durable as some models
More expensive than many manual models
---
Another well-known name in the kitchen appliance space, Hamilton Beach offers a decent selection of coffee percolators. Their 12-cup electric model is an interesting take on the category.
You'll notice that this brewer looks a little different than many other percolators. It has its own style with a retro look and makes use of a twist-lock lid.
That's great for keeping the top down. And the drip-free spout is great for pouring.
While it is a little larger than most percolators, it also brews twelve cups, which should be enough for family use.
The indicator light lets you know when the brewing process is complete, and the plastic handle helps prevent burns. With a detachable cord, it's also easy to serve away from the kitchen.
Overall, the Hamilton Beach 12-cup Percolator is a great option for families or people who serve guests frequently.
Pros
Keeps brewed coffee warm
Quick brew time
Inexpensive for such a large percolator
Cons
Larger than most other models
Has plastic parts that could break down
---
For the outdoors enthusiast, nothing beats sipping a hot cup of coffee while the sun rises. Unfortunately, many nature lovers have sacrificed for too long before finding a convenient, reliable way to brew outdoors.
This "ultra-rugged percolator" from GSI outdoors could be your answer.
The Glacier stainless model is made from durable, heavy-gauge steel. It has a "Percview" dome to let you spy on your brew. The rest of the pot is made from stainless steel, including the basket and stem.
The model is built to last and withstand heavy use in nature. So throw it on the grill or campfire (not a bonfire, obviously) to brew excellent coffee in just a few minutes.
With just three pieces, the Glacier is easy to clean, and at under 1.5 pounds, it's great for travel.
Pros
Compact and lightweight
Durable and high-quality steel
Easy to clean
Lid stays attached so you don't lose it
Cons
Most standard paper filters won't fit (they aren't required though)
---
For the ultimate traditional look, check out this enameled percolator from GSI Outdoors. It is made of steel with a classic enamel coating that protects the brewer while giving it some style.
It's not the lightest coffee brewer you'll find, but it is built to last, producing lots of tasty coffee, eight cups at a time.
Since it's kiln-hardened at 1100 degrees F (twice), it will withstand scratching and chipping. And the three-ply construction helps distribute heat evenly.
If you want to impress your camping buddies and perk them up in the morning, this unit will accomplish both objectives.
Pros
Durable stainless steel with enamel coating
Even heat distribution
See-through resin knob
Compact and lightweight
Cons
Handle gets hot when brewing
Lid doesn't always fit tightly
---
Why Use a Coffee Percolator?
With so many advances in coffee technology, why choose a system that seems better suited for the last century?
Nostalgia
Many people grew up with their parents or grandparents brewing a morning pot in the percolator. The aroma from these machines is more robust than many other methods, so you may have strong memories of smelling percolated as you were just starting the day.
Recreating that feeling is just as good as any other reason to buy a coffee maker.
Flavor
Along with the strong, pleasant aroma, coffee percolators produce a bold flavor as well. While many coffee drinkers think taste is overpowering, it's perfect for those who like it. And a percolator is really the only way to get that flavor.
Serving
For those who like to serve coffee directly at the table, perhaps bringing a pot out onto the patio or into the breakfast nook, percolators offer a practical solution.
Most of them travel easily to wherever you're drinking, and they aren't bulky or fragile like many carafes.
Counter Space
Unlike many drip coffee makers or espresso machines, which take up a lot of room on the counter top, percolators typically come in a compact package. They're also easily stored in the cabinet, freeing up even more room for food preparation.
How Does a Percolator Work?
The operation of a percolator is similar to some other brewing methods, including vacuum pots, drip machines, and stovetop espresso makers. But it has some important differences.
In a percolator, there is a bottom chamber that holds water and an upper chamber that holds coarsely ground coffee. When the water is heated, it is forced through a vertical tube that empties on a spreader plate in the upper chamber.
That hot water then flows through the coffee (extracting all the good stuff) and through a filter (leaving all the bad stuff) before falling back to the bottom chamber.
This process repeats until the brew approaches boiling. That's when you hear the characteristic "perking" that sounds like spurting.
So the coffee is continually brewed and reheated until it is finished. This results in a unique taste and brewing experience unlike any other system.
Is It The Same as a Stovetop Espresso (Moka Pot)?
Many people confuse percolators and Moka pots because they both push water into an upper chamber. Here are the main differences:
A Moka pot forces water through the coffee under pressure. This is why it produces a brew similar to espresso (although it's not strictly espresso). The percolator just pushes hot water into the upper chamber where it flows through the coffee grounds.
The percolator also continually brews coffee, extracting flavor from the grounds multiple times. This is why you can get a very bitter brew, especially from a manual pot that has been left on the heat too long.
Where Does The Percolator Come From?
The origins of the coffee percolating pot are a little unclear, with credit sometimes given to a British physicist, Sir Benjamin Thompson in 1810 or Parisian Joseph-Henry-Marie Laurens in 1819.
The stove-top version most people are familiar with is generally attributed to Hanson Goodrich, who received a U.S. patent in 1889.
How to Choose a Percolator?
The good news with this brewing system is that you aren't going to be confused by lots of different features or styles. For the most part, percolators all work the same way, but there are a few things you'll want to keep in mind.
Size
Do you brew for two? Or many? Or do you just drink lots of coffee?
Percolators come in lots of different sizes. For personal use, you might choose a 2-4 cup brewer. And for larger coffee needs, you can go all the way up to 12 cup capacity.
Electric vs Stove-Top
While the original percolators were designed to sit of the stove-top (or campfire), you've got more options in the 21st century. The main division is manual (stove-top) versus "automatic" (electric).
If you need to be able to make coffee anywhere you have heat, without worrying about electricity, the stove top models are a great option. You can use them even when you lose electricity by brewing on a gas stove, wood stove, or your grill.
For peak convenience, though, you'll want to think about an electric percolator. Its operation is much closer to automatic drip brewers. Just plug it in, add coffee and water, and let it brew a great pot.
Ease of Use
In addition to the heat source, convenience comes in a few other areas with percolators. Pay attention to the spout and features like lights that let you know when the brew is finished.
Also look for how difficult it is to clean. Percolators that have dishwasher safe parts will save you some time and headache.
Materials
Go for metal when you can, and stainless steel is at the top of the pack. This usually gives yoeu the most durable system. If you'll be taking the brewer on the road, you might also consider enamelware.
Price
A percolator purchase shouldn't stretch the budget. Inexpensive models run less than $25 and even the most expensive tend to be under $100.
Takeaway
Percolators really are a special way to brew coffee. They aren't for everyone, but they provide a simple, no-hassle way to control your brew.
If you lose power frequently or like to spend time camping, a percolator is a wonderful backup option. Be careful, though, you might find that you like the convenience and rich flavor every day. And that spluttering, perk action might just set you to salivating.
---
---