We independently select these products — if you buy from one of our links, we may earn a commission.
Top 7: Best Airtight Coffee Canisters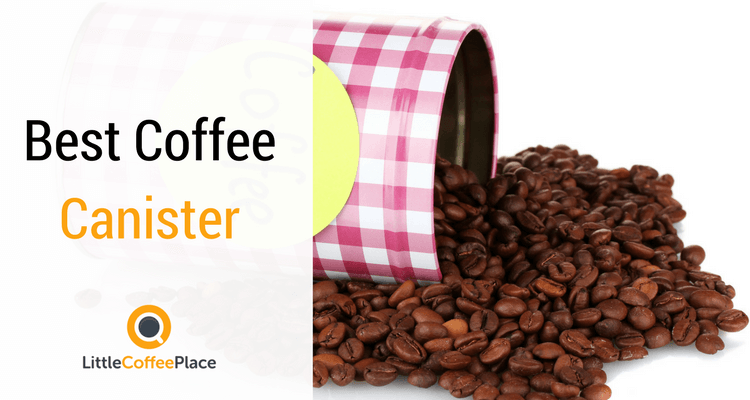 Where do you keep your coffee? The bag it came in? A fireproof safe? The freezer?
Whatever you are doing now, take a moment to consider whether it is the best option for giving you a flavorful cup of coffee. Because, as you know, a great cup starts with great beans.
And coffee beans are only great as long as they're fresh.
Best Coffee Containers
Coffee Container

Capacity

Valve

Price

Friis Coffee Vault

16oz

Yes

Coffee Gator Canister

16oz

Yes

Planetary Designs Airscape

32oz / 64oz

Yes

Tightpac Coffeevac

16oz

Yes

​

BlinkOne Coffee Canister

18oz

No

Coffmax Airtight Container

16oz

No

OXO Grips Coffee POP Container

1.5 Qt

No
---
---
It's right there in the name: vault. If you want to protect your beans, the Friis Coffee Vault is an excellent option.
The stainless steel jar is attractive, so you will be happy to leave it out on the counter. It also prevents odor/flavor transfer if you like to switch up your beans often. It's compact and easy to open, and the 16 oz size is large enough to hold a pound of whole bean coffee.
Friis introduced the one-way valve to long-term coffee storage, and it has been leading the way since. If you roast your own beans, you won't have to worry about CO2 build up anymore. The patented freshness valve requires changing, though, so you'll have to keep buying them.
Pros
Latch ensures tight fitting lid
One-way valve allows CO2 escape without letting in oxygen
A year's supply of freshness valves included
Cons
Freshness valve should be replaced every 3 months
Some metal parts may rust
---
This canister from Coffee Gator will protect a pound of coffee beans from all four enemies of freshness. It is another contender in the one-way valve containers, and it has a convenient date wheel on top of the lid to help you keep track of when you need to replace the valve.
Coffee Gator went for form and function with this beautiful metal container that comes in a variety of colors like blue, gold, grey, and red.
They also offer a travel-sized canister if you need to take your coffee beans on the go.
Pros
Beautiful design with options to match your decor
One-way valve for CO2 release
​Compact design that still holds a pound of coffee
Date wheel on lid to keep track of freshness
Cons
Feels somewhat flimsy rather than sturdy
Date wheel can be finicky
Valves have to be replaced
---
The folks who brought you the Desk Press French press mug have focused their innovation onto coffee storage with their Airscape container.
Rather than just providing an "airtight" container, the Airscape actively forces air out when you push the lid down. If your container is half-full, for example, the lid will be halfway down in the container, which means there is no air to mingle with your beans.
It's like a more effective method of trying to push all the air out of a plastic bag before sealing it.
Note that sizes are listed in fluid ounces. So the larger size (64 oz) is what you'll need to hold an entire pound of whole bean coffee.
Pros
Effectively removes nearly all the air from your container, no matter how full or empty it is
Comes in an array of attractive colors
Stainless steel finish resists odor transfer
Cons
A bit bulky (7 inches tall) compared to other canisters
Size options can be confusing
---
The Coffeevac places heavy emphasis on the seal to make sure your beans are protected from oxygen.
To keep your coffee fresh, simply push down on the button and close the lid. This forces a small amount of air out of the container, creating a tight seal to keep out air and moisture. The lid is easy to use, but you might need two hands to operate it, especially if you have arthritis problems.
Available in a variety of colors, including some clear and tinted options, you can probably find a design to look great in your kitchen. With the clear versions, just make sure you won't have it in direct sunlight.
The container holds almost exactly a pound of whole beans, so it is an economical use of counter space.
Note that while it has "vac" in its name, the Coffeevac doesn't actually create a vacuum (unless you pull up on the lid while it's sealed). A true vacuum would require pumping or some other method of removing the air inside the container.
Fortunately, it is still convenient and does a great job keeping coffee fresh.
Pros
Creates a tight seal
Easy to operate lid
Available in multiple colors
Less expensive than some containers
Cons
Clear versions could allow light to damage beans
Name could be misleading
---
Unlike many of its competitors (who use latches to create a seal) the BlinkOne Coffee Canister has a lid that screws down. This is a convenient option, and because it has a silicone gasket, you can expect it to keep an airtight barrier.
The tapered canister looks great with its stainless steel finish, and it does a nice job of blocking light, moisture, and oxygen. It is a somewhat no frills approach, but it gets the job done.
It does include one quirky (and useful) design element with the addition of a magnetic scoop that sticks to the bottom of the lid. And at 18 oz, it holds just a bit more coffee than many other canisters.
Pros
Airtight seal from screwing down lid
Attractive shape and size
​Holds just over a pound
Can be used for other items like sugar
Cons
Tapered design can make it difficult to scoop coffee at the bottom
​Screw-on lid typically requires two hands
No outgassing valve
---
If you're looking for an elegant place to keep your coffee, this Airtight Container from Coffmax is an excellent option. The hourglass shape is sleek, but it make the canister easy to hold.
The lid simply pulls off with a gasket inside to keep a tight seal. No need for screwing or fidgeting with latches.
A compact jar, it should leave plenty of counter space while holding between 12-16 oz. And it comes with a long, slender spoon that makes it simple to reach the bottom of the can.
Pros
Unique design
Easy to use lid
Scoop that fits in container
Cons
Could be too small for some users
Scoop can be difficult to put back in
Only one finish option
---
The only rectangular container in the bunch, the OXO Grips Coffee POP Container challenges how you define "coffee jar."
Know for their simple and practical design, OXO manages to deliver a functional coffee container that keeps coffee fresh. Just push down the POP button on the lid, and it creates an airtight seal that won't be broken until you push it down again. At which point, the button works as a handle to lift the lid easily.
It's not the shiniest container you can find (literally), or the shapeliest. But the straight edges make it easy to store while the rounded corners help you pour or scoop with ease.
The container is tinted to block light, but you can still see your beans inside. It also comes in three convenient sizes with the middle (1.5 qt) designed to fit a pound of whole bean coffee.
Pros
Fast but efficient sealing lid
Easily stackable
Protects from UV light while showing contents
Can be used for tea
Cons
Not as elegant as other options
On the larger side
---
What You Should Know About Coffee Containers
Coffee storage isn't just a box with lid. Modern technologies work toward one very important objective: keeping your beans as fresh as possible for as long as possible.
Do You Really Need a Coffee Canister?
You might be thinking, "It comes in a bag. Why can't I just leave it in there?"
Imagine buying a Maserati GranTurismo and parking it out on the street, under a tree that drips sticky sap. And it has a bird's nest in it too.
Sure, your coffee isn't as expensive as an Italian sports car, but it certainly isn't worthless. You've spent time finding the perfect beans from your favorite roaster. But as soon as you open that sealed bag, the beans start to lose their freshness and aromatics, which leads to an inferior brew.
In an unsealed bag (and no, it isn't sealed no matter how tightly you fold down the top), the beans are exposed to all the elements that destroy freshness. So each pot you brew, each cup your pour over, is going to be a little less excellent than the last.
How Should You Store Your Coffee Beans?
Once it's been roasted, your coffee has four enemies: air (specifically oxygen), heat, moisture, and light.
Oxygen: This is the biggest cause of stale coffee, in part because it's so difficult to combat. Exposing your beans to oxygen can cause them to go stale in just a few days.
Heat: Yes, heat is applied for roasting, and you'll likely brew your coffee with hot water. But in between those times, you want to keep it in a cool environment. Not cold like the refrigerator, though. Just cool like the cabinet.
Moisture: A little bit of moisture can ruin your coffee almost instantly. Condensation on the cold beans prematurely releases their oils. This is why you want to keep it out of the fridge.
Light: Specifically direct sunlight. UV rays can cause the beans to oxidize faster. The most damaging effects happen directly after roasting, which is why your roaster isn't shipping your beans in a clear bag or container.
So for the freshest coffee, you want to prevent exposure to these four enemies, which is why you need an airtight coffee container.
A Quick Note On Grinding
Just as a reminder, the freshest coffee comes from grinding your beans right before you brew. If you grind ahead of time (or buy your coffee pre-ground), it dramatically increases the surface area of the coffee susceptible to the freshness destroyers above.
If you have to grind ahead, you should still follow the same rules for storing whole beans. Just know that there is little hope for maintaining flavor.
What About The Freezer?
Many people think storing coffee in the freezer is an easy way to avoid the four enemies of freshness. While that is true, it doesn't mean you the freezer should be your default storage place.
The problem is three-fold.
You'll want your beans to come to room temperature before brewing, which means you'll need to set them out ahead of time.
Constant temperature changes are not good. Taking the coffee in and out of the freezer will cause it to degrade.
​Coffee will absorb the smells/flavors of the other food in your freezer, which compromises the flavors your roaster so carefully crafted.
Storing beans in the freezer can keep them fresher for an extended period. So if you've stocked up on your favorite beans while they're on sale, you can keep a few bags in the freezer. Just make sure they're in airtight containers or bags.
And for your daily-use coffee, just keep it at room temperature.
How Do You Choose a Coffee Container?
It's just a jar, right? How complicated can it be?
Yes and no.
Your coffee canister doesn't need to be high tech. It needs to keep out air, heat, moisture, and light. So any sealed container will be a step above the bag your beans came in.
Since you're buying a canister, you might as well look into one specifically designed for coffee. You'll want a container that has most, or all, of the following qualities:
Truly airtight
Opaque (to avoid light)
​Convenient to open/close
​Large enough to hold at least a pound of coffee (or whatever meets your needs)
​Attractive on the counter
Counter/cabinet friendly
A one-way valve for CO2 release
A Quick Note On Carbon Dioxide
Most bags from roasters have a one-way valve on them that allows carbon dioxide to escape without letting oxygen in. This is essential for freshly roasted beans because they release CO2 for a while as they outgas. If there was no valve, the bags could explode.
Some coffee containers have a similar valve to release CO2, suggesting that it causes stale coffee. The science is unsettled on that, however.
If you are roasting your own beans, a container with a valve could be a great idea. It will allow your beans to outgas without exposing them to oxygen. Otherwise, it probably isn't necessary, but it shouldn't hurt either.
So that's what you need to know before buying a canister for your coffee. Keep it in mind when searching for your perfect can. If you're looking for ideas, try one of these containers, which are some of the best-rated options for coffee storage.
Takeaway
Whether you want a container that matches your appliances perfectly or just something you can keep in the pantry, the right coffee canister is out there for you.
It might not be the sexiest tool in your coffee preparation, but it can be one of the most important. As long as you remember that the main goal is preserving freshness for as long as possible, you won't go wrong.
If you find a coffee container that belongs on the list, I would love to hear about it.
---
---