We independently select these products — if you buy from one of our links, we may earn a commission.
The 5 Best Vietnamese Coffee Brands In 2023
Vietnamese coffee tends to cause a lot of confusion in the coffee-drinking community.
To some, Vietnamese coffee is synonymous with a dark and robust mass-market blend, while others think of Vietnamese coffee as a tall, frothy, sweet iced coffee-concoction.
Sadly, in most cases, Vietnam isn't the first place coffee fanatics look to for specialty beans. Although Vietnam is the world's second-largest coffee producer, most of the country's coffee beans are mass-produced Robusta beans.
But that shouldn't stop you from taking a second glance at Vietnamese coffee. There are several specialty coffee roasters producing dangerously delicious coffee beans from this southeast Asian retreat.
These premium brews are guaranteed to debunk any misconceptions you've read or heard about Vietnamese coffee beans.  
5 Best Vietnamese Coffee Brands
Chestbrew, Moon Bear Premium Vietnamese Coffee
Dark Roast
USFDA approved, single-origin
Monday morning blues? According to Chestbrew, their single-origin, Arabica Vietnamese coffee will 'fuel your insane drive,' and make you feel 'strong and unstoppable.'
Chestbrew specializes in authentic Vietnamese beans, and their Moon Bear premium dark roast beans are rich, exotic, and unapologetically bold. Chestbrew takes pride in sourcing their beans from progressive coffee farmers and roasting them at a high-tech, USFDA approved facility in Vietnam.
Moon Bear beans are exceptionally strong and ideal for cold brew coffee-drinkers. Cultivated to produce a consistently robust and sweet cold brew, Moon Bear beans are never sour or bitter.
---
Trung Nguyen, Premium Blend
Medium Roast
Premium Coffee Blend
Trung Nguyen is a household name in the Vietnam coffee community and one of the largest coffee brands in the country.
Trung Nguyen's proprietary blend consists of 59.9% Arabica, 40% Robusta, and a hint (.01%) of Chocolate, so regardless of your brew method, this premium blend will produce a predictably bold, fragrant, and tasty cup of joe.
These beans are slow-roasted to perfection, so the subtle chocolate notes will never suppress the rich, well-balanced flavors of the coffee bean. So, you can expect a lively, fragrant, refreshing brew that offers the bold and authentic flavor profile of a Vietnamese brew.
---
Dalat Peaberry Robusta
Dark Roast
Highland Grown Robusta
Robusta beans tend to get a bad rap, especially when compared to premium Arabica beans. But this Dalat Peaberry Robusta bean proves that how and where a Robusta bean is cultivated is really what matters most.
Heirloom Coffee's Dalat Peaberry Robusta beans are grown in the Dalat Province in a highland region. What exactly does that mean for the bean?
Well, this high-altitude Robusta rivals Arabica, offering an exceptionally delicious alternative to low-elevations Robusta beans. These beans are chocolatey, smooth-bodied, and rich with very little acidity.
In fact, these coffee beans are often the unspoken hero of award-winning Italian espresso blends. So, if you love espresso and rich, bold brews, Dalat Peaberry is certainly worth a try.
---
Lang Thang, Saigon Phin Daklak
There have been a lot of robust beans on this list. Saigon Phin Daklak is the for the coffee-lover that appreciates a more mild and mellow brew, without losing the flavorful palate of a traditional Vietnamese bean.
These beans are sourced from the Central Highlands region of Vietnam and use a blend of Robusta, Arabica, Peaberry, and Soybeans.
Lang Thang recommends using their Saigon Phin Daklak to produce a delicious batch of Vietnamese-style iced coffee, but they also have a list of recommended brew recipes so you can get the most out of their pre-ground beans.
---
VN Roaster, Butter Roasted Coffee
One of the ways Vietnamese coffee roasters balance the bitterness of Robusta beans is by incorporating butter in the roasting process.
VN Roaster's butter roasted beans are sourced from the Dak Lak region, or the coffee capital of Vietnam. These 100% Robusta beans are then butter roasted to produce a smooth, rich, and flavorful brew.
But don't worry, these beans don't taste like butter. They retain a full-bodied, chocolatey, smooth flavor profile that coffee-lovers appreciate in traditional Vietnamese coffee.
---
Vietnamese Coffee Flavor Profile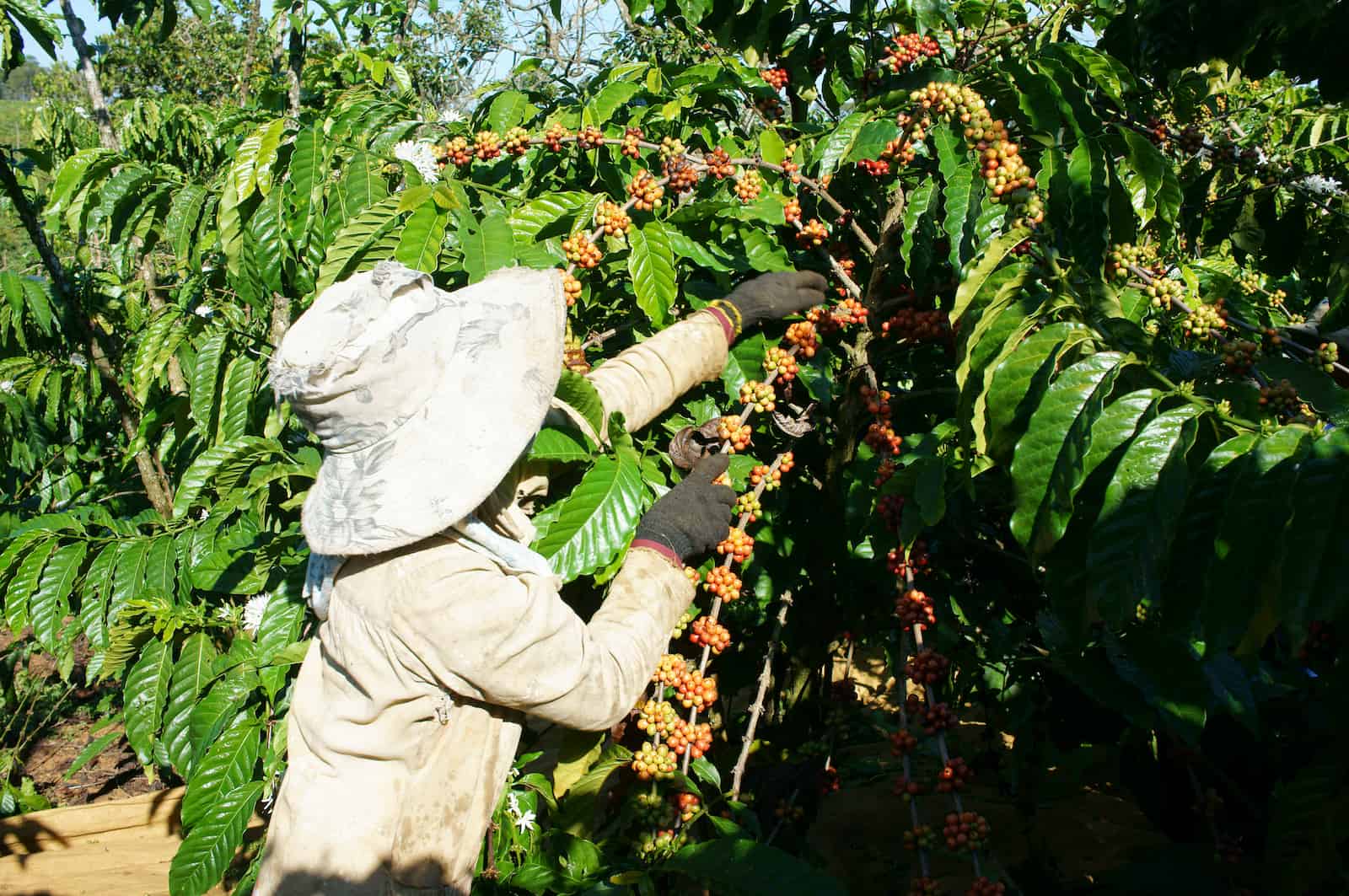 Though specialty Arabica coffee beans are increasing in popularity, Vietnam is still best-known for producing highly caffeinated, slightly bitter, Robusta coffee beans.
Vietnamese coffee is notoriously dark, robust, and has a reputation for being the perfect complementary bean for premium espresso or Arabica blends.
Traditional Vietnamese coffee is known for its thick aroma and exceptionally dark roast. However, it's not uncommon for Vietnamese coffee roasters to roast their beans with butter or some sugar to offset the smokiness of their Robusta beans.
Traditional Vietnamese Coffee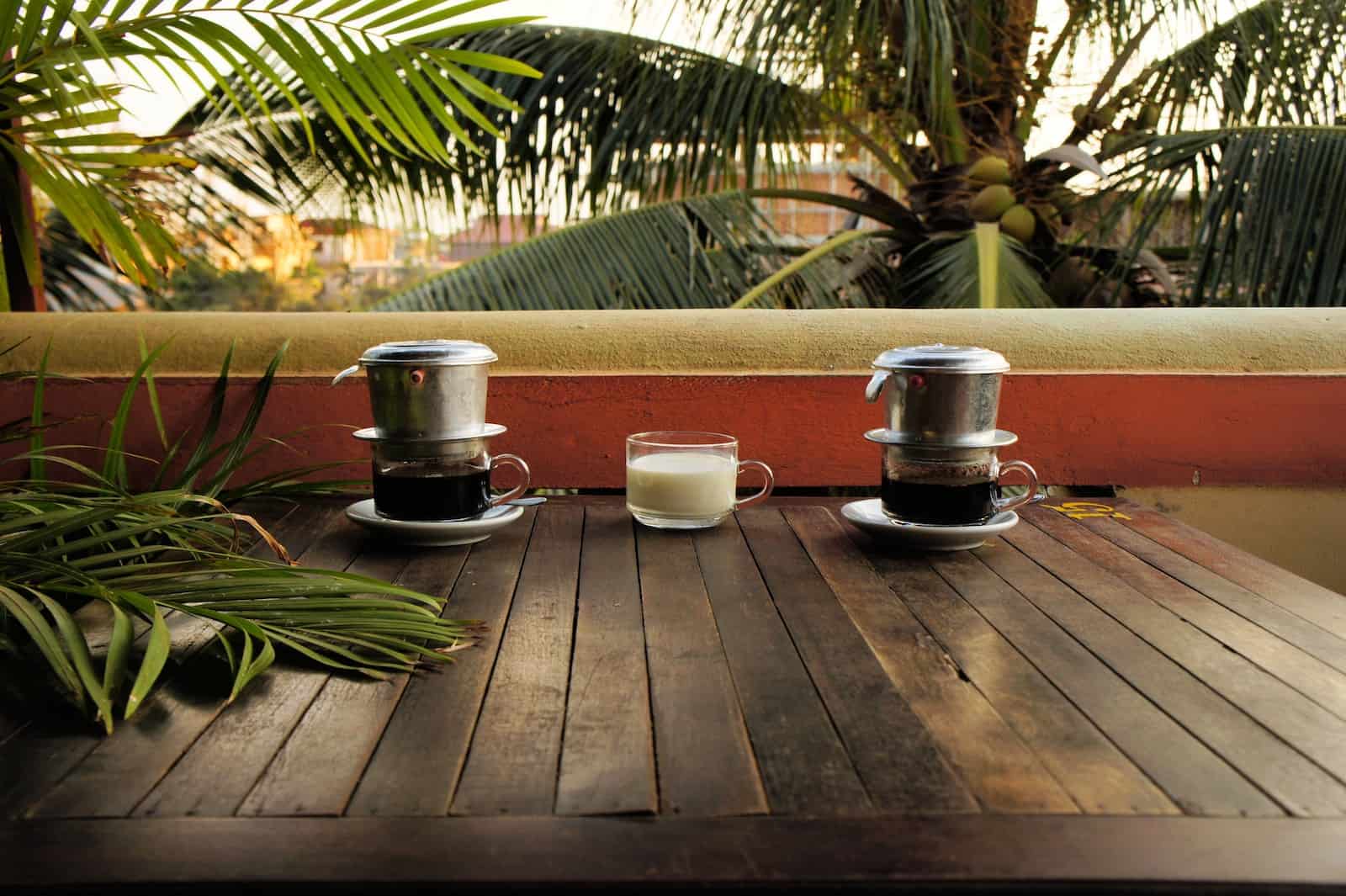 If you were to walk into a Vietnamese coffeehouse and asked for a traditional cup of joe, you wouldn't be served a venti cappuccino, espresso, or latte.
Coffee in Vietnam is traditionally brewed in a phin, which consists of a perforated plate that fits over a coffee cup, a brewing chamber, a perforated insert that sits inside of the chamber to compress the coffee grounds, and a lid to contain heat and create coffee magic.
To every coffee elitist' delight, the Phin looks and functions a lot like the enchanting child of a French Press and pour over. Coffee brewed in a Phin is prepared slowly and meticulously, drip by drip – encouraging coffee-lovers to slow down and savor their beans.
Once the coffee is brewed, it can be enjoyed black, iced or hot, with cream and sugar, or with another Vietnamese favorite – sweetened condensed milk.
Vietnamese Coffee Cultivation
By the late 1990s, Vietnam was the leading coffee producer in Southeast Asia and the second largest coffee producer in the world. However, production has always been largely focused on Robusta beans.
Most of Vietnam's coffee production is concentrated in the rich volcanic mountain soil of the Central Highlands. Arabica, in particular, is traditionally cultivated in the Lam Dong province, while Dak Lak and Dak Nong cultivate mostly Robusta beans.
Interestingly, Vietnam has the ideal geographic and climate conditions to support the cultivation of Arabica beans. According to the International Coffee Organization, Vietnam is actively looking to improve the quality of their coffee and hoping to expand the cultivation of Arabica beans.
Conclusion
Coffee connoisseurs will tell you that the only bean worth brewing is the Arabica bean. But Vietnamese coffee, whether Arabica or Robusta, is notably robust, aromatic, and unique, making this coffee worth trying out, regardless of its humble beginnings.