We independently select these products — if you buy from one of our links, we may earn a commission.
Best Sumatra Coffee Beans
Love it or hate it, drinking a piping hot, fresh pot of Sumatra coffee will likely be one of the most unique coffee drinking experiences you'll ever encounter.
Sumatra, a small island in Southeast Asia belonging to Indonesia, is not only the ideal growing grounds for delicious coffee, but it's also the largest coffee producing region in Indonesia.
However, Sumatra beans are the source of mixed reviews in the coffee community. While some coffee connoisseurs appreciate the bean's smooth, full-bodied flavors and minimal acidity, others are quick to characterize these beans as earthy, funky, or even mushroom-y.
We know, it doesn't sound appealing. But before you turn your head to Sumatra, you should know that if you've ever had a cup of coffee from Starbucks, there's a chance you've already had your first Sumatra experience without even realizing it.
And while there's really no denying that some Sumatra beans have a very rare and complex flavor profile, these herbaceous beans shouldn't be overlooked. The rich, dark, earthy flavors of a high-quality Sumatra bean are still adored by plenty of coffee lovers for a reason.
To put you on the right path to discovering the finest Sumatra brew, we've compiled the very best Sumatra beans.
5 Best Sumatra Coffee Brands
Volcanica Coffee, Sumatra Gayo Peaberry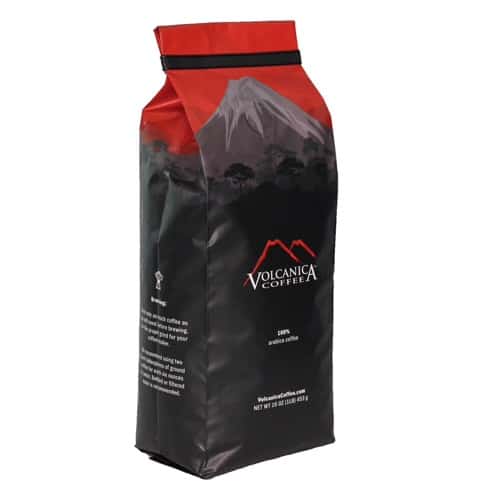 Medium Roast
Organic, Fair Trade
At first glance, you might think that the vibrant acidity and sweet caramel and peach flavor profiles in Volcanica's Gayo Peaberry varietal completely contradicts claims of wacky flavor profiles in Sumatra beans.
Well, for starters, Volcanica's Gayo Peaberry beans are grown in the Aceh region on the northern tip of Sumatra. This coffee growing region is not only known for producing some of the best beans in the country but is also known for processing exceptionally sweet and clean beans.
Volcanica's Gayo Peaberry, in particular, is grown naturally and organically at 4,500 to 6,000 feet above sea level, so will appreciate the bold, full-bodied flavors of a gourmet, arabica bean. Not to mention, these premiere beans maintain the characteristically layered complexity of a traditional Sumatra bean.
In addition to the previously mentioned sweet flavor notes, you can expect a unique dark herbal sweetness, hints of moist, fresh-fallen leaves, cocoa, and flowers. According to Volcanica, this particular bean is rare and offers an excellent syrupy aftertaste that you won't find in most Peaberry beans.
This mishmash of flavors might sound intimidating to some coffee lovers, but Volcanica's loyal coffee-drinking clientele insists that their Gayo Peaberry will win the hearts of even the most finicky coffee drinkers.
---
Out of the Grey Coffee, Sumatra Wahana Estate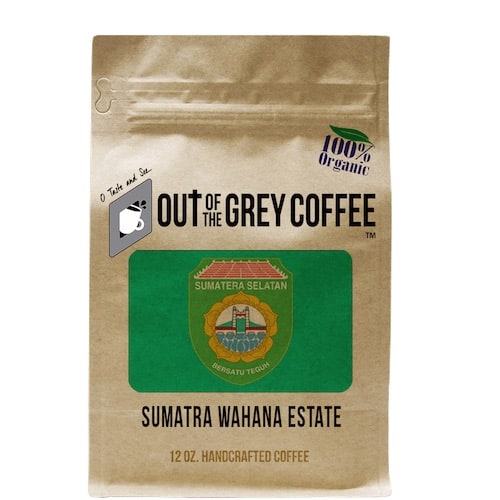 Dark Medium Roast
Organic, Fair Trade Certified
Like Volcanica, Out of the Grey's Sumatra blend is deeply sweet, offering a multi-layered, flavorful blend of banana, lavender, dark chocolate, and brandy.
This dark-medium roast is naturally processed using the infamous wet-hulled method, which is the quintessential Sumatran processing method that contributes to the bean's rare and distinct flavor profile.
Out of the Grey's Sumatra Wahana bean is sourced from Sidikalang, a northern region of Sumatra that is said to have a very different flavor profile from other coffee growing regions.
In fact, according to some coffee experts, Sidikalang coffee rivals Brazilian beans, which are some of the best in the world.
Sidikalang beans are generally fruity, with a touch of citrus and dark chocolate and Out of the Grey's single-origin, organic Sumatra bean is no exception. Out of the Grey describes this brew as buoyant, surprisingly zesty, and vibrant, but customers will tell you that it's just plain delicious.
---
Copper Door Coffee Roasters, Sumatra Queen Ketiara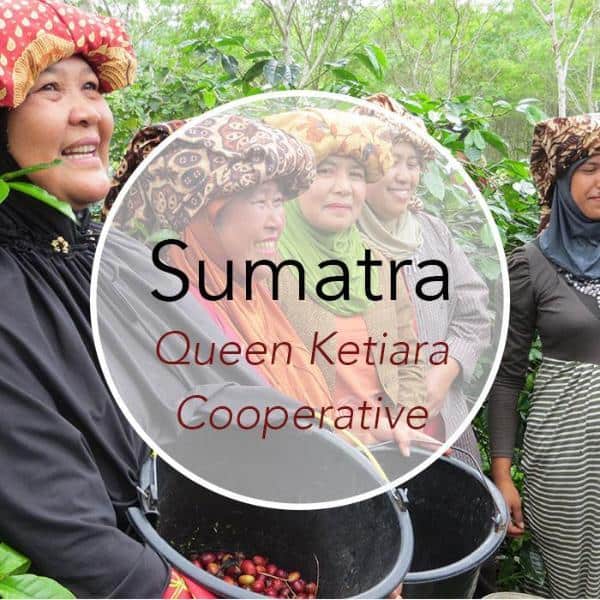 Medium Roast
Organic, Fair Trade
Similar to Out of the Grey and Volcanica, Copper Door aims to debunk the stigma of classic Sumatra flavor profiles by offering a bean that is sweet, fruity, lively, and creamy, while paying tribute to the traditional characteristics that make the Sumatra bean unique.
Copper Door's Sumatra Queen Ketiara bean is sourced from the Ketiara Cooperative, which is known for its fruity tones, lively acidity, and bold intensity.
Featuring a combination of cranberry, walnut, and black pepper flavor notes, Copper Door's Sumatra bean strikes the perfect balance between sweet and spicy. These beans are wet-hulled, certified organic, fair-trade, and produced 100% by women.
As a premium coffee roaster, Copper Door's mission is "to reflect tradition and craftsmanship practiced around the world," and their medium roast Sumatra bean does just that.
---
Klatch Coffee, Sumatra Mutu Batak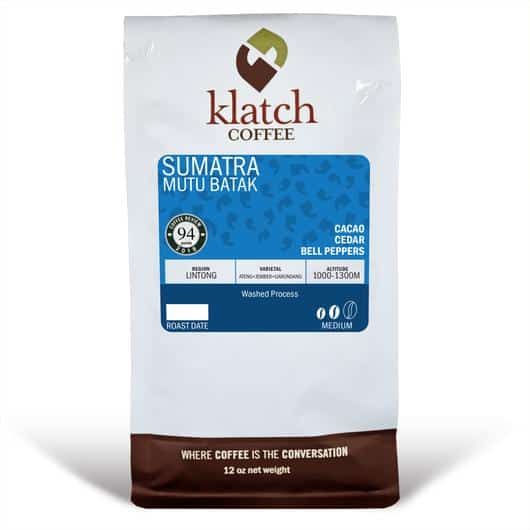 Another coffee roaster making waves in the Sumatra coffee space is Klatch Coffee, which offers a Mutu Batak blend that balances cocoa, cedar, and bell pepper with subtle hints of lavender.
In 2018, coffee expert Ken Davids described Klatch Coffee's Sumatra bean as "A fine Sumatra, simultaneously expressing the pungent, full, resonantly earthly genius of the type, while lifting it with a refreshing lightness and complex vivacity."
Klatch Coffee refers to their Sumatra Mutu Batak as a new generation of Sumatra, but the bean's multifaceted flavor profile, which is described as zesty, syrupy, fresh, and earthy, can be tied back to the traditional, volcanic growing region of northern Sumatra near Lake Toba.
Klatch insists that every bean in one of their bags is graded and hand sorted before being bagged and delivered to your home.
---
Volcanica Coffee, Sumatra Mandheling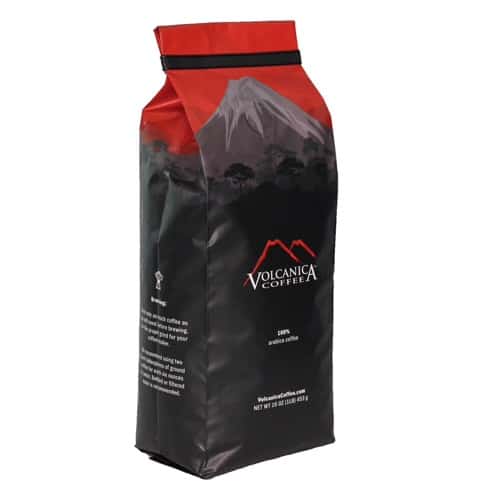 Medium Roast
Fair Trade, Rainforest Certified
From the makers of the delicious Sumatra Gayo Peaberry, Volcanica, comes a second, classic Sumatra coffee bean option for your drinking pleasure – the beloved Sumatra Mandheling.
Mandheling beans are one of the most common to be exported from Sumatra and are known for their smooth, syrupy, and heavy body. They often exhibit an herbal aroma, which counterbalances their often chocolatey, sweet flavor notes.
Volcanica pays tribute to the earthy authenticity of a Mandheling by offering a premium, well-balanced, rich bean with brown spice and cocoa aroma. This medium roast also features a hint of tasty brown sugar, wine, and dried fruit.
With so many exotic, natural flavors packed into a characteristically low-acid bean, it's hard not to fall in love with Volcanica's Sumatra Mandheling beans.
---
What is Wet Hulling?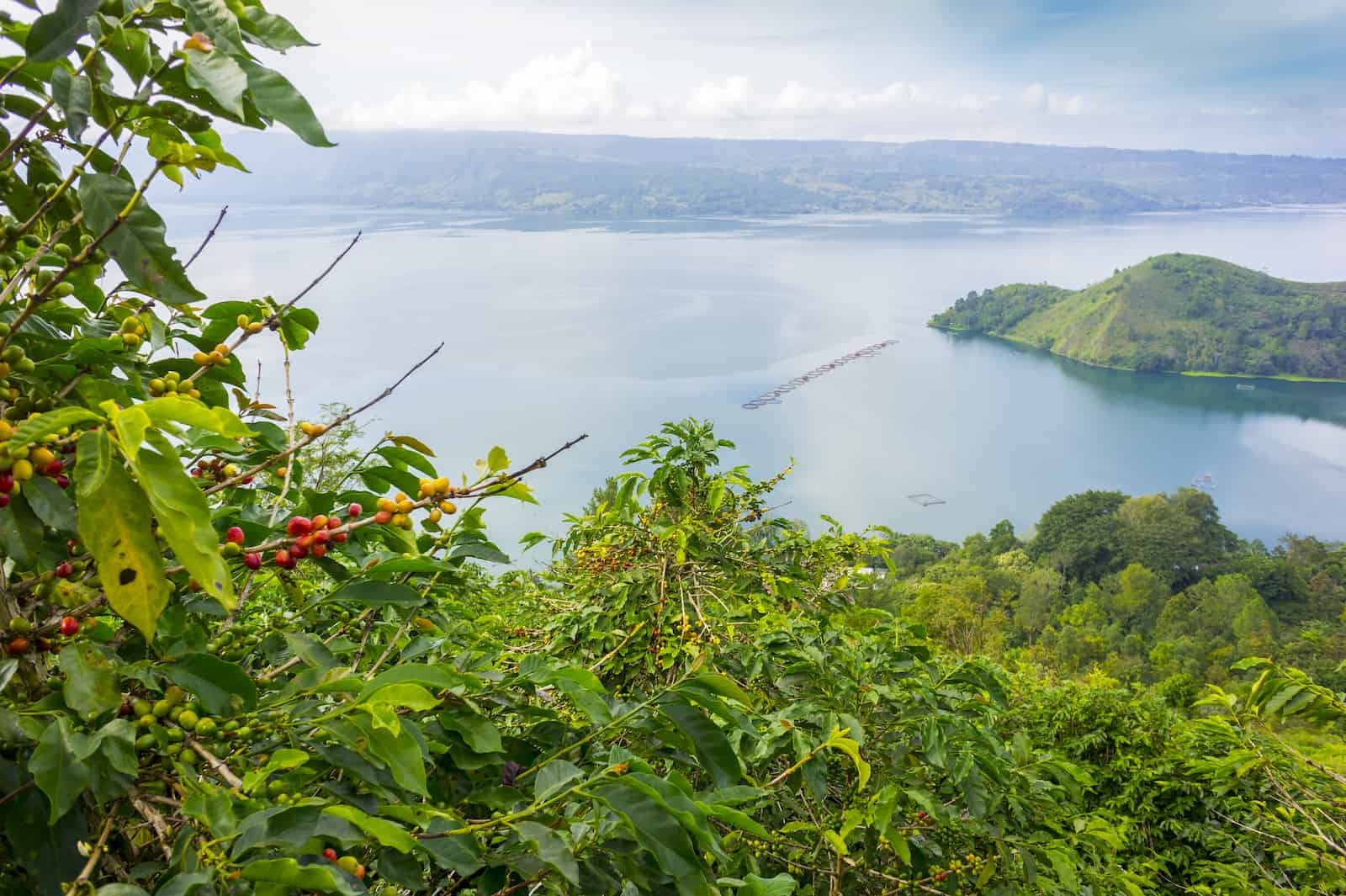 So, where exactly do those tobacco-y, herbal, earthy flavors come from?
Interestingly, the single thing that seems to divide the coffee community regarding Sumatra beans is, in fact, how they are processed. And most of the atypical and odd flavors that define an authentic Sumatran brew are the result of wet hulling.
In basic terms, wet hulling, or "Giling Basah," is a fast-paced, down and dirty processing method that accelerates the drying process.
Some say that the wet hulling process is the result of Indonesia's humid and rainy climate, which makes it difficult to dry coffee the contemporary way. In other words, Sumatra doesn't have the luxury of slowly drying their beans to lessen moisture.
Without making things too complicated, excess moisture results in the beans fermenting for longer durations and developing dynamic, partially misunderstood, flavor profiles.
Conclusion
While advocates of the Sumatra bean find their flavor profiles to be exciting, unique, and vibrant, skeptics will often refer to Sumatra beans as funky and confusing. One thing we all have in common, however, is a love and adoration for premium beans.
So, if you're on a mission to taste the best beans out there, Sumatra coffee has to be on your list.