We independently select these products — if you buy from one of our links, we may earn a commission.
The 5 Best Puerto Rican Coffee Beans
Puerto Rico is best-known for producing world-class rum and legendary Latin American heartthrobs like Ricky Martin. But the 'Island of Enchantment' isn't just 'livin la vida loca,' they're also growing beans that rival the very best coffee producers on the planet.
Coffee cultivation in Puerto Rico kicked off in the 1700s during Spanish colonial rule. Delicious arabica beans were mostly grown as a local luxury until the 1800s, when Puerto Rico quickly became one of the top premium coffee growers in the world.
Unfortunately, increasing costs, political unrest, and relentless natural disasters have wreaked havoc on Puerto Rico's coffee industry. The island's coffee crop, which was once projected to be worth $100 million, was nearly decimated when Hurricane Maria made landfall in September 2017.
But not all hope is lost – Puerto Rican coffee farmers are working diligently to revive the coffee industry. So, if you're familiar with the sentiment 'quality over quantity,' we have a few suggestions for your next batch of Caribbean coffee beans courtesy of Puerto Rico.
5 Best Puerto Rican Coffee Brands
Out of the Grey, Yauco Selecto AA Puerto Rican Organic Coffee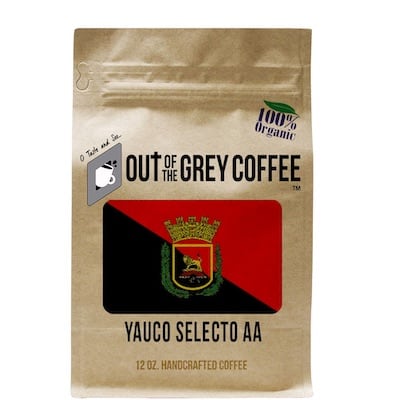 Out of the Grey's Puerto Rican bean is anything but ordinary. This single-source, dark-medium roast is sourced from Hacienda San Pedro and Hacienda Santa Ana, two prestigious coffee plantations tucked in the mountainous region of Yauco.
These beans are classified as Yauco Selecto AA, which means they're planted, grown, handpicked, and processed, to perfection.
These beans are teeming with flavor, featuring hints of lavender, cherry blossom, chocolate, and almond. Once they're brewed, Out of the Grey's Puerto Rican beans are also incredibly aromatic, boasting a balance of both a floral and nutty aroma.
All of these incredible flavors and aromas work flawlessly to produce a sweet and smooth cocoa toned cup of joe.
---
Cafe Yaucono Original
Café Yaucono is said to represent Puerto Rico's coffee culture and tradition. So, it's not all that surprising to find that most locals reach for Yaucono to get their coffee fix.
These beans are balanced and smooth. Despite being highly caffeinated, Café Yaucono is not overly acidic or bitter, offering coffee connoisseurs a creamy caffeine kick. Yaucono coffee drinkers also report that this brew isn't excessively flavored, it's just plain simple and robust.
Interestingly, Yaucono is one of the largest coffee roasters on the island and one of the only coffee producers to endure rising export costs. Most coffee-lovers on the island insist that Yaucono's survival is the result of superior quality and taste.
---
Café Lareño Ground Coffee Puerto Rican
Café Lareño has spent four generations perfecting their coffee cultivation process. This endearing family-owned coffee farm still believes that the secret to producing high-quality coffee beans is the human touch.
Café Lareno's 100% pure Puerto Rican beans are planted, nurtured, and collected by hand before being shipped to grateful coffee-lovers around the globe. Nestled in the mountainous heart of Lares, Café Lareno produces only the finest, high-altitude, arabica beans.
According to customers, Café Lareno is smooth, flavorful, and bold, but not too overpowering.
---
Alto Grande Premium Coffee
The self-proclaimed coffee of Popes and Kings, Alto Grande is known as exotic, intense, and incredibly aromatic. These arabica beans are cultivated at Hacienda Alto Grande, a renowned coffee-grower located in Lares, Puerto Rico.
Alto Grande's flavor profile consists of full-bodied, chocolate undertones and a sweet, sharp aroma. According to locals, Alto Grande is a staple of fine-dining and a reputable, high-grade coffee bean.
It's worth noting, however, that each of Alto Grande's arabica trees only produce a pound of coffee each year. This limited production increases demand, so you'll want to grab a bag of beans before they're gone.
---
Julian Coffee, Specialty Puerto Rican Coffee
Looking for a way to support and revive Puerto Rico's coffee industry? Julian Coffee recognizes Puerto Rico's coffee cultivation potential and is devoted to reestablishing the island as a powerhouse coffee producer.
Julian's Caturra arabica beans are single-origin, organic, and shade grown on a 100-acre family farm in the mountains of Adjuntas. Each cherry is hand-picked and processed with the highest quality in mind.
Once roasted, you can expect a smooth, full-bodied brew with subtle notes of chocolate. According to coffee-lovers, Julian's Puerto Rican bean also makes a stellar batch of cold brew.
Each bag of beans is biodegradable and helps pay Puerto Rican coffee farmers a livable wage. So, if you're looking for a few more things to feel good about when you're sipping your morning brew – you'll want to consider supporting Julian Coffee.
---
Puerto Rican Coffee Growing Regions
Generally, coffee in Puerto Rico is categorized by haciendas, or coffee-growing plantations. In some cases, however, roasters will refer to bean quality by its location and/or brand. Two of the most popular, high-altitude coffee-growing towns are Ponce and Yauco.
Yauco
The mountain town of Yauco, in particular, is beloved by locals. Yauco is admirably referred to as 'The City of Coffee,' and houses several impressive Haciendas like Hacienda San Pedro and Hacienda Santa Ana. Yauco's mountainous terrain and natural waterways make the area ideal for premium coffee cultivation.
Ponce
Ponce, which houses the island's tallest mountain, is Puerto Rico's second largest municipality. Ponce is best-known for housing Hacienda Pomarrosa and Hacienda Buena Vista – though the latter primarily functions as a museum. Hacienda Pomarrosa sits at 3,000 feet at the foot of Cerra Punta and produces only the finest, gourmet, arabica beans.
Conclusion
Puerto Rico might not be the first place you think of when think premium coffee beans. But despite the island's complicated and devastating history, their coffee continues to reemerge as one of the very best beans in the coffee industry.
It's estimated that 90% of Puerto Rico's plantations were devastated by hurricane Maria in 2017. If you'd like to see Puerto Rico's coffee industry thrive, like it once did, grab a bag of these smooth-bodied beans and enjoy!