We independently select these products — if you buy from one of our links, we may earn a commission.
5 Best Moka Pots in 2023 (AKA Stovetop Espresso Makers)
Many consider Italy the promised land of coffee. (And lots of other places would argue with that.) One common feature in Italian households is the use of stovetop espresso makers, or Moka pots.
These compact wonders turn water and coffee into a rich, bold brew that isn't quite true espresso.
It stands up well to dairy and sugar, though, and it provides a great, inexpensive way to achieve gourmet coffee at home.
If you're interested in a little taste of Italy, read on to find out about some of the best Moka pots on the market right now.
Bialetti 06800 Moka Pot
The Bialetti is likely the image that pops into your head when you hear "Moka Pot." The company has been around for nearly 100 years, and they have essentially perfected the stovetop coffee method in that time. 
With its classic octagonal design, the Bialetti offers both form and function. The shape helps distribute heat evenly, which leads to better extraction and more consistent flavors. 
And it manages to accomplish that in a short time since the Bialetti heats up quickly (particularly if using a gas stove). You can expect a brew in just a few minutes unless you need to wait for electric coils to heat up. (But you'll find that with any stovetop brewer.)
Unfortunately, it does not work with induction stoves. 
There are also plenty of size options for this Bialetti. If you need coffee for one, you can go with the smallest size (one cup). Or grab the nine cup brewer to entertain guests or brew for a whole family. 
While the brewer is not dishwasher safe, it disassembles quickly and cleans easily. It also has a well-insulated handle to keep you from burning your fingers when pouring. 
If you're looking for iconic Italian style and flavor, it's hard to beat the Bialetti Express.
Pros
Simple and easy to use with fast clean up 
Classic design in a variety of sizes
Durable construction
Cons
Does not work on induction stoves
Cannot be cleaned in dishwasher
---
Cuisinox Roma Stainless Steel Stovetop Espresso Maker
If you want a coffeemaker that catches the eye, the Cuisinox Roma deserves a second glance (it will probably get one anyway). With its classy, smooth stainless look, it is hard to avoid in the kitchen. 
Fortunately, this stovetop brewer isn't all flash. Thanks to its 18/10 stainless steel, the Roma is built to last and make great coffee year after year. It even comes with a 25-year warranty. Don't expect to find that kind of promise with most other coffee pots. 
Available in multiple sizes (4, 6, and 10 cups), the Roma can meet the needs of nearly any household. It features quick operation and clean up is straightforward. You can even send it through the dishwasher if you need. 
It also has an induction-friendly base, so you should be able to use this Moka pot on any stovetop. 
For such a premium price, you might expect the Cuisinox to be manufactured in Italy, but it is actually handmade in China. That might be a problem for some buyers, but if you don't mind, you will appreciate the quality. 
Pros
Works on induction, electric, and gas stovetops
Durable with a 25 year warranty (and includes an extra gasket)
Easy to clean and dishwasher safe
Available in multiple sizes
Cons
Handle can get hot because it isn't insulated
More expensive than most coffeemakers in this category
Shiny finish shows fingerprints and smudges easily
---
GROSCHE Milano Stovetop Espresso Maker
While most stovetop brewers opt for a shiny and metallic look, the Grosche Milano embraced a bold shift. With its high-contrast black and silver, it is sure to draw attention in your kitchen. (It is also available in red, silver, and white.)
In addition to its eye-catching style, the Grosche Milano brings some modern twists to an otherwise classic design. 
It has a durable silicone seal between the lower and upper chambers to ensure a tight fit. And it works with induction stoves even though it has an aluminum body. 
In addition, it features an insulated, soft-touch handle and lid with a strong hinge to keep your pot functional day after day. 
Like the Bialetti Express, the Grosche Milano is not dishwasher safe, but it is not difficult to clean. Plus, why would you want to leave it in the dishwasher when you can proudly display it on the stove on countertop? 
Pros
Bold look that makes a statement in any kitchen
Works on all stovetops (it is slower on induction)
Made in Italy
Available in multiple sizes and colors
Cons
---
bonVIVO Intenca Stovetop Espresso Maker
Another unique design comes from bonVIVO with their Intenca dual-tone Moka Pot which features a stainless steel bottom and copper finish on top. This stovetop brewer has smooth lines and brews just as smoothly. 
With a U-shaped spout for easy, drip-free pouring, the bonVIVO will have you making excellent, strong coffee in just minutes. Thanks to the stainless steel bottom, you can use it on any stovetop from electric and gas to induction and glass. 
You can put the bonVIVO in the dishwasher for cleanup, but the manufacturer recommends handwashing when possible to preserve the finish. 
This is another pot made in China, but there don't seem to be any issues with quality or durability. 
Overall, it is a quality brewer that looks great even if it is a bit slower than other models.
Pros
Stainless and copper finish make a great combination
Functions on most stovetops, including induction
Drip-free pouring from spout
Dishwasher safe (but not recommended)
Cons
Only available in one size
Slower than some models, particularly on electric stovetops
---
Delonghi EMK6 Alicia Electric Moka Pot
If you would rather trade tradition for modern convenience, you might consider an electric Moka pot. The EMK6 Alicia from Delonghi is a great option that makes a quick brew with a few customizable options. 
Since it provides its own heat, you don't need to worry about what kind of stovetop you have with this Delonghi model. That's also great for travel if you can't stand a morning without your stovetop espresso. 
It has great features you might expect from a more modern coffeemaker. For example, it has an auto-off feature that will keep your coffee warm and turn the machine off after thirty minutes. 
And you can choose your brew size each time (from 3-6 shots) without needing a different brewer for different sizes. 
One cool feature you won't find on most coffee pots is the transparent top chamber that allows you to see the delicious brew bubble up into the carafe, just waiting to hit your cup. It's a perk you will love even if you never thought you needed it. 
If you don't want to fuss around with stovetops, or if you never have an empty burner, this all-electric model from Delonghi is a great option.
Pros
Self-contained brewer that doesn't require a stove
Brew multiple sizes in the same unit
See-through carafe lets you sneak a peek at the brew
Cons
Requires ready access to an electrical outlet
Not as compact as a straight Moka pot
---
What to Consider When Choosing a Moka Pot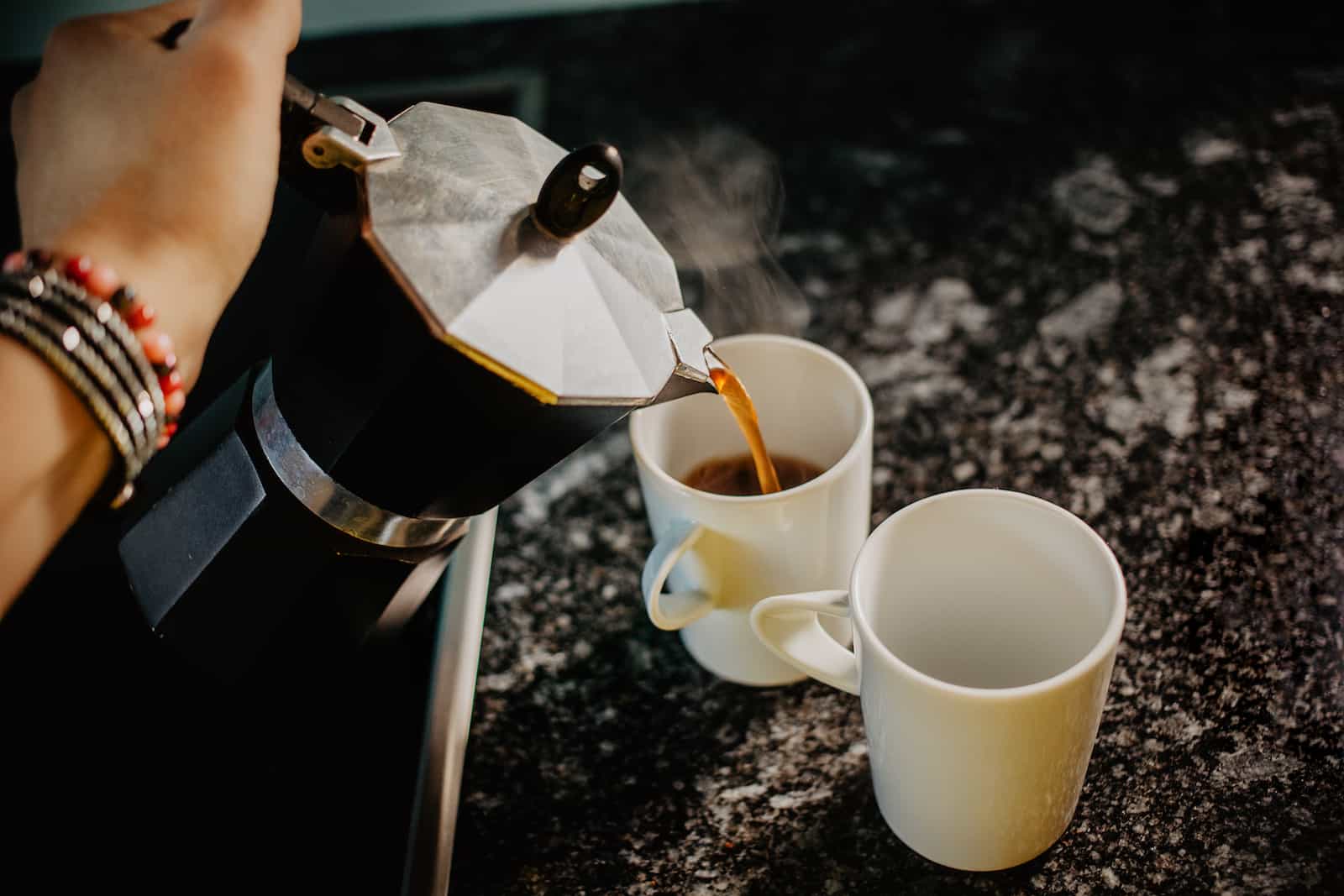 The design of the class stovetop brewer is straightforward. You have a bottom chamber that is heated, creating pressure and forcing water up through the grounds in the middle chamber and into the top carafe.
And most models work in this way. So what sets one Moka pot apart from the rest? Read on to find out what to look for when you hit the market for a new stovetop espresso brewer.
Design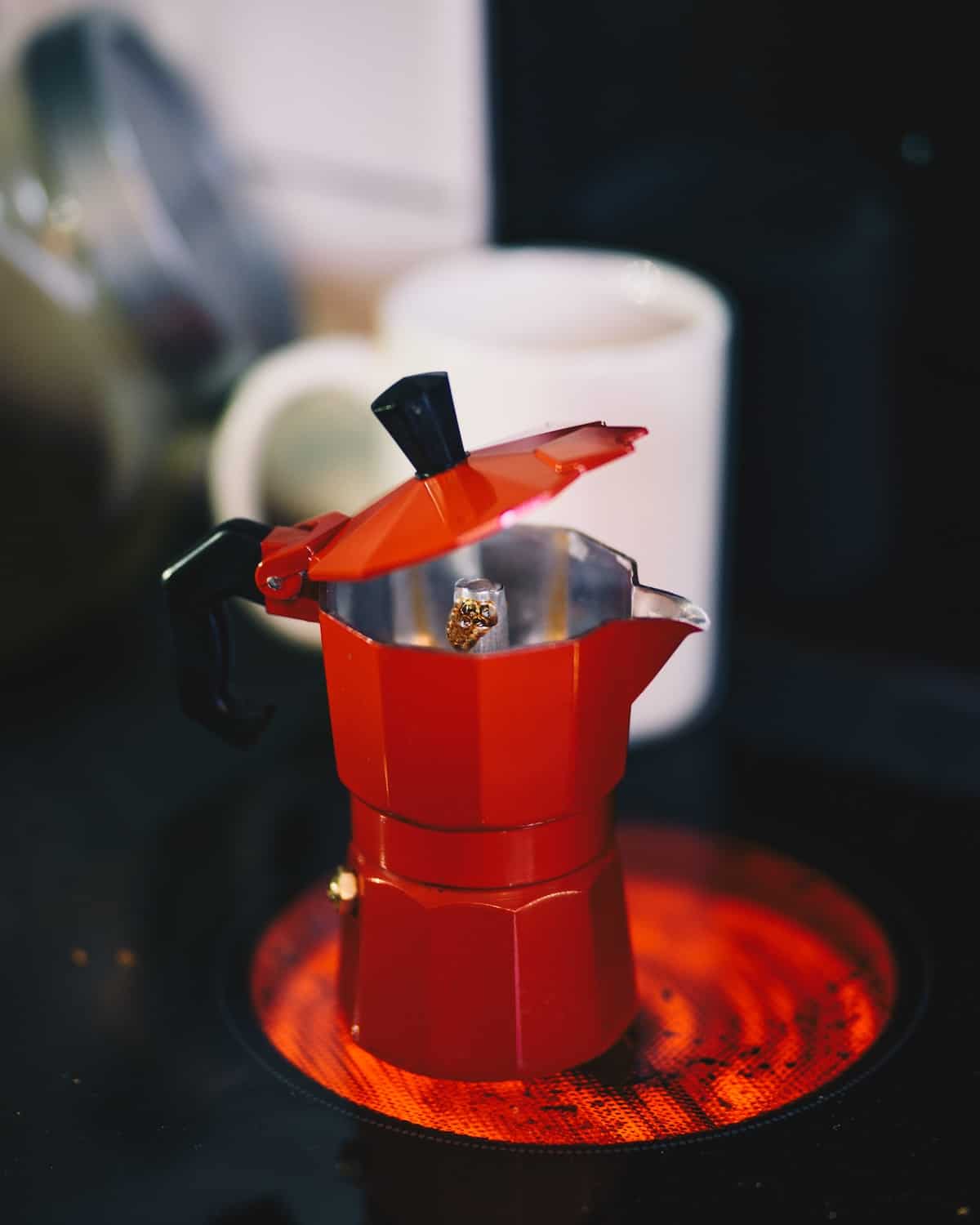 A stovetop brewer is easy to leave on the stove, or keep it handy on the counter. If you plan to do that, though, you'll want one that looks good. The main difference in most styles is in the shape (octagonal or round), but you'll also see options for different colors.
Size
Are you brewing a solo cup in the morning? Or do you need a carafe to keep a whole house caffeinated? Look for a brewer that will match your needs because many models come in a variety of sizes.
Just make sure you can tell what the manufacturer means by a "cup" because it is rarely 8 ounces and often less than 6.
Stove Top Functionality
Make sure that the Moka pot you want will actually work with the stovetop you have. The most common issue is with induction stovetops, which will not heat certain metals. Also, some models don't work very well on electric stoves.
Travel and Camping
If you're looking for a Moka pot for the road, or to take camping, pay attention to the overall size and whether it can be used on an open flame. Most cannot be used directly on a campfire because of the insulated handles and knobs.
Espresso or Espresso-like?
You'll find basically every manufacturer refer to the coffee produced from their Moka pot as espresso. Don't be surprised, though, when the result is actually something between drip coffee and true espresso.
While Moka pots do take advantage of pressure, they do not come anywhere near the pressure typically used to pull a shot.
So don't expect crema or the bold flavors you love in your latte or macchiato. Instead, just embrace the stovetop espresso for what it is: something in the middle and something very traditional.
Takeaway
With its small footprint and vintage design, the Moka pot makes a great addition to any coffee lover's kitchen. Even if you prefer the convenience of drip coffee most of the time, an occasional taste of classic flavor is a great way to savor the weekend.
Let me know if you have tried any of the stovetop espresso makers above or if you have a favorite Moka pot that didn't make the list.