We independently select these products — if you buy from one of our links, we may earn a commission.
The 6 Best Flavored Coffee Beans in 2023
Black coffee isn't for everyone. In fact, it's probably not for most everyday coffee-drinkers.
Sure, diehard coffee connoisseurs will tell you that a black and bold pour over is the only authentic way to drink your morning brew. But, as evidenced by Starbucks and other global coffee companies, coffee-lovers tend to have a bit of a sweet tooth.
But while you can certainly order a borderline over the top beverage from any major coffee chain, that isn't the only way to avoid a bland cup of joe.
There are specialty coffee roasters around the globe that offer deliciously flavored coffee options that are guaranteed to appease coffee-lovers looking for a little extra flavor and aroma.
So, if you're searching for pumpkin spice in the fall, Hazelnut to celebrate the holidays, or a blueberry brew to pair with a buttered croissant – you've come to the right place.  
6 Best Flavored Coffee Brands
Volcanica, Caramel Chocolate Flavored Coffee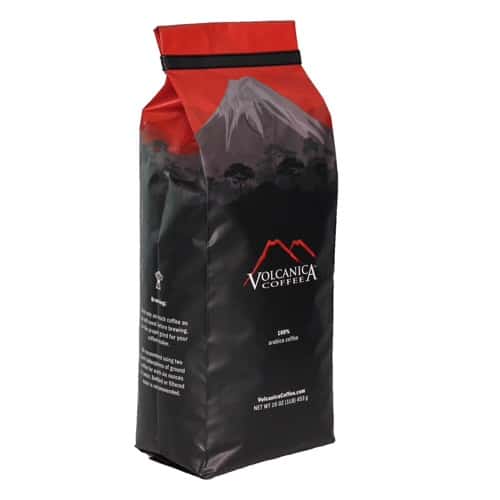 What if we told you that you're able to enjoy a delicious, hot cup of joe flavored with chocolate and caramel, without any added calories or sugar?
It almost seems too good to be true, but Volcanica has found a way to integrate a couple of America's favorite flavors into their already-exotic, premium beans.
Roasted to order, Volcanica's flavored beans are made with natural ingredients, so you don't have to worry about sipping on synthetic sweeteners or syrups to get your chocolatey caramel fix.
And, better yet, the fun doesn't have to stop at caramel and chocolate. Volcanica also offers premium beans flavored with butter toffee, chocolate raspberry, creme brulee, hazelnut, French vanilla, Irish cream, and more.
---
Out of the Grey, Sea Turtle Mocha Flavored Coffee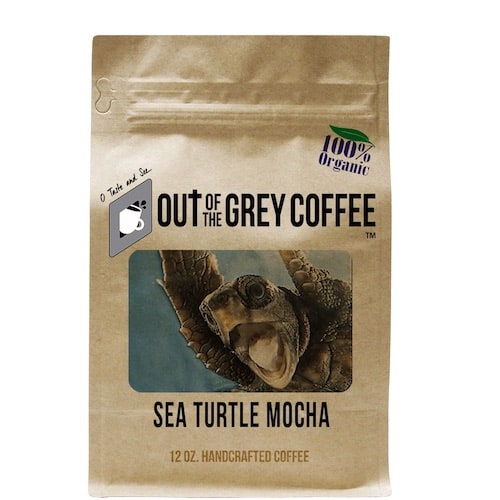 Dark Medium Roast
100% Organic
Any coffee-lover that still believes flavored coffee is an inferior brew hasn't tried Out of the Grey's Sea Turtle Mocha.
One of the things we love most about Out of the Grey, is that you always know what you're drinking, and this 100% organic, flavored bean is no exception. Out of the Grey doesn't add any artificial flavors to their blends. Instead, they infuse natural flavors and spices into their premium coffee beans.
So, if you're looking for an excuse to soothe your sweet tooth, this Colombian, Guatemalan, and Costa Rican blend offers the perfect balance of quality and comfort.
Out of the Grey calls their Sea Turtle Mocha "the ultimate indulgence." This blend is equipped with both creamy caramel and crunchy roasted pecan flavor notes and features a savory sea salt finish.
---
Out of the Grey, Pecan Sticky Bun flavored Coffee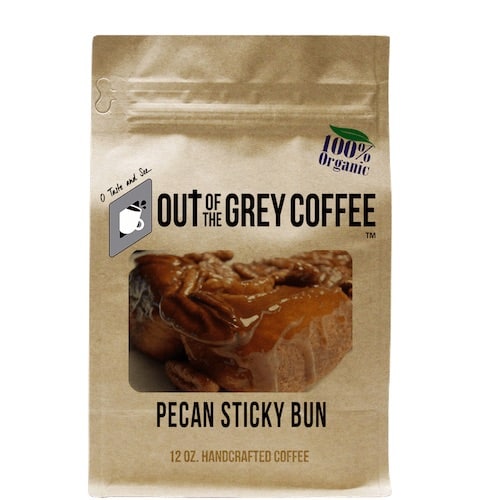 Dark Medium Roast
100% Organic
Out of the Grey doesn't only serve up a tasty Sea Turtle Mocha, they also offer all of the warm, sweet, syrupy goodness of a cinnamon roll reimagined as a cup of joe.
According to Out of the Grey, Americans have a serious passion for pecans. And really, what's not to love? Their soft, sweet, buttery taste makes them the perfect ingredient for America's most beloved desserts.
Fortunately, fresh roasted pecans, cinnamon, and caramelized sugar are the heroes of this brew. Each sip is smooth, aromatic, and filled with savory flavors. Despite being totally organic, this velvety, flavorful brew will make you feel like you're sipping on dessert all morning.
As an added bonus, by drinking Out of the Grey, you never have to worry about any added chemicals, preservatives, or additives.
---
Volcanica, Jamaican Rum French Vanilla Flavored Coffee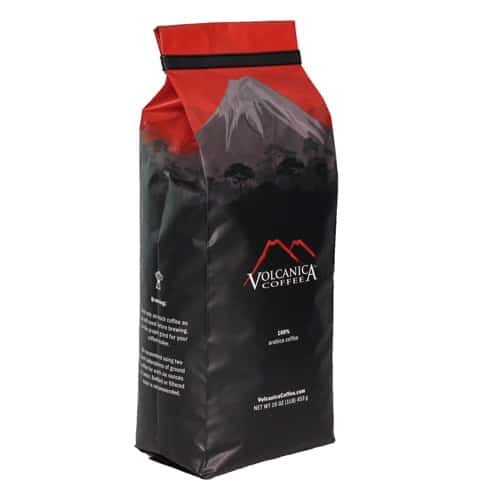 For days that it's not socially acceptable to sip on a Pina Cola or Daiquiri, there's Volcanica's Jamaican Rum French Vanilla coffee bean.
Volanica's Jamaican Rum French Vanilla coffee fuses the full-bodied and unique flavor profile of Jamaican Rum with the subtly smooth, sweet aroma and taste of French vanilla.
Like all of Volcanica's premium beans, this flavored varietal is made with a 100% Arabica bean and is roasted to order. These beans are also flavored naturally and aren't packed with artificial flavors or any extra calories, allergens, or sugar.
---
Mystic Monk, Hazelnut Whole Bean
Few things evoke the feel-good vibes of the holidays quite like hazelnut.
Like Out of the Grey and Volcanica, Mystic Monk prides themselves on using only premium, Arabica beans in their flavored coffee bean options.
In fact, these beans are roasted in the mountain valleys of Wyoming by real monks. So, not only does Mystic Monk infuse their premium beans with roasted hazelnuts, they also care deeply about the quality of their coffee.
Repeat customers rave about this bean's sweet, buttery, and rich flavor, insisting that it's about the closest thing you can get to a liquid version of Nutella. Just keep in mind, Mystic Monk's Hazelnut coffee is crafted using both natural and artificial flavors.
---
Stone Street, Gourmet Blueberry Cobbler
Next time you're craving blueberry cobbler, you can skip the pie and pick up a bag of a blueberry infused Colombian coffee beans instead.
Stone Street has been roasting high-quality, gourmet Arabica beans in Brooklyn, New York since 2009. Their blueberry blend is smooth-bodied, aromatic, and packed with authentic cinnamon and blueberry flavors.
It also doesn't hurt that these beans are ethically sourced from one of the most renowned coffee-growing regions in the world and roasted to order.
---
How Flavored Coffee is Made
There are a variety of techniques used to flavor coffee beans, but some of them aren't exactly au naturel. In fact, you'll hear some coffee snobs insist that flavored coffee is just a feeble attempt at masking a subpar coffee bean.
Though that assumption isn't too far-fetched, given the sheer volume of excessively flavored coffee options, it's also not entirely accurate.
Yes, the most common coffee flavoring method, and the one you'll find at most major coffee chains, requires the use of heavily concentrated, synthetic syrups. The syrup, which is generally equipped with a host of artificial additives, is poured onto coffee beans after they roast.
However, if you're hoping to avoid manufactured flavoring, don't worry, not all hope is lost.
Premium coffee roasters will generally ditch artificial flavors in lieu of natural oils that are extracted from vanilla, cocoa, nuts, or berries. Or, they'll opt to blend in fragrant spices like cinnamon or nutmeg.
By flavoring coffee naturally, roasters aren't attempting to turn a coffee bean into something it's not – it's still coffee and will taste like coffee. Instead, they're synthesizing the natural characteristics of a coffee bean with a natural compound to create a more flavorful coffee bean that placates the anti-black-coffee-drinker.
Conclusion
Are you the "I'd like some coffee with my creamer" coffee drinker? The kind of coffee-drinker that likes to taste the holidays in your cup? Or, maybe a coffee-lover that wants a little extra flavor in your black cup of joe?
Flavored coffee has come a long way. What was once considered just a way to mask the bitterness of substandard coffee has become a technique for elevating already-excellent, premium beans.