We independently select these products — if you buy from one of our links, we may earn a commission.
10 Best Espresso Machines of 2022 – The Ultimate Guide
So you've decided to try your hand at brewing espresso at home. You're embarking on a grand journey, one that will likely feature some of the best (and occasionally some of the worst) coffee you've ever had.
To tip the balance toward excellent shots and specialty drinks, you'll want to find an at home espresso maker that fits your needs for quality, taste, and budget.
Best Espresso Machines
Espresso Machine
Best Feature
Milk Frother
Price

Breville Barista Express

Integrated Grinder
Yes

Breville Dual Boiler

Dual Boiler
Yes

Ascaso Dream UP v2.0

Unique Look
 Yes

Rancilio Silvia

Commercial Grade

Group Head

Yes

Breville Duo Temp Pro

High Quality

for its Price

Yes

Gaggia Classic

High Quality
for its Price
Yes

Breville ESP8XL Cafe Roma

 Perfect Entry Level

Machine

 Yes

Nespresso VertuoPlus

Easy to Use
No

7 Pc All-In-One Espresso

 All in One
Yes

Mr. Coffee ECMP50

Price
Yes
---
---
A well-known player in the field of coffee makers, Breville brings homebrewers a semi-automatic espresso machine that should please novices and practiced baristas. Just from the look of it, you can tell that this machine means business.
The front of the Barista Express feels a bit like the control panel in a cockpit with its pressure gauge and flush, uniform buttons. While all these controls take some getting used to, it also means you'll have a good deal of customization. Once you figure out the perfect grind size for your espresso, you should be able to pull a consistent shot (double or single) with ease.
Part of the Breville's magic is in its pressure gauge, which ensures that you are brewing with the 15 bars that you need for a creamy brown crema in your shots.
It also comes with an integrated grinder, which is great for users who don't already have a decent conical grinder. The hopper holds half a pound, which should keep you from refilling it frequently.
Thanks to a convenient filter slot, you can fill your portafilter hands-free, allowing you to prepare other steps of your brewing process. Just push the filter in once, and the grinder will produce the correct amount according to your settings.
You can also hold the filter in to customize the amount you grind. This is especially useful if you're using the grinder for brews other than espresso.
The integrated milk-frother makes foamy espresso drinks or the best hot cocoa your kids have ever had. And if you like a steamy Americano (or need to try to salvage a less than perfect shot), you can use the hot water dispenser.
While the unit does require cleaning frequently, most espresso machines will need the same attention. And the Barista Express comes with a handy cleaning kit that you can store in its hidden compartment.
This model by Breville is an excellent introduction to the art of espresso. It isn't completely automatic, so you will be able to learn the craft. But it isn't so complicated that you'll feel like you need to attend a barista training program to be able to enjoy a great cup of coffee in the morning.
Pros
Integrated conical burr grinder with half-pound hopper
Ability to select both grind size and quantity
Integrated milk frother and hot water dispenser to make a variety of espresso drinks
Includes both single and dual-wall filters for beginners and pros
Cons
Somewhat tall, so it requires cabinet clearance
A little on the messy side because of the grinder
---
To take your barista skills to the next level, you'll want a machine that delivers more control and consistency while allowing you to make drinks quickly. The Dual Boiler from Breville does just that.
With two programmable volume buttons, you can adjust your settings to get just the right amount of water for one or two shots. And you can fly by the seat of your pants with the manual button.
To control temperature and the length of pre-infusion, the digital display provides a precise read out. This also means you can modify the amount of control you want to have, which is great for both beginners and seasoned baristas. And the LCD can be used as a shot timer or standard clock.
Double boilers enable you to steam milk while pulling shots, increasing the efficiency of your coffee assembly line. With a traditional wand, the Breville puts you in charge of aeration, and its swivel arm (which allows for 360 degree manipulation) gives you ultimate control.
The system also works great for Americanos, hot chocolate, or other drinks because the hot water comes straight from the steam boiler. So watch out for those close to boiling temperatures.
With its 84 oz water reservoir, you shouldn't need to refill often, but the tank is easy to access when you do.
Some users might be disappointed with the lack of an integrated grinder, but at this price point, you're really looking for specialized machine that does one thing really well. And having a separate grinder means your expensive espresso maker isn't out of commission when the grinder breaks.
Pros
Double boiler for pulling shots and dispensing steam simultaneously
Precise adjustments through multiple controls
Quick preheating to help you start brewing fast
Quiet and efficient operation
Cons
More expensive than many espresso machines for home use
---
For a fast, no fuss approach to espresso, you might try the Ascaso Dream version 2.0. Available in a selection of colors, from Mandarine Orange to Love Red, this model has a bit of a retro look and would look great on any counter, especially if you're going for a steampunk vibe.
And that retro feel extends to the operation as well with largely analog controls like toggle switches, an analog temperature gauge, and a manual steam wand. If you're hoping to stick with the basics, the unit could be a dream for you, just like its name suggests.
With its aluminum thermoblock, the Ascaso Dream will have you brewing espresso quickly first thing in the morning or for an after-dinner shot. Turn it on, and by the time you grind your coffee and tamp it, the machine will be just about ready to brew.
Unfortunately, you'll have to do your grinding elsewhere since there's no integrated grinder. It does come with a solid, polished tamper that is a perfect fit for the slightly smaller portafilter.
The 3-way valves prevent overpressurization while providing 16 bars for excellent extraction from your favorite coffee. And when it's time for frothed milk, the steam wand can use a traditional tip or a panarello.
With all your attention focused on crafting a great shot (which you'll need because the machine isn't very forgiving), make sure you keep an eye on the water tank. Without a sensor to warn you of low volume, you can easily run out without noticing, which cause you some problems.
If you want to pair unique design with straightforward functionality while you hone your barista chops, the Ascaso Dream v 2.0 is an excellent choice.
Pros
Heats up quickly for fast action
Compact design with a small footprint on the countertop
Portafilter accommodates ESE pods without an adapter
Unique look
Cons
Inconvenient placement of steam control
No low-water indicator
No-frills approach means your tamp and grind technique must be solid
---
For a machine that looks and operates like a commercial-grade brewer, you might want to check out Rancilio's Silvia. It has a classic design that favors function over form and suggests that it is a workhorse.
The front of the Silvia exudes simplicity and durability with its four analog switches and steam knob. A main switch turns the unit on and has a light to indicate that it is preheating. The other switch directs water from the boiler to the group head for brewing or the steam wand for either hot water or steam.
An articulating steam wand provides ultimate control for positioning your pitcher where you want while properly aerating your milk. And the knob allows for professional-level control for frothing the perfect latte.
Don't let the simplicity of this unit fool you, though. While it is easy to operate, it will take time to master. Fortunately, it's a durable machine that should last years.
This is the kind of cappuccino maker that will make you feel like a real barista, and it will help you become one with practice. If you're looking for a near professional grade model at an affordable price, the Silvia from Rancilo is a reliable machine from a trusted brand.
Pros
Group head is commercial grade, just like the portafilter
Easy to use
Excellent control from articulating steam wand
Cons
No programming options
Cheap feeling tamper
---
If you're looking to make a quality espresso at home without investing a ton or fiddling with controls, the Duo-Temp Pro provides affordability and quality.
This model from Breville makes beginners focus on the basics. In fact, the only options you have are to switch from brew to steam and then to choose either steam or hot water. Once you master your technique with the non-pressurized basket, you can switch the pressurized for a little more control with grinding.
And you should expect to pull excellent shots from this machine. Thanks to its PID controller, water temperature is precisely controlled, and the Italian pump gives you a solid 15 bars of pressure.
Since this is not a double boiler model, you'll have to froth your milk before you brew. The unit has an auto-purge, though, so you can turn the knob to neutral, wait for a few seconds and be ready to switch to brew.
The steam wand is traditional, which will allow you to perfect your frothing skill. The wand adjusts well, so you should have no problems reaching the angle you need.
Like most Breville models, the Duo-Temp Pro looks amazing on the counter with its stainless finish. The coffee this model can produce is too good to call it a training unit. While it doesn't include the fine-grained controls of higher-end models, it's a high performer.
If you need a grinder, you might opt for the Barista Express. But if you have a dedicated grinder, the Duo-Temp Pro is a fine choice that can save you some money.
Pros
Simple, nearly one-touch interface
High quality for price
Slim profile fits even smaller counters
Magnetic tamper easily stores away when not in use
Cons
Steam takes a little while to come to temperature
Can't brew and steam at the same time
Difficult to see water level
---
Often touted as one of the best budget semi-automatic machines for espresso, the Gaggia Classic provides high quality at an affordable price point. It's a great option if you want to bring the Italian espresso house experience to your kitchen.
The Classic is Gaggia's best selling model, and it has been delivering quality espresso since 1991. The look of this unit, with its rocker switches and boxy frame has a classic European feel.
A commercial portafilter (at 58mm) comes with both pressurized and and non-pressurized filter baskets. So you'll be able to brew according to your skill level. The chrome-plated brass filter and group head feel like they could be in a commercial unit.
The 3-way solenoid valve produces a drip-free process with a dry puck, and there's a chrome tube to back flush water into the drip tray when your shot is finished.
With a 17.5 bar pump, this model helps you extract maximum flavor, whether you're making one or two shots. And those shots can be delivered in a preheated cup thanks to the unit's decent-sized cup warmer.
You should expect about five minutes to preheat before brewing thanks to the double heating elements in the boiler. Indicator lights on the rocker switches will let you know when you're ready to brew.
If you prefer frothed-milk drinks, the Classic utilizes a pannarello steam wand to generate fantastic foam with little effort. It doesn't have the flexibility of some arms, but since it's a pannarello, you likely won't even notice.
The Gaggia Classic will help you pull rich, flavorful shots. So don't be surprised if guests think you spent a lot more on your espresso setup.
Pros
Inexpensive compared to other models of the same quality
Simple operation
Large (72 oz) water reservoir
17 bar pump for efficient extraction
Cons
Inconvenient access to water reservoir
Can be difficult to get great shots without using pods
---
An inexpensive machine from Breville, the Cafe Roma provides a great entry point into home-brewed espresso. Without an integrated grinder, this model is expecting users to perfect their grind and technique to produce a decent shot.
Because of its thermo-block heating system, the model creates precise temperature for extracting flavors from your coffee. The unit also produces a full 15 bars to maximize crema and deliver a smooth, aromatic shot.
As with many entry-level machines, the Cafe Roma is simple to operate. It has a an on/off switch with indicator lights and a selector for choosing to brew or steam. The water reservoir is removable, but it holds just 40 oz. Fortunately, there is a window to indicate water level so you can see when you're running low.
The steam wand works as expected and helps you create tasty cappuccinos and lattes. Or, you can use it for hot water for Americanos.
The Cafe Roma comes with all the accessories you'll need for brewing great espresso at home. It doesn't have the consistency or quality of more expensive machines, but it delivers a good shot with some practice.
Pros
Low price point for espresso machine
Compact design
Cons
Filter can clog with inconsistent grinds
Often delivers a watery puck
Doesn't fit ESE pods very well
---
If you enjoy a well-crafted espresso shot but don't actually have the time or patience for the crafting, you might want to look into Nespresso's automated systems. The VertuoPlus Titan Deluxe is made by Breville but works well in the Nespresso universe.
The VertuoPlus system allows you to brew rich, tasty espresso or bold coffee at the touch of a button. Simply place your favorite pod in the top and the unit reads the barcode on the bottom of the capsule. Then it intelligently extracts an ideal shot (1.35 oz), cup (8 oz), or large mug (14 oz).
And thanks to the adjustable cup holder, you'll have enough room for your larger mugs but not have to worry about splashing while making shots.
The Titan Deluxe has a removable 60 oz water tank that can be moved to the back or side of the unit, so you will find a convenient place for the brewer on your counter. And since it is so compact, it takes up very little space.
Unfortunately, there is no milk frother with this model. You can order a separate frother to achieve a foamy milk that resembles the espresso specialty drinks you find in coffee houses. By itself, though, the Titan Deluxe is focused on the coffee.
If you are looking to practice your barista skills, the Nespresso system is not for you. You won't be grinding, tamping, or pulling anything. Instead, you'll be pushing a single button. You're also tied to the capsule system and have to depend on finding a flavor that works for you.
But if you value convenience above all else, the VertuoPlus Titan Deluxe machine delivers on that promise.
Pros
Easy to use
Virtually no clean up
Can make regular drip coffee
Adjustable cup holder
Cons
Uses proprietary capsules
No milk frother
Not a "true" espresso experience
---
If you're looking for everything you need to make espresso drinks in a single box, the EspressoWorks bundle could be the way to go. Just don't expect coffee house quality from this machine.
The EspressoWorks all-in-one bundle promises quick espressos, lattes, and cappuccinos in a 7 piece set. The espresso maker itself does what you'd expect. It is simple to operate with a power button and switch for choosing brew or steam.
The portafilter and baskets are not high quality, but the system does produce 15 bar pressure. And the steam wand will froth your milk without much fuss.
A dual measuring spoon and tamper seems like a good idea, but it doesn't really deliver much value, especially with the cheap quality of the tamper.
The large water reservoir is clear, which makes it easy to see the water level. And it's removable, so it's easy to refill.
The main issue with the EspressoWorks setup is the included grinder. With an inexpensive machine like this one, you have to rely on a quality grind to get a decent result. And you'll have a hard time getting anything close to consistent from a blade grinder.
While this bundle does provide a convenient single box that introduces the user to espresso, it is likely to frustrate you as much as anything. A decent burr grinder would go a long way in improving the results you'll get from this one.
Pros
Heats up quickly
Easy to use
All-in-one packaging
Cons
Blade grinder doesn't deliver consistency
Produces weaker shots
Cheap parts and accessories
---
As the most inexpensive espresso maker in the breakdown, the Mr. Coffee system provides a frugal machine for users who want an occasional shot of espresso with steamed milk. Don't expect consistent results from this budget-friendly model though.
On paper, the Mr. Coffee has everything you need to make espresso. It offers a thermal block heating and 15-bar pump system. While the water is heated quickly, it is not consistent and often provides water that isn't hot enough for a decent pull.
The system doesn't offer much in the way of control either. When it comes to the portafilter, you have a single and double shot basket. And the only control is the brew/off/steam knob on the side.
This means you won't be able to do much to salvage a pour grind or customize your foam. The filter often clogs with finer grinds, so you'll want to stay a little on the coarse side. Since the filter baskets are pressurized, you still have a chance at getting a dark, rich shot.
Even with a quality grinder, though, you might have trouble achieving the results you want. On the positive side, the steam wand works well enough to mask a subpar shot in a creamy, sugary foam.
Ultimately, this is not the machine for a professional or someone with lofty barista dreams. As a gift for the occasional espresso drink, however, it can brew coffee without breaking the bank.
Pros
Compact design fits easily on most counters
Simple functionality is easy to learn
Cons
Inconsistent water temperatures
No control on steam wand
Water reservoir can be difficult to remove
Poor quality tamper
---
Why Buy an Espresso Machine? – Buying Guide
Because you love great coffee.
More specifically, because you enjoy rich crema and luxurious foamed milk. And you don't want to spend all your time at the coffee house.
Or, you might appreciate the craft of making a truly exceptional shot. Many consider espresso brewing the engineer's way to brew coffee. It takes the simple elements of great coffee (ground beans and hot water) and dials up the pressure (literally) to create a delicious concentrated shot.
Manual, Semi-, Fully, and Super Automatic Espresso?
No, I'm not talking about firearms here. When you're looking for a decent cappuccino machine for home use, you will come across many options. One that can throw coffee drinkers for a twist is how automated your system should be.
While the completely automated systems are convenient, they can also be expensive (or extremely expensive for some super automatics). Since most of us want to take part in the process rather than just pushing a button, we will leave the completely automatic systems out for the most part.
On the other end of the spectrum are manual machines. Manual often means simpler, but not so much with espresso machines.
These systems put you in charge of the entire operation from preinfusion time and water volume to temperature and pressure. Some of the most magnificent shots ever pulled likely came from manual machines. But so have some of the worst.
For most users, you'll want to stick with semi-automatic machines. They typically use an automated pump and temperature controls and have switches for when to turn the pump on and off. They will allow you to perfect your barista skills without causing too much frustration.
Since they appeal to the widest audience and fit a variety of price ranges, semi-automatic espresso machines will be the focus of this review.
What to Consider Before Purchasing an Espresso Maker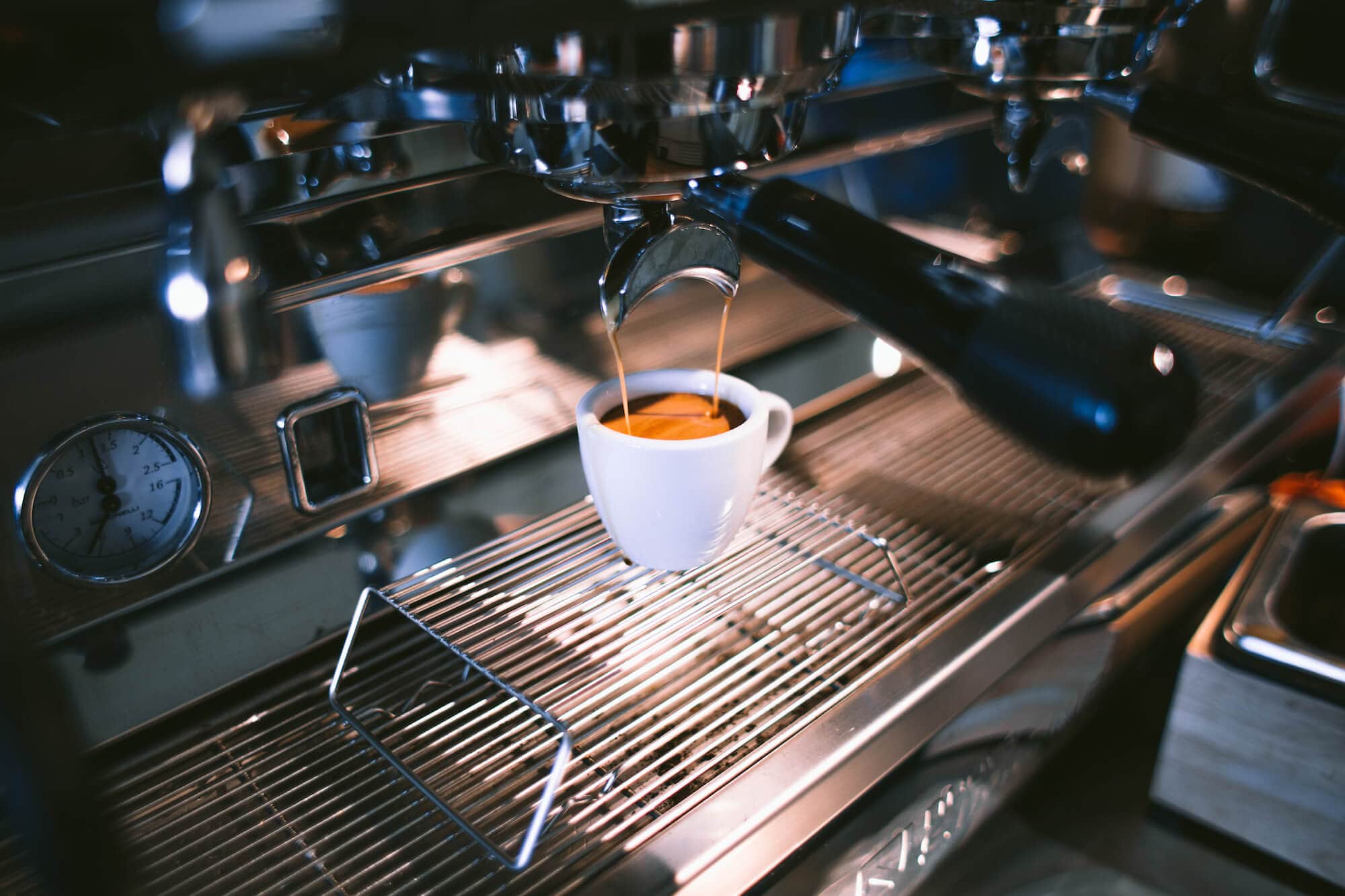 For a great espresso maker, you want to focus on consistency. It's easy to get distracted by bells and whistles, but if you purchase a machine that delivers steady water temperature and pressure, you shouldn't have too many problems.
Before you put money on the counter (or send it through the internet ether), here are a few aspects to consider.
Pressure
Don't let big numbers mislead you here. For the most part, any decent espresso maker is capable of producing enough pressure to extract maximum flavor and texture from your coffee. Anything in the 15 to 18 bar range should be fine as long as it is delivered consistently.
Water Reservoir
Unlike a drip coffee maker (or a pour over setup), you don't want to have to add water every time you pull a shot. Commercial machines actually hook directly into the water supply, but your at home system will have a water reservoir instead.
When possible look for a reservoir that is at least 40 oz. It should be easy to access and preferably removable to allow you to fill it quickly. And a low-water indicator can prevent running out at the most inconvenient moment.
Water Heating
Precise temperature is a requirement for great espresso. Look for a machine that heats quickly but also maintains a steady temperature.
The best systems will have a PID controller that provides accurate control of the heating rather than simply turning on the boiler when the water gets too cool.
If you're looking to steam and brew, you might look for a dual boiler machine. This uses independent boilers that enable you to steam milk and brew coffee at the same time (although they tend to be more expensive).
Ease of use
While it takes some time to master the art of espresso, the actual brewing process is straightforward. Most semi-automatic machines will have an on/off switch or button, then some way to control whether you are brewing, steaming, or both.
Be on the lookout for indicator lights as well. This shows you that the water has reached proper temperature so you know when it's okay to brew or steam.
Amount of control
On the flip side of the ease of use coin is how much control you have in the brewing process. The easier the system is to use, the less likely it is you'll be able to do much to salvage a bad shot.
Some systems have programmable buttons that control how much water you use for particular shots. Others allow you to control the amount of steam when frothing.
Style
Espresso machines come in various shapes, sizes, and colors. You can opt for a boxy, retro look or a sleek modern style. Just don't be too distracted by fancy looking machines. It's the innards that really count.
Size
As with all kitchen appliances, you want something that doesn't take up your entire counter. Luckily, most espresso machines designed for the home have a relatively small footprint.
Typically, the bulkier models will have large water reservoirs or provide plenty of space for the steam wand operation.
Features
Aside from brewing espresso, some machines offer a few extra options.
One of the standard capabilities is a steam wand. Since espresso is often used in foamed milk drinks, a steamer can be essential. Look for a model that provides adequate steam with a flexible wand.
Another feature on some models is a grinder, typically integrated with a hopper. You'll want a conical grinder for the best espresso, and a hopper that holds at least a half pound of coffee.
Since a consistent grind is essential for great espresso, you might want to opt for an external grinder, possibly one that you can use for other brewing methods. But that's really an entire article of its own.
Accessories
Most at-home systems will come with a portafilter, a few filter baskets, a tamper, a scoop, and maybe a milk frothing pitcher.
Pay attention to what is included, but also the quality. Some manufacturers add accessories as more of an afterthought than anything. Others provide you a quality tamper and portafilter and plenty of options for filter baskets.
Takeaway
Espresso machines are a lot like sports cars. You can spend as much as you want on name brand and luxury. But you can also find high quality craftsmanship that will get the job done.
For a luxurious espresso or latte, you'll want a machine that provides consistency while you improve your technique. Many of the above models will do just that without requiring you to pawn off your antique heirlooms.
---
---