We independently select these products — if you buy from one of our links, we may earn a commission.
The Best Costa Rican Coffee
You can't buy a bad coffee bean in Costa Rica. Literally – it's against the law.
In 1989, Costa Rica made it illegal to harvest any other bean than 100% Arabica, the highest quality coffee bean.
So, while you won't find Costa Rica topping the charts in global coffee production, what they sacrifice with quantity, they more than make up for in quality.
In addition to banning subpar beans, Costa Rica is infamous for resourceful and stringent coffee farming. Each coffee seed is personally hand-plucked and treated with the utmost care.
In other words, Costa Rica's ideal coffee growing climate, organic growing methods, and fertile, volcanic soil come together to create the perfect storm for premium coffee beans.
We've put together what we consider to be the cream of the crop when it comes to Costa Rican coffee.
5 Best Costa Rican Coffee Brands
Volcanica Coffee, Costa Rica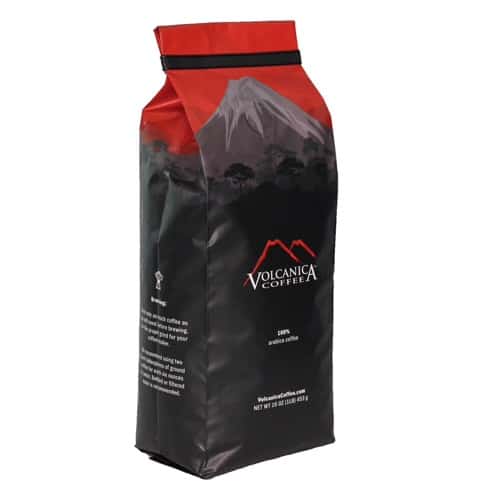 Medium Roast
Rainforest Alliance Certified/Fair Trade Certified
Volcanica's original Costa Rica bean is anything but ordinary.
Sourced from the mountains of Tarrazu (pronounced Tar-ah-zoo), this bean is grown in a region that is infamous for producing some of the world's finest coffee.
Master roasted to perfection, Volcanica's original Costa Rica bean is crisp, toasty, and balances medium, full-bodied flavors with characteristically Tarrazu, acidic qualities.
Offering subtle hints of apple and a smooth buttery finish, Volcanica's single-origin brew is not only hand-picked and intimately grown at the highest altitude in the region, but also flaunts the highest grade a bean can achieve – Strictly Hard Bean.
According to Volcanica, their Strictly Hard Beans take require a lot more TLC and are brewed for quality, rather than quantity. However, we still think these slow-to-ripen and slow-to-roast, highly aromatic, tasty, premium coffee beans are totally worth the wait.
Volcanica also offers a Costa Rican Reserve coffee, for dark roast aficionados, and a Costa Rica Tarrazu Decaf varietal, for those that don't need the caffeine kick.
---
Out of the Grey Coffee, Costa Rican La Minita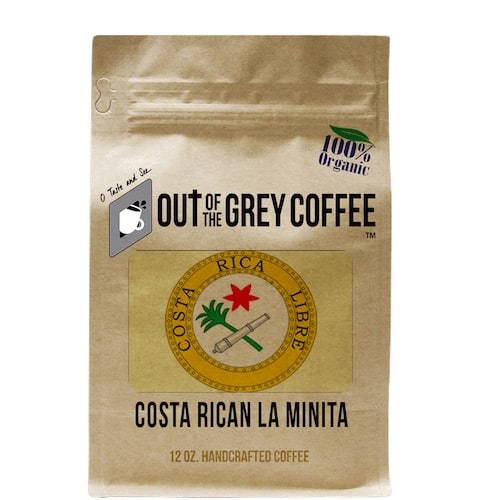 Dark Medium Roast
Rainforest Alliance Certified/Fair Trade Certified/Organic
Soft, crisp, and delicious are a few of the ways to best-describe Out of the Grey's single-origin Costa Rican bean. This floral, nutty, and fresh, authentic Costa Rican bean is packed with sweet cocoa and black cherry flavor notes, balanced acidity, and offers a smooth, creamy finish.
Like Volcanica, Out of the Grey sources proudly sources their Strictly Hard Bean from the high-altitude, premium coffee growing region of Tarrazu. More specifically, their beans are hand-picked and purchased from the La Minita estate, which spans 1,200 acres of the most fertile and biologically diverse farmland in Tarrazu.
According to Out of the Grey, La Minita beans are unique because they are sun dried, rather than mechanically dried, which results in a sweetener, more refined taste.
---
Black Oak Coffee, Costa Rica La Rosa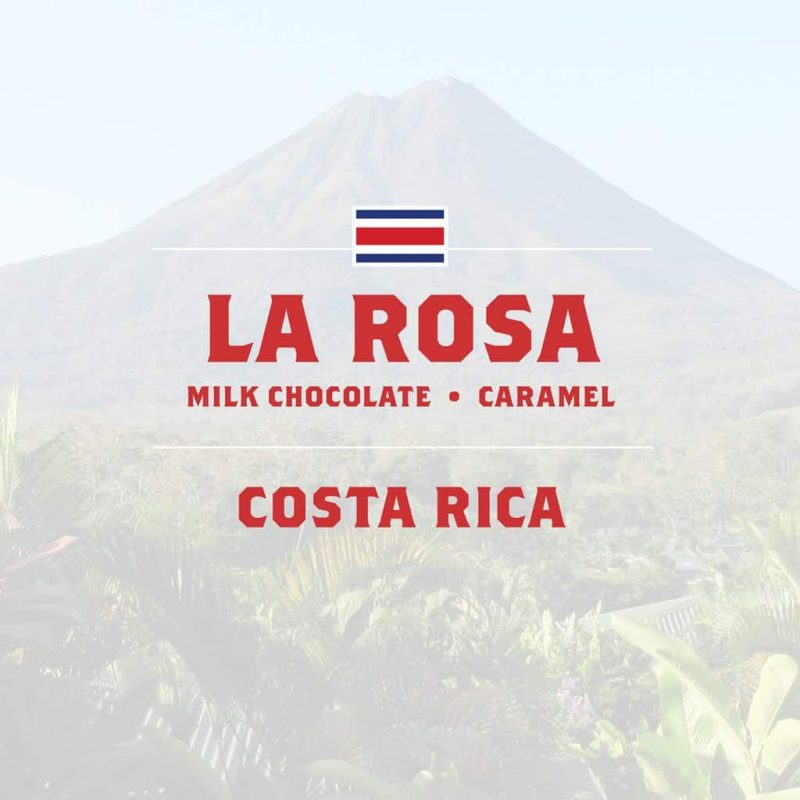 Black Oak's Costa Rican bean is sourced from the Alajuela region which is known for its steep slopes and apple or apricot flavor profiles.
However, like the last premium brands on this list, Black Oak's Costa Rican bean delivers the bright, full-bodied, and refined coca flavors of a characteristic Costa Rican bean. Not to mention, the hotchpotch of milk chocolate, caramelized apple, and lemon zest flavors work together flawlessly to fill your cup with mouth watering aromas.
Black Oak insists that nothing about this light-medium brew will be too overpowering, but they promise enough brightness "to dance around your palate."
Black Oak Coffee hails from Mendocino, California. However, if you opt to join their coffee tasting club, they're happy to deliver carefully curated, premium coffee from around the world to your door, every single month.
---
Out of the Grey Coffee, Costa Rican Lomas Al Rio Honey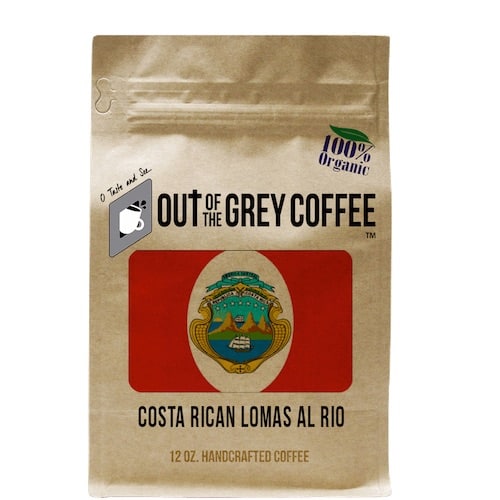 Medium-Dark Roast
Fair Trade/Organic/Honey Processed
Out of the Grey tops the Costa Rican coffee bean chart twice, and their second Costa Rican varietal is truly one of a kind.
Sourced from Lomas Al Rio, a renowned Costa Rican coffee estate, this premium bean is not only a Strictly Hard Bean, like other top-notch coffee beans on this list, but it's cultivated, hand-picked, and dried by the pioneers of the 'Honey process."
The "honey bean" is rare because the fruit pulp is left clinging to the exterior of the seed during drying, rather than being totally removed. This atypical drying process results is a distinct, dark chocolate and floral flavor profile paired with a bright, citrus and berry finish that can only be found in this type of bean.
According to coffee aficionados, Out of the Grey's single-origin, dark medium, honey bean roast locks in characteristic 'honey bean' flavors and offers a "Caramel-like sweetness, toasted breadcrumbs, and a hint of flowery freshness."
Basically, this bean is dreamy, smooth, creamy, and well, just plain delicious.
---
Abracadabra Coffee Co, Costa Rica Finca Las Torres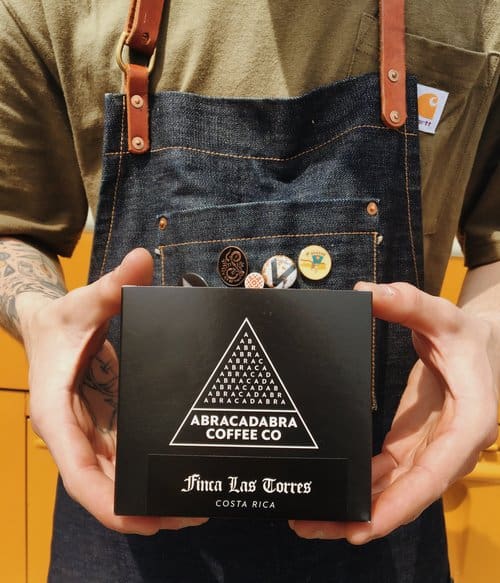 Medium Roast
Black Honey Processed
Like Out of the Grey, Abracadabra's Costa Rican bean is a specialty "honey processed" bean. However, pre-bean, this coffee seed isn't your run-of-the-mill honey bean – it's black magic. Well, sort of.
Abracadabra's Costa Rican bean is "Black Honey processed," which basically means this coffee seed demands a lot more attention, spends a lot less time soaking up the sun, and a considerable amount of time to dry before it can find its way to your coffee maker.
In terms of taste, Abracadabra's labor-intensive black honey bean process results in a full-bodied brew with a complex blend of brownie batter, custard, and dried papaya flavors. It's strong enough to shake you awake, while simultaneously filling the room with delightfully floral aromas.
Proudly grown in the Chirripo region of Costa Rica and harvested by the Urena family on Finca Las Torres farm, Abracadabra's Costa Rican varietal is a Strictly Hard Bean packaged in a biodegradable and recyclable bag.
---
What is a Strictly Hard Bean?
So, what's all this hype around the Strictly Hard Bean?
Strictly Hard Beans are cultivated at higher elevations, generally above 4,500 feet. Higher elevation coffee seeds are heavier, more labor-intensive, and a lot more temperamental.
As a result of their environment and altitude, these beans are slower to mature, but result in a more dense, nutrient-rich, and flavorful coffee bean.
Unofficially, the SHB sets the standard for quality in the country. So, if you're seeking a gourmet cup of true Costa Rican coffee, the Strictly Hard Bean is pretty much a must.
What is Honey Processing?
Honey processing is just one more thing that Costa Rican coffee artisans do differently.
In traditional coffee bean processing, before coffee seeds can be roasted, the layers of the coffee cherry are removed, and the bean is either water processed or dry processed.
Honey processing leaves some of the "mucilage" intact while the bean is dried. The mucilage is sweet and sticky, like honey – hence the name.
No, these beans don't taste like honey. However, coffee beans processed using the honey method are typically a tad bit sweeter and feature unique, complex flavors.
Honey Process and Flavors
Speaking of complex – Honey processed coffee beans are broken down into a spectrum of colors ranging from white to black.
What does this mean for your Costa Rican coffee bean experience?
Well, although the resulting bean will vary based on the farm and region, generally speaking, lighter colored honey beans (i.e. white and yellow) are sweeter, less fruity, and mildly acidic. They are generally described as clean and floral.
Red honey beans have just half of the mucilage removed, so they tend to be the middle-of-the-road bean and balance the boldness of black honey beans with the sweet, syrupy flavors of a white or yellow honey bean.
Darker honey beans (i.e. black), are typically heftier and contain more wine, chocolate, and nutty flavor profiles.
Costa Rican Coffee Growing Regions
Costa Rica is home to eight distinct coffee growing regions. The country's incredibly diverse, coffee-centric climate inspires a huge selection of premium coffee varietals.
Tres Rios – The lush, volcanic soil of Irazu Volcano earn beans from this region the nickname of "Bordeaux." Beans from Tres Rios are known to be sophisticated, elegant, and may contain hints of plum, allspice, or citrus.
West Valley – The pleasant, year-round climate in West Valley in unique in comparison to other coffee growing regions and produces peach, honey, and vanilla flavor profiles.
Turrialba – Like Trios Rios, the rich, fertile soil in Turrialba, which is influenced by a nearby active volcano, produce mildly acidic, light, and relatively mild coffee beans.
Brunca – The tropical and humid climate in Brunca results in a highly complex citrusy flavor profile.
Guanacaste – Defined by a smooth, light body and marginal acidity, Guanacaste coffee contains both salty and bitter flavor tones.
Valle Central – Also known as Central Valley, this coffee growing region produces a balanced brew with hints of chocolate and fruity flavors.
Tarrazu – Costa Rica's most famous coffee growing region, Tarrazu produces intricate flavor profiles featuring warm honey, vanilla, chocolate, dried fruit and even hints of malt.
Orosi – Orosi's humid climate is ideal for routinely smooth and balanced beans. Some coffee-lovers fault Orosi blends for being a little too bland or ordinary, but if you're looking for a modest cup, Orosi has you covered.
Conclusion
When it comes to Costa Rican coffee, there's a lot more to the bean than meets the eye. From their quirky processing methods to incredibly diverse, tropical climate – Costa Rica delivers one of the most eclectic and complex assortment of premium coffee beans.
As always, the best way to figure out which bean is best for you, is to grab a bag and get to brewing!