We independently select these products — if you buy from one of our links, we may earn a commission.
Best Coffee Thermos & Travel Mugs in 2022
As much as we might like, we can't spend every day at the kitchen table, sipping freshly brewed coffee straight from a special ceramic mug.
Sometimes, we need to take our favorite beverage on the go. Or we need a pot to last us all day without getting cold.
For those times, you need a reliable carafe or thermos that will keep your coffee at ideal drinking temperature. There are hundreds (even thousands) or options for travel mugs and jugs.
So how do you know what to choose? Here are some of the best options for carrying your coffee without spills, leaks, or lukewarm results.
Top 9 Coffee Thermos & Travel Mugs
Thermos Stainless King 40 Ounce Beverage Bottle
It should come as no surprise that the top of the list features a product from a brand named, well, Thermos. But it isn't just good branding that makes this a premiere choice for holding coffee.
Thermos the brand basically created the concept of insulated coffee containers to keep liquid hot (or cold) for longer periods of time. And they've been making quality products for over a century now.
One reason this option tops the list is because it will hold enough coffee to get you through the day with a 40 ounce capacity. That means you can make a great pot in the morning and have decent quality for the entire day, whether you're at the office or on the road.
No more crappy gas station coffee or throwing money at the famous green mermaid. Just great, hot coffee that isn't burnt or cold coffee that isn't watered down.
For working professionals, you'll love the screw on cap, which doubles as a cup. Since the twist and pour lid is separate, you won't have to worry about spilling or temperature changes.
And an advanced rubber gasket means leakage is a thing of the past. Plus, the convenient handle makes this thermos easy to carry when your hands are full.
The Thermos King also comes in a variety of colors, from midnight blue and black to red and stainless.
If you need to keep hot or cold coffee (or other beverages) on hand throughout the day, it is hard to find something better than the Thermos King.
Pros
Patented vacuum seal from Thermos leads to almost no temperature exchange, which means hot stays hot and cold stays cold (for as long as 24 hours)
Flat-folding handle is compact and convenient
Leak-proof gasket seal keeps the liquid where it's supposed to be
Cap does double duty as a cup
Cons
Handle can be a bit noisy
Might be too large for just a cup on the go
---
Stanley Classic Vacuum Bottle
Another option from a well-known brand comes in the Stanley Classic Vacuum Bottle. With its vintage green, the Stanley coffee container likely sparks small flashes of nostalgia. Which makes sense because they've been in business for over a century as well.
Like the Thermos, the Stanley bottle promises to preserve the temperature of your favorite brew for over a day (32 hours for the 2 qt model). It has an 18/8 stainless steel interior, so you don't need to worry about rust or corrosion, and it's BPA free.
One great thing about this model is that it comes in different sizes: 16 ounces, 1.1 quarts, 1.4 quarts, and 2 quarts. That means you can go from a personal size to a bottle large enough to keep a crew hydrated (assuming you want to share).
Like the Thermos, the Stanley's cap doubles as a cup, which is convenient and compact.
Finally, as a company with a long track record of durability, the Stanley bottle offers a lifetime warranty. So you can rest assured that this purchase will last.
Pros
Classic design combined with modern technology
Double-insulated thick stainless steel for maximum protection
Easy to clean
Locking handle keeps it compact for storage
Cons
Larger sizes might be a bit bulky
---
Contigo AUTOSEAL West Loop Vacuum-Insulated Mug
For a long commute or a short road trip, you don't really need an entire pot of coffee. The Contigo West Loop is perfectly designed for the road warrior.
One feature every busy driver will love is the quick-press button. With just one hand, you can unlock the spout, take a sip of coffee, and lock it back. And thanks to its anti-spill, Autoseal technology, you won't need to worry about making a mess in the car.
With a sleek design, the Contigo fits well into most standard cup holders, so you don't need to worry about where to put it in the car. And it will fit under many single-serve coffee makers if you crave the ultimate in convenience.
As for clean up, the lid is dishwasher safe, which is good because it has a lot of small crevices that can be difficult to access. The mug itself is relatively easy to clean.
The West Loop mug should keep hot drinks hot for up to five hours and cold drinks cold half a day (twelve hours).
It also comes in a large variety of colors to fit most any style.
If you need a more secure way to enjoy your coffee on the way to work, and want it to still be hot by the time you get there, the Contigo West Loop is a great, inexpensive option.
Pros
Autoseal technology prevents leakage
One-handed operation for sealing lid
Fits well in most cupholders
Dishwasher safe lid
Cons
Not as easy to clean as other options
Doesn't hold temperature as long as other models
---
YETI Rambler 26oz Vacuum Insulated Stainless Steel Bottle
Known for producing durable, effective coolers, the YETI brand also has a great line of bottles, jugs, and tumblers for keeping drinks at the temperature you want. The 26 ounce Rambler is an excellent option for taking hot or cold coffee on the road or into the field.
Thanks to its Duracoat exterior, the Rambler can withstand rough handling, whether you take it camping, hiking, fishing, or just like to toss everything into a bag without worry.
The design is straightforward: a bottle with a lid. But this bottle does a great job of keeping liquid in its place and keeping it warm or cold.
There is no spout, so it doesn't make the best option for the car. The lid has a convenient ring shape, though, which is a great design, perfect for attaching to a carabiner or hook on a backpack.
The YETI Rambler is a terrific option for people who want coffee on the go without needing a bunch of features.
Pros
Duracoat exterior prevents scratching, peeling, or fading
Stylish and functional
Lid ring convenient for hooking onto bags or packs
Holds temperature for a long time
Cons
Doesn't fit smaller cup holders
No flip nozzle for drinking
---
Zojirushi SM-SA60-BA Stainless Steel Mug
If you need a slim travel mug that keeps beverages at the right temperature and feels great in the hand, you should check out this option from Zojirushi. Not as well known as the other brands on the list, Zojrushi has also been around 100 years.
And this model ticks all the right boxes for a travel mug.
The lid offers a locking operation to keep spills and leaks out of your bags. And it locks and unlocks with convenient, one-hand operation. So access to your precious coffee is quick and easy, even if you're driving.
Inside, you'll find a nice teflon, non-stick coating that makes cleanup easy. That applies to the spout as well, which disassembles for better access.
The mouthpiece also has a well-designed air vent that allows air to enter the bottle when drinking. That means no gushing or overflowing, which can be particularly inconvenient (even dangerous) with hot coffee.
The form factor of this mug is slim, so it should fit any standard cup holder. In fact, it might even be a bit too thin and not sit snugly in larger spaces. Thankfully, the locking lid prevents any spillage.
A convenient mug for both hot and cold beverages, the Zojrushi comes in a variety of colors and sizes from twelve to twenty ounces.
Pros
Easy-to-use locking lid requires just one hand to operate
Air vent in spout to keep liquid flowing smoothly
Vacuum insulation prevents temperature loss
Non-stick interior is simple to clean
Cons
Might be too narrow for some cupholders
---
Thermos Vacuum Insulated 16 Ounce Bottle
If you like the Thermos brand and performance but don't need to haul around a full pot of coffee all day, their compact travel mug might be perfect for you.
It features a twist and pour stopper and the same dual-purpose cap that can serve as a mug. Except this model comes in a bullet form that is both compact and sleek. The smaller 16 ounce version fits easily into most bags.
Like many other products on the list, this Thermos features vacuum insulation to keep drinks hot for more than 12 hours or cold for over 24.
With the twist off lid, it isn't really a commuter, but it is great for preparing a few cups of coffee to get you through the morning, even if you have to hit the road.
The stainless exterior looks great but also scratches and smudges easily. Otherwise, it's an excellent container for keeping coffee ready outside the house. It's also available in sizes from 16 to 32 ounces, depending on your needs.
Pros
Secure twisting stopper prevents leaks and temperature exchange
Slim design great for travel
Vacuum insulation keeps beverages at the right temperature for an extended time
Cap serves as a cup
Cons
Exterior is easy to scratch or smudge
Lid not easy to operate with one hand
---
Cresimo 68 Oz Stainless Steel Thermal Coffee Carafe
When you need to keep an entire pot of coffee hot and ready throughout the day, this stainless carafe from Cresimo delivers results.
It has vacuum insulation as you would expect, so it can keep coffee hot for a full 12 hours (or cold for even longer). That is plenty of time to get you through the work day.
With its wide spout and easy-grip handle, this carafe is perfect for bringing coffee to meetings. Assuming you want to share, of course. Thanks to the spill proof lid, you don't need to worry about ruined papers if it gets knocked over.
It also works great for making one pot in the morning even if you like to drink coffee throughout the day. No need for single serve coffee makers or multiple trips to the cafe. Instead, brew a pot and keep it hot until you need it.
Pros
Keeps beverages hot or cold for over 12 hours
Handle and spout and great easy and accurate pouring
Holds an entire pot of coffee
Cons
---
Thermos Stainless King 16-Ounce Travel Tumbler
The smaller cousin of the first Thermos on the list, this King provides a more compact package for travellers. Much like the Contigo, the Thermos King travel tumbler provides easy locking and unlocking.
It is a great option for on-the-road consumption because it fits most cupholders and is simple to use.
Unique to this model is the handy tea hook on the underside of the lid. If tea brewing is your preference, you can hang a bag or diffuser from the hook and brew even while you're on the go.
With its bold, contemporary color options, this Thermos is another great choice for coffee drinkers who want convenience and quality in the same package.
Pros
Easy-lock lid prevents spills and leaks
Perfect size for a commute
Built-in tea hook for steeping on the go
Lid disassembles for cleaning
Cons
Doesn't retain temperature as long as other models
The lid takes some getting used to
---
Cresimo 101 Oz Airpot Thermal Coffee Carafe with Lever Action
Sometimes you need not one, but two pots of coffee to keep an entire group caffeinated and warm. If that's your office or organization, you should take a look at this second carafe from Cresimo.
In addition to its large capacity (over 100 ounces), the Airpot makes serving a cinch. Thanks to the lever-action pump, you can quickly pour a cup without needing to lift the carafe or even tip it over.
The vacuum insulation will keep a large quantity of coffee hot for around twelve hours, which should be plenty to get you through any event or marathon meeting. Or toss in some ice with your favorite cold brew to keep the event crisp in the summer.
When you need to deliver a lot of coffee easily, the Cresimo Airpot is tough to beat. It even works well for small restaurants or coffee shops who want hot drip coffee on tap.
Pros
Large capacity keeps temperature stable for twelve hours
Lever action pump dispenses beverage with ease
Allows you to keep beverages hot and fresh without needing electricity
Cons
Too bulky for travel
Cleaning takes more work than smaller models
---
What to Consider When Choosing a Coffee Thermos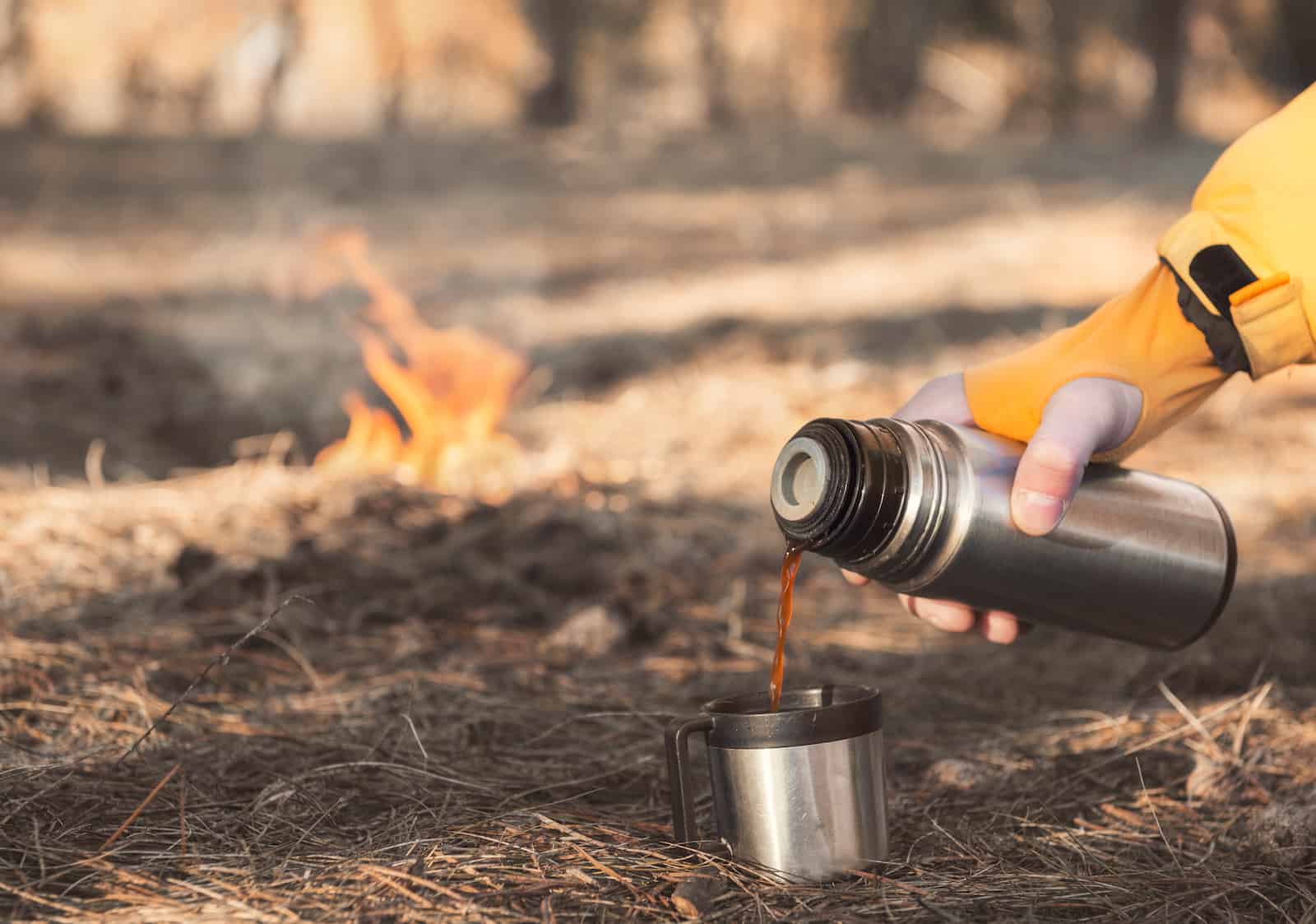 You might not think there's much to a Thermos or travel mug. And there doesn't have to be. You can probably get by with whatever you come across at the convenience store or in the coffee aisle.
But if you want to give your coffee the best treatment, and if you want to preserve its flavor and temperature for more than a few minutes, you'll need to look for the right features.
Insulation
Vacuum insulation is really the standard for most any travel mug or Thermos these days. Using two walls to create a chamber with no air, manufacturers make it really difficult for heat to enter or escape a container.
So most of the heat exchange will happen when you open the container to pour or drink from it. That means piping hot or ice cold coffee for an extended period (often more than a day for larger sizes).
Size
Do you just need enough coffee to get you to work? Or will you be out in the field all day and can't stand the thought of no caffeine? Or do you need to provide your freshest brew for a host of clients?
Regardless, you should be able to find a good size to meet your coffee needs, whether it's single serve or multiple pots.
Hot or Cold?
All of the products in this list can be used with hot or cold beverages. That isn't always the case, though. Sometimes a mug is designed for one or the other, so keep an eye out for that.
Shape
Consider whether you will need to put the thermos in a backpack or keep it handy in the car. Some shapes work better for these uses than others.
Opening and Pouring
Are you planning to drink your coffee on the road while you're driving and stressed out about the morning commute? Or will you be sitting securely in your office? Or at the campsite?
Some lids are designed for drinking straight out of the mug. Others are meant for pouring into another container. So keep in mind your intended use when looking at different models. Don't get distracted by a large size if it won't meet your needs.
Takeaway
After you've gone through all the trouble of making decent coffee, you might as well treat it nicely. There's no need to let it grow cold in a glass carafe or a regular mug. Instead, find a container that will keep your coffee as hot and fresh as the first drop that dripped from the beans.
These coffee containers are some of the best on the market, and they should meet just about any need. Let me know if you have a favorite Thermos or travel mug for your coffee.