Little Coffee Place is reader-supported. When you buy through links on our site, we may earn an affiliate commission.
Is The Baratza Encore Coffee Grinder Worth It? – 2022 Full Review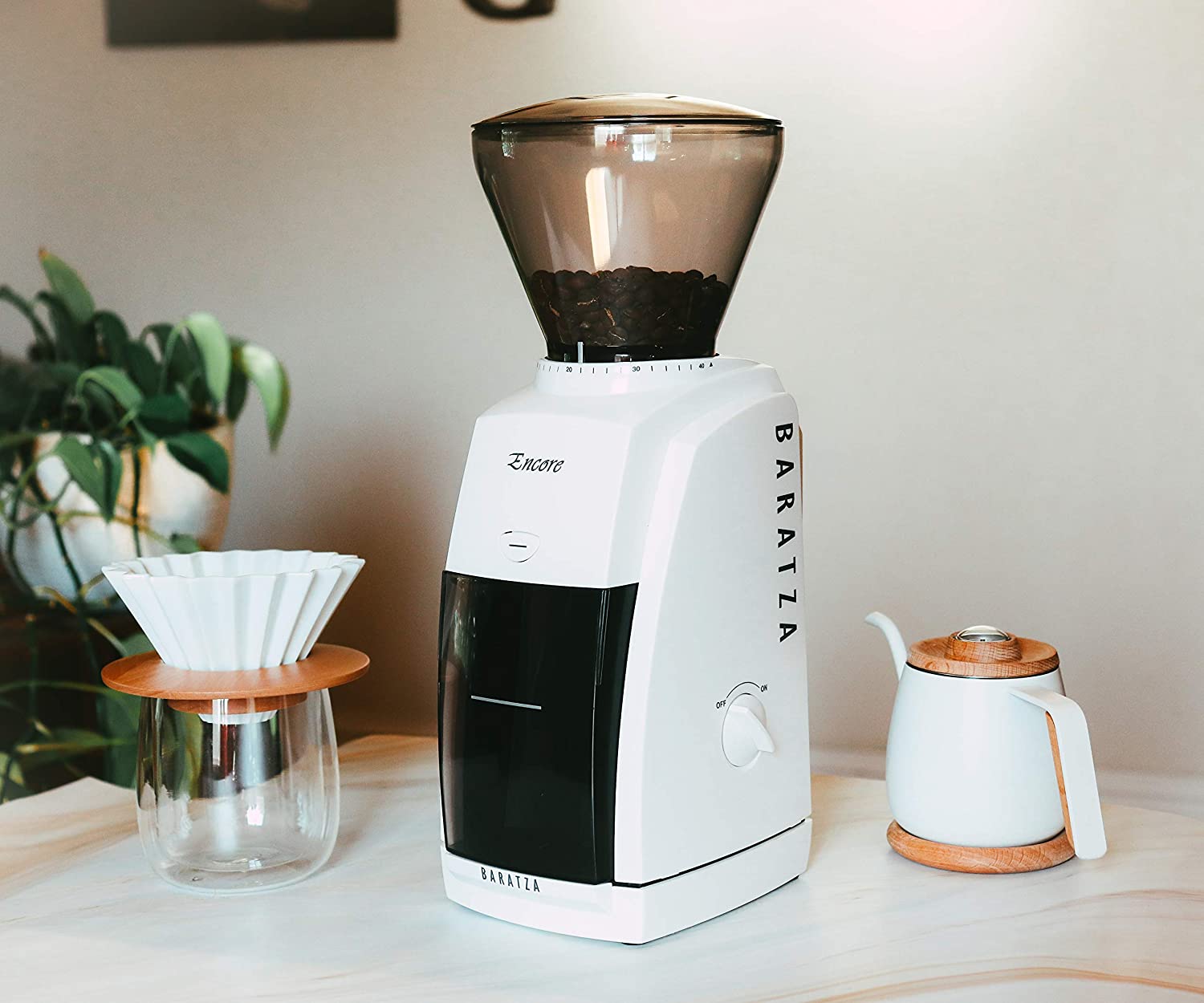 Coffee experts' discussions revolve a lot around grinders. What type, what material, what brand. And if you ever got caught in such a discussion, you have probably heard the name Baratza. The US-based company, founded only in 1999, has grown to mean quality grinders for coffee aficionados.
Baratza specializes in coffee grinders, and just that. The only range of products the company makes is composed of small and big grinders, cheap and professional, simple ones and ones full of features.
The grinder plays a fundamental role in brewing coffee. Whatever you use to make coffee, you need the appropriate grind size to have a successful brew with it.
A good grinder, that can ground exactly to the size you need, is vital for making the best cup of coffee you can. And Baratza has probably one for you.
The Baratza Encore is an entry level coffee grinder that is also the most popular one. If you are just entering the world of coffee grinders and aren't up for spending hundreds of dollars, understandably, the Encore is what you may want.
Let's see exactly why.
Baratza Encore Review
The Baratza Encore is positioned above the cheapest grinders that you can get for less than $50 at any electronic stores, while below the more advanced ones, for those already well into the world of coffee grinders.
It guarantees the quality and excellent customer service of Baratza for a reasonable price.
It is a burr grinder, which puts it justifiably above the cheapest blade ones. The burr grinders can give you a better, more uniform ground, something that the blade grinders cannot. For this alone, it is worth spending even twice the price of a normal grinder. After all, if your coffee is unevenly ground, it does not give you the right extraction you are looking for. At that point you may as well have bought it already pre ground, saving time and frustration.
The advantage of a simple grinder like the Baratza Encore is in convenience. It is very easy to use. It won't give you so many parameters to tweak as the premium grinders, nor very precise settings, but that may be enough for most coffee drinkers.
The Baratza Encore comes with a 2 way on/off switch and on the front a pulse grinding button. Other grinders have different speeds at which they operate, the Encore keeps it basic. No timers or dose controlling features either.
The only setting is the grind size, clearly. Twist the hopper till you reach the graduated marking with the size of your choice and start the machine. That's about it.
Simple doesn't have to mean, no options at all. The hopper has still 40 steps of grind size adjustments, from 250 to 1200 microns. In simpler words, it is capable of grinding all the way from an espresso, the finest size, to a cold brew, the coarsest.
We do recommend using a pressurized portafilter when brewing coffee grounds with the Baratza Encore. Otherwise the grounds aren't fine enough to brew well without the help of external pressure.
That's a limitation of the Encore that will turn off heavy espresso drinkers. If you aren't one, the Baratza Encore can help you brew excellent coffee.
Design and Build
Overall, the Baratza Encore develops in vertical, as most grinders. A high-torque DC motor powers it and has 40mm conical stainless steel burrs. In order to reduce noise and heat generated, it runs at 550 RPM, which is slower than many more advanced grinders.
The Encore has a thermal overload cutout to prevent any overheating while operating. A sensor can recognize a jam and quickly stop the grinder to avoid any damage to the burrs.
At the top, a 8 oz. transparent hopper is for holding the beans, while the grounds bin has a 5 oz. capacity. Both are made of quality plastic.
In strictly aesthetic terms, the Baratza Encore looks solid, tall, and sturdy. It is modern enough, with its matte black surface, but not aggressively so. Nothing futuristic, a grinder that can blend in most kitchens as long as the colors match.
The exact dimensions are 4.7" x 6.3" x 13.8", and the weight is 7 lbs, making it somewhat heavy for an automatic grinder.
Performance and Grind Quality
So far, so good. Yet obviously there has to be a reason why coffee snobs splurge for coffee grinders and don't just buy the cheapest ones.
The Baratza Encore is an excellent grinder, for the price. It does produce some dust, the so-called "fines", that is a by-product of the grinding and is undesirable.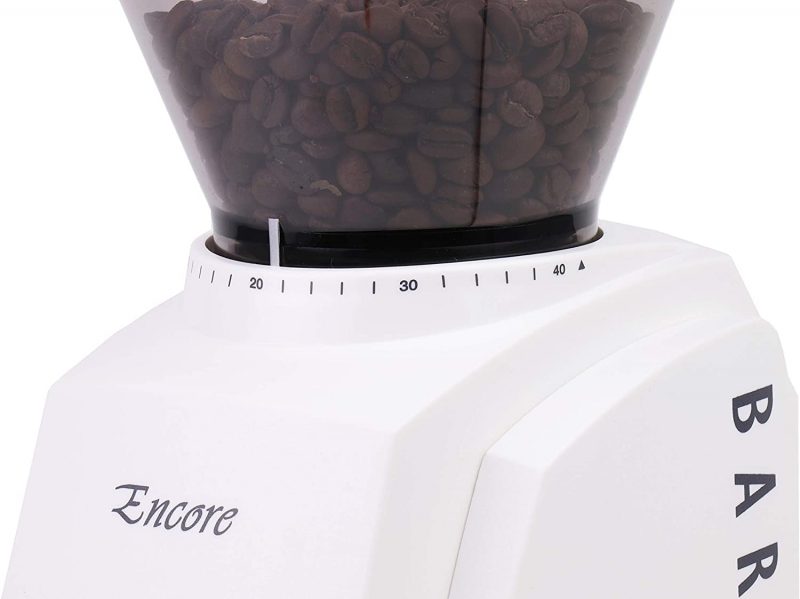 It doesn't produce as much as the cheapest grinders though, making it still quite better than them. As an entry level grinder it does its job superbly, as long as you keep in mind that it is indeed not a premium grinder.
The only comparison in this price range would be the manual grinders, where you have total control over the grinding. But they are manual and tiring, while the Baratza Encore is automatic. The convenience is all in favor of the little Baratza.
Just do know what to expect and you won't get deluded.
How Durable Is It?
Baratza cares a lot about the durability of their products, without skipping the entry level models like the Encore here. Every part is made of quality materials, not excluding plastic pieces.
There's a heavy metal ballast that stabilizes the whole machine. It's largely responsible for the increased weight over similar grinders but making it improbable the burrs will dislodge over time or move while working.
The gears of the Baratza Encore are made of 15% glass-filled thermoplastic. This ensures durability as well as good stability, great fatigue strength, and high mechanical damping properties.
In a word, enduring.
And in any case, if something goes wrong, the outstanding Baratza's customer support will help you in repairing or replacing any damaged parts.
Their helpful customer service goes way above what you would expect, considering the moderate price at which the Baratza Encore is sold.
Price
Speaking of the price, it's right for the performance and quality. It is more expensive than a lot of entry level grinders on the market. But the cost is justified by the attention to the durability that Baratza has put into the Encore as with any other of their grinders.
The performance is superior also to a lot grinders that are $100 or less. So the roughly 50% price increase will get you not only a durable burr grinder but one that can grind as well as many, higher tiers grinders.
Thus, the price is actually slightly below what it should be, if we think about what you actually bring home with the Baratza Encore.
For most users, it makes for a good sure purchase.
Unless you are really looking for the cheapest option on the market, regardless of the performances, the Baratza Encore is a superb automatic grinder for any coffee drinkers starting their way into grinding beans.
Pros and Cons
To sum it up, the Baratza Encore has many pros and a few cons. The key advantages are its
– moderate price,
– good performance for its class,
– high durability,
– quality look and materials
– excellent customer service and support.
These alone will be motivations enough for many to buy the Baratza Encore.
The grinder has its flaws and shortcomings, though. It is on the heavier side of the spectrum, so if you care about portability it will be cumbersome to carry it with you. It doesn't grind fine enough for an espresso, thus heavy espresso drinkers may prefer to look elsewhere for their automatic grinder.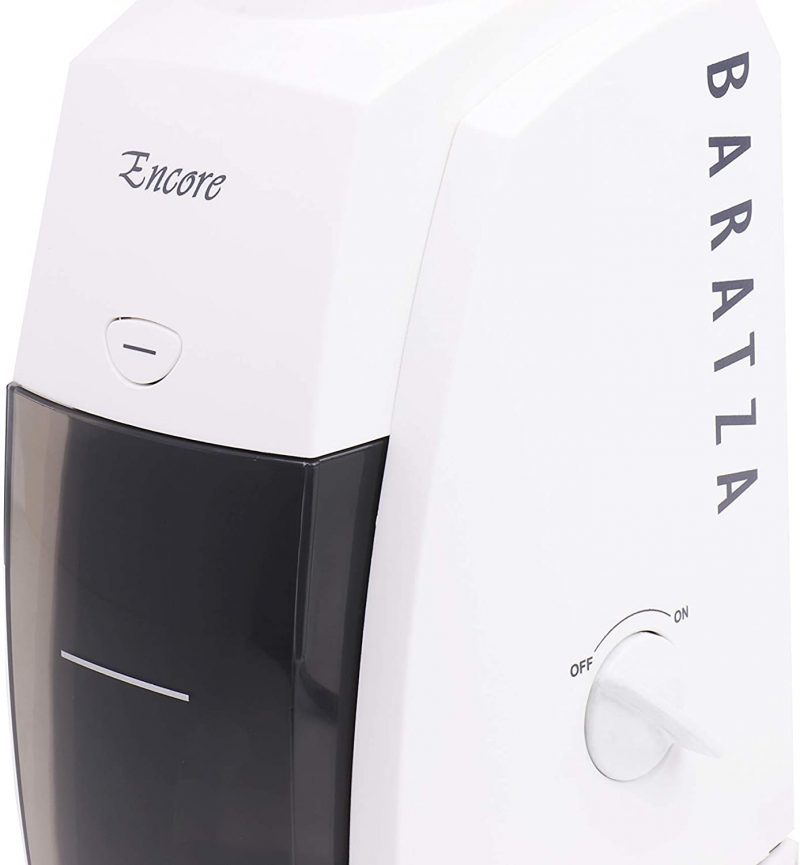 It doesn't offer any option for automatic cleaning, a feature often present in more advanced models. Dismantling it is easy enough, but yet the Baratza Encore leaves cleaning for you to do.
Last but not least, it has a minimal amount of features.
It grinds, and does a good job at that, but that's it. Any fancy feature is left by Baratza to its more expensive models.
Who Is This For?
At the end of the day, who should buy the Baratza Encore? Who would benefit the most from it and for whom it would be a dud.
While we doubt it would be the latter to anyone, the Baratza Encore is clearly not for those with a tiny budget. It costs 2-3 times more than the least expensive grinders on the market, so if that's your price range, the Encore asks you to invest more than you are willing to.
If you want a supremely automatized grinder, the Baratza Encore leaves off many advanced features and has no auto cleaning capabilities. You have to put some effort into grinding and maintaining it compared to other models.
And, as already said, a heavy espresso drinker won't be satisfied with the quality of grounds that the Baratza Encore produces.
Unless you fall into any of these types of consumers, the Baratza Encore will repay you with years of great coffee grinding at a great price to performance ratio. Anybody that wants more than the cheapest grinders but is in doubt whether to splurge for an advanced model or not, will get a lot of satisfied grinding sessions with the Encore.
Baratza managed to produce a grinder that can satisfy most people and delude very, very few. Anybody who wants slightly more than the very basic features and performances will do themselves a favor by opting for the Baratza Encore as their main grinder.